Let's put it in simple words: Coke Studio this year was a disaster. Coke Studio is a platform that gave a new life to the music scene of Pakistan. Fans all over the world used to wait for the new seasons every year but last season was just a disappointment and produced more hits on controversies than on content. To counter it, Nescafe Basement is here and is giving us back to back hits and crazy new talent that is making the country proud.
Actor Gohar Rasheed is also following the music platform and praised it. The actor went on to praise the merit which has been considered in the selection of all the artists in the Nescafe Basement and then took a small dig at the larger platform Coke Studio in a subtle way: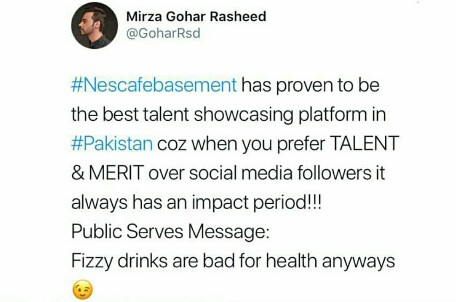 Well, what do you think? Do you prefer fizzy drinks or a cup of coffee this season?