Grease – The Musical is the first licensed musical play to be performed in Pakistan. It is based on the adaption of the classical 1978 movie which had John Travolta and Olivia Newton-John as the leads. Grease has been in news for quite some time; it started at the Art Council on January 16 and was declared a hit immediately. It ended on 2nd February after being performed at the Art council for almost 17 days. The play took three months of vigorous training and more than 100 rehearsal sessions for the actors to perfect the play, and their hardwork has definitely paid off. It starred Ahmed Ali as Danny Zuko, Ayesha Omar as Sandy, Mustafa Changezi as Kenickie and Sanam Saeed as Rizzo, along with an ensemble cast of familiar faces and promising newcomers. In the play, Ahmed Ali was paired up with Ayesha Omer and Sanam Saeed with Mustafa Changezi.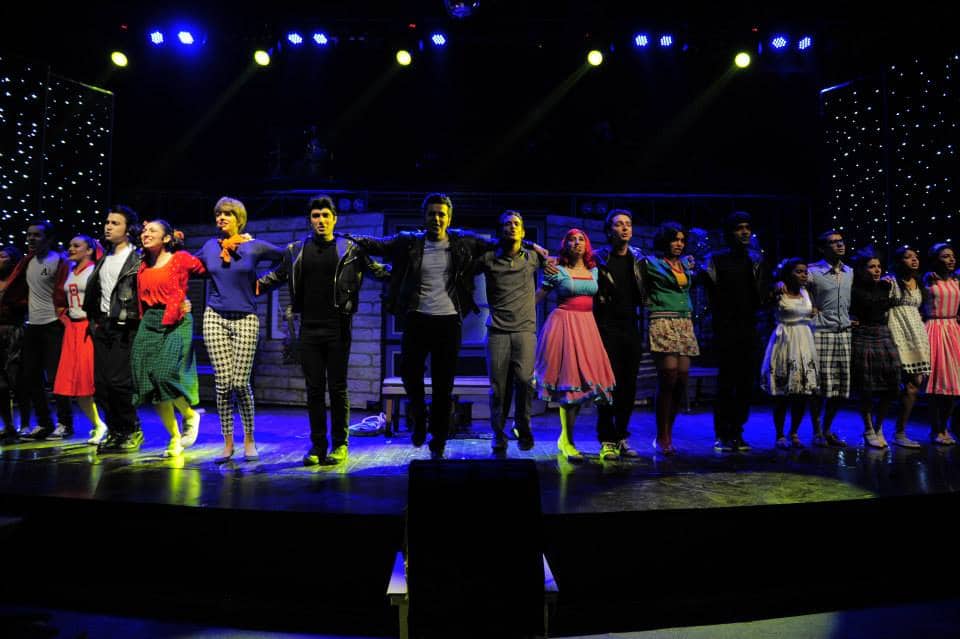 The play introduces the 50's era to the audiences. The costumes, songs, setup all had been designed keeping this era in mind. The play did not have any particular message, it solely depicted the essence of being a teenager in the 50's. Its success proved that teenage love is still an ever green concept.
The director Nida Butt has given her 100% to this play. From the choreography to the music, every little detail was well thought out and executed. All the actors also did a brilliant job especially Sanam Saeed who portrayed Rizzo's aggressive character to perfection.  She was extraordinary throughout the play and the actress had easily picked up the accent and gesture required to play the role.
All the performances were top notch, but one song that stood out from the rest was Freddy my Love which was sung by Sara Haider. This song touched the audiences' hearts and was appreciated and applauded by all. The lead pair might be Sandy and Danny, but the limelight was stolen by Rizzo and Kenickie as their chemistry sizzled on stage because of their magnetic and realistic connection.
Here is an interview of the star cast who shared their experience with their co-stars, how they managed to fit into the shoes of their character, and their feelings of being part of a play which is first of its kind:
Danny Zuko AKA Ahmed Ali Butt
How did you get in to the character of Danny?
I watched the movie a couple of times, mainly for the relationships the characters have with other characters. I started acquiring the traits from him over the months. The walk and the laugh — I have done them so much that they're my thing now. I don't even remember how I used to laugh!
Travolta and Newton-John had a lot of chemistry between them. What is your chemistry like with Ayesha Omar?
Ayesha is amazing to work with. She is very humble, very down to earth. When I heard Ayesha was playing Sandy, I was a little intimidated, but she eliminated the feeling. She is awesome to work with.
What is your relationship like with Mustafa? Do you think he'd make a better Danny and you a better Kenickie?
I have taken some inspiration from Mustafa actually, he doesn't know that (he laughs). He is quite the ladies' man and the laugh he does is very similar to Danny's — I stole that from him. Mustafa could have been a good Danny. Danny has a slight feminine touch to him, and Kenickie is a bad-ass. Had we been asked to and given time, we could have swapped roles. They're both similar; they're both the leader of the pack with a smooth style. In real life, Mustafa can probably relate to Danny more than I can.
How do you feel about being part of this musical?
I was a musician before I started acting. This is where music and acting come together — in musical theatre, and I found it to be my true calling. I am honoured and humbled; Grease is an opportunity to make history. My father is a huge Grease fan. After the first play I did, he was very encouraging and said, "Good, you should go into acting. There is a play Grease, you should ask the producers to do that." I did seven plays and he would say the same thing every time. When I got this role, I went up to him and told him I am doing a play, he asked which one. When I said Grease, the smile on his face was amazing. I hadn't seen it for years!
Kenickie AKA Mustafa Changezi
How does it feel to play Kenickie? How did you get into character?
It's pretty cool. I don't really have a tough guy persona, so to pull someone like Kenickie off was a lot of fun. It wasn't too hard to get into character; I watched the movie a couple of times and tried to act like the guy throughout.
What was it like to be paired up with Sanam Saeed?
Sanam is one of the strongest actors in the industry. Initially, when I heard I was paired with her, I was like 'Fine. It's cool'. Then, when I saw her act, I saw how confident she is and that intimidated me a little, but it's been fun. She's a genuine sweetheart.
Do you and Ahmed have the kind of relationship on stage that Danny and Kenickie did?
I love the guy. Initially, I didn't know who he was, and I really doubted the fact that he can do justice to the benchmark Travolta set. Then I met Ahmed. He is so committed and dedicated to his role and nobody but him deserved to have it. He and I are the closest amongst the cast.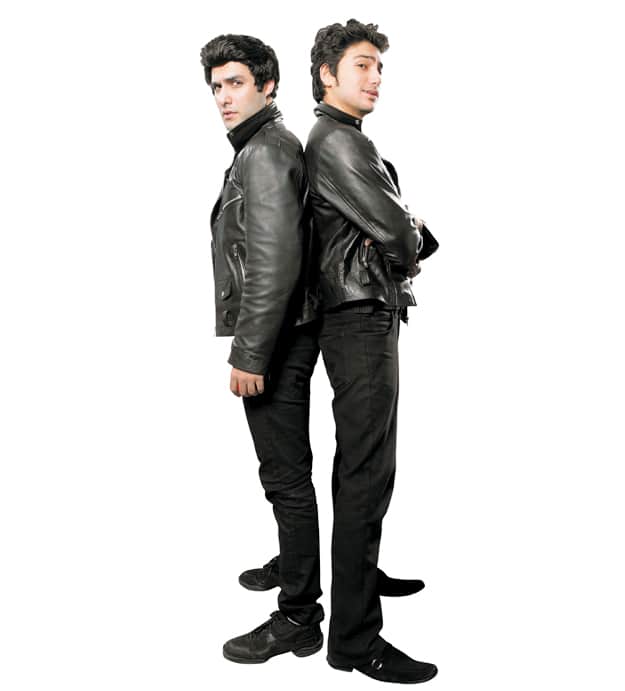 Sandy AKA Ayesha Omer
How does it feel to be a part of Grease?
My career just took a very busy turn. Every day, there is some offer coming in after the success of Coke Studio [season 6], but I just can't take up anything. It's like letting go off something you have worked for, for ten years. However, getting away from the petty TV mind-set was very refreshing for me mentally.  We are all like family here. It's team work. It's very exciting and it's been a wonderful experience. And I couldn't have asked for a better co-star than Danny.
Do you have a message for the readers and audience?
It's the first licensed show and we have put in a lot of effort. The audience needs to know it's very difficult to put something like this together. People should come and look at it with an open mind and encourage the newcomers.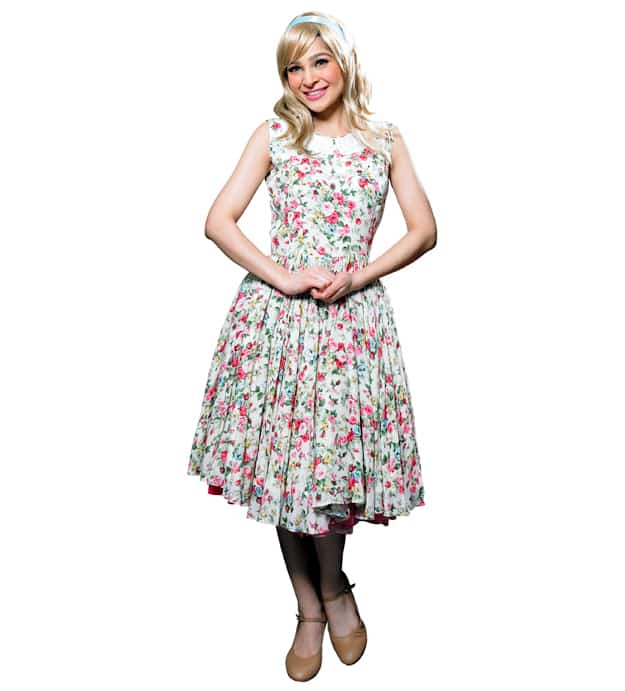 Rizzo AKA Sanam Saeed
How does it feel to be Rizzo?
I wouldn't have picked any other character to play. It's a role I've always wanted to do. With the support and the kind of chemistry we all have, each one has done justice to their role. Ahmed, Ayesha and I are the eldest in the cast and the most experienced, so we automatically had some sort of hold over the kids ­— they'll kill me for saying this — and that kind of helps the character, considering how Rizzo is and how she bosses around her minions. It's fun, it's perfect, everything has worked out really well.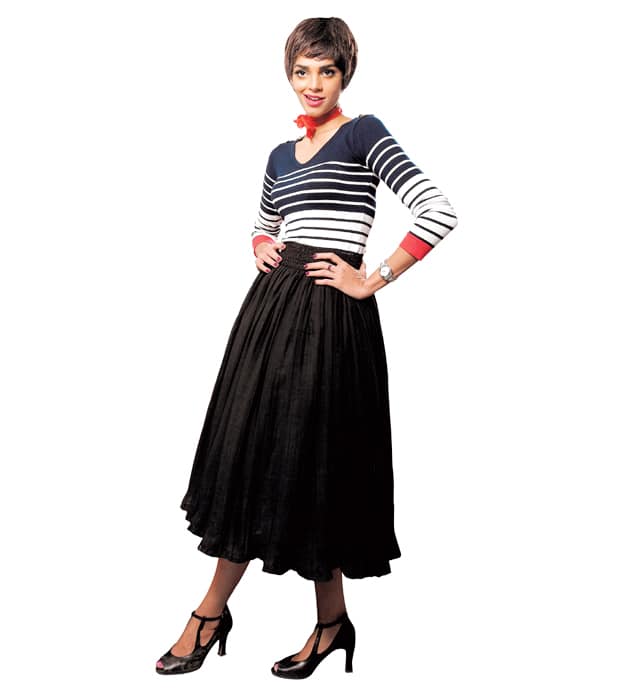 This play was an hit through and through, it can be called a pure masterpiece without any exaggeration!
Mariam Shafiq