In July, 2019 veteran actor Firdous Jamal got involved in a controversy when he shared his personal opinion about Mahira Khan on Faysal Qureshi's morning show Salam Zindagi. This caused an uproar on social media and everyone found Firdous Jamal's remarks about Mahira Khan derogatory and disrespectful.
According to Firdous Jamal, Mahira Khan was not fit to play the role of a heroine because she was past that age. Firdous Jamal also commented that Mahira Khan was not a good actor and she was more of a model. These statements brought a lot of negative attention towards Firdous Jamal but he chose to stay silent as he felt justifying or clarifying himself was not necessary. A lot of celebrities came in support of Mahira Khan and did not appreciate the comments made by Firdous Jamal but there were still a few celebrities who understood the things he said and supported him.
This controversy took an ugly turn when Momina Duraid of MD Productions imposed a ban on Firdous Jamal and said that she will not work with him anymore. This was Momina Duraid's way of showing support to Mahira Khan. Mahira Khan also addressed this issue by sharing a handwritten note which promoted nothing but love amongst the actors and peace within fraternity.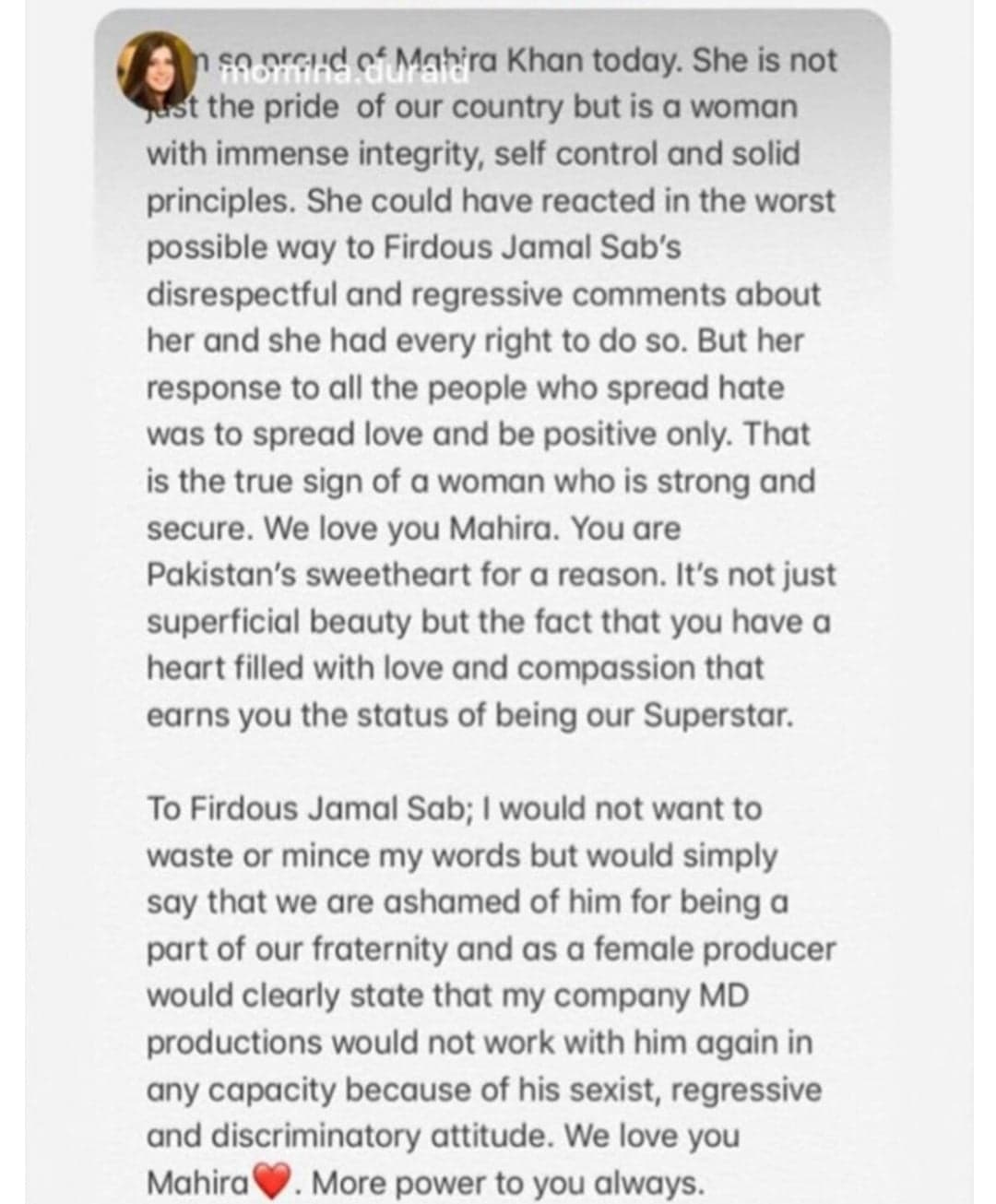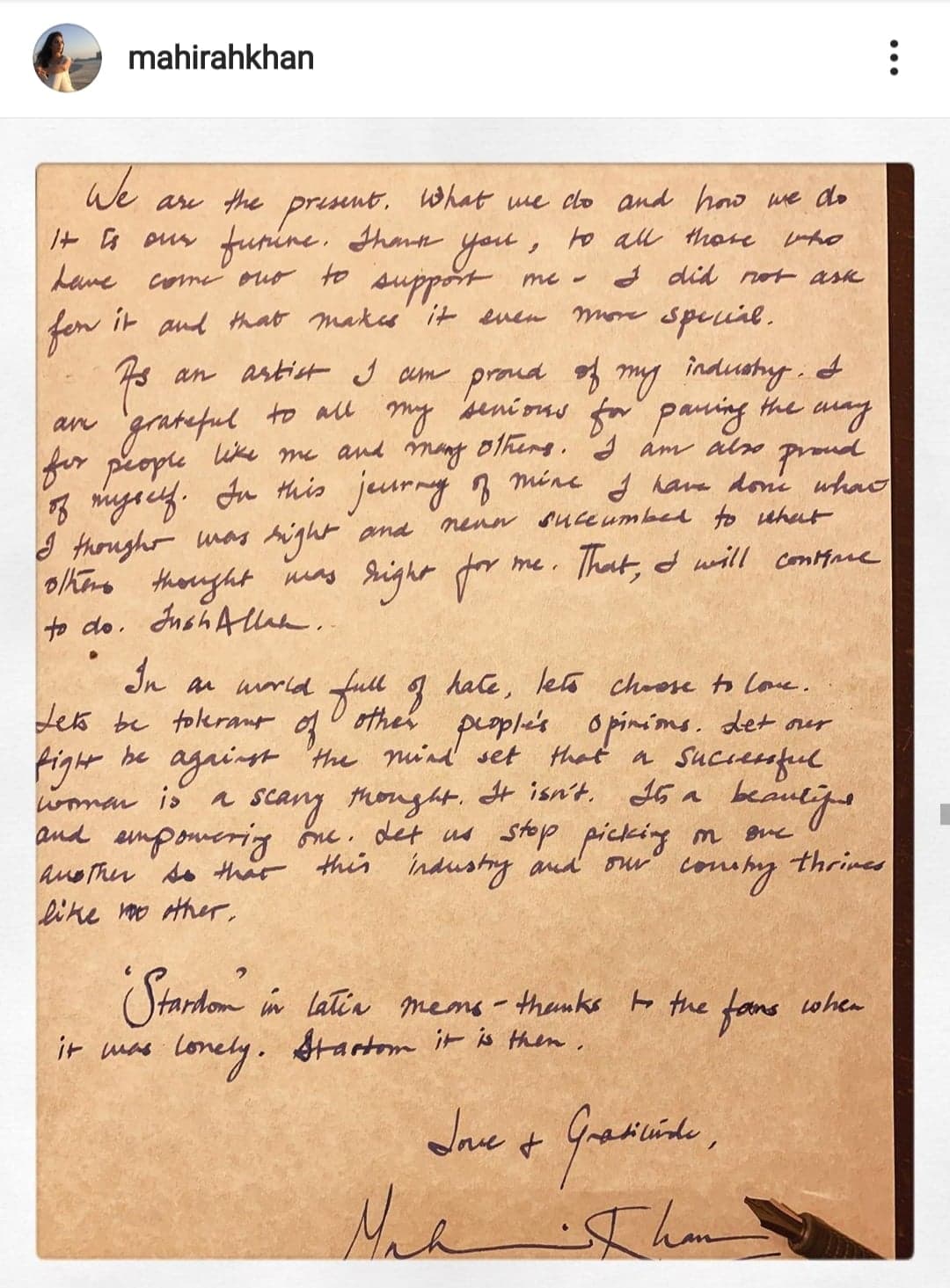 Firdous Jamal's son Hamza Firdous came in support of his father. Hamza Firdous discussed the matter but he took it seriously when Momina Duraid shared the news of imposing ban on Firdous Jamal. Hamza Firdous spoke highly of Mahira Khan but he also continued to ask everyone to show support to his father who has given 45 years to the Pakistani drama industry. Hamza Firdous started twitter trend #SupportFirdousJamal in order to reclaim the respect and dignity of Firdous Jamal.
After Mahira Khan's controversy, it seems Firdous Jamal has not understood that his juniors expect nothing but encouragement from him. In an interview with ARY News, Firdous Jamal ended up speaking against Imran Ashraf and belittled the outstanding performance done by him in the recent blockbuster Ranjha Ranjha Kardi. Imran Ashraf's touched the new level of popularity when he played the character of 'Bhola' and gave it such a treatment which was not seen in a long time. This performance let Imran Ashraf show his skills and his caliber as an actor but for the senior actor Firdous Jamal, it was not a performance but an act.
Imran Ashraf took it to Instagram and politely shared his stance that he does not mind what Firdous Jamal has said. Imran Ashraf also tried to stop everyone from bashing Firdous Jamal because Imran Asharaf not only respects Firdous Jamal as his senior but respects his opinions as well. Imran Ashraf's polite and kind response has shown that he may be a junior in terms of experience and acting career but he is definitely a bigger person who knows how to handle and accept criticism. Just like Mahira Khan, Imran Ashraf also has responded in the most polite manner but it seems Firdous Jamal is ready to be on everyone's case – especially those juniors who are doing well in terms of fame and recognition.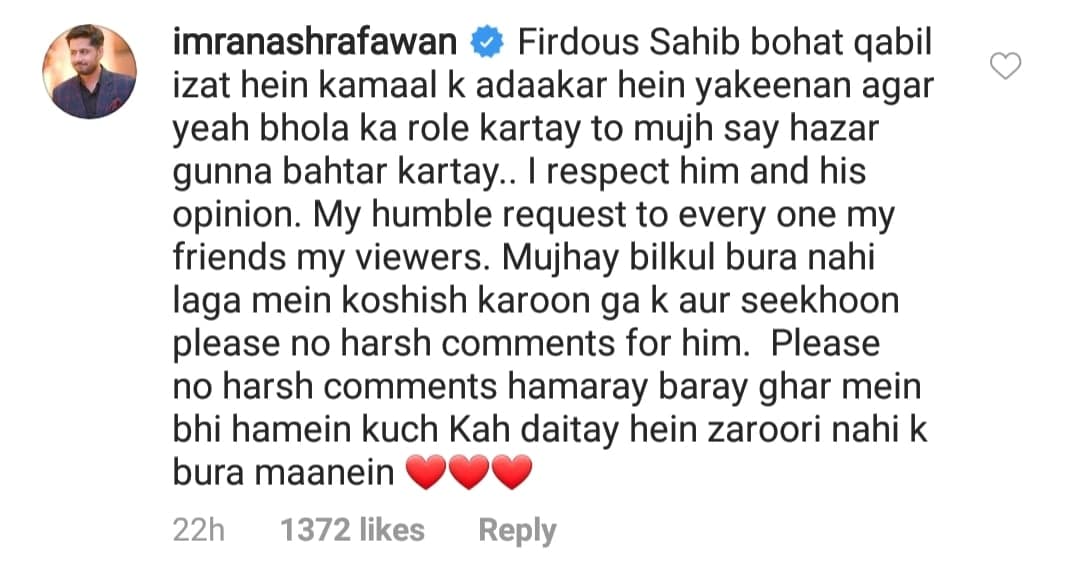 Hamza Firdous has once again come into the picture and he has nothing but praises for Imran Ashraf. Hamza Firdous is seen doing the damage control yet again as he can clearly analyze that the statements made by Firdous Jamal were hurtful and in bad taste. Hamza Firdous spoke about Mahira Khan and complimented her body of work, similarly, he has praised Imran Ashraf as well. It seems Hamza Firdous will continue to do the damage control as long as his father Firdous Jamal will continue to speak against his juniors.