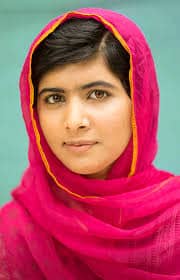 It is 12th July and we celebrate "Malala day"  for the girl who fought hard to survive, to educate and to rise up and shine bright. This time around, Malala comes up with a strong message as she encourages her fellow Pakistanis to speak up for themselves and never settle for anything they do not approve of.
"On my birthday today.. this is my message to all Pakistanis: believe in yourself, speak up for your rights, [acquire] education because it is very important for the future of Pakistan. It is only through education you can change the future of your country and take it forward,"
Speaking out to all the parents, she said that education is the best gift they can offer to their children.
"My message to all parents is, if you can give something [precious] to your children, it is education. Through education they can progress and contribute to their country and family."
Her message to the government is:
"I ask the government to spend on education, to fulfill its promise of allocating 4% budget to education. The government must ensure that all children are given the opportunity to acquire education, so that they can make their country proud."
On the day of Malala's birthday, the Punjab Chief Minister Shehbaz Shareef praised Malala's efforts to promote educational rights and spreading awareness.