Meera has a habit of doing controversial things that keep on directing the viewers' attention to her not in a good way but she gets the attention which she is obviously seeking by doing these things. This time Meera has done something which makes it look like she is losing her mental balance.
Meera was invited by Nadia Khan to her show. Firstly she refused to do the show unless the questions were written by her and that episode was directed by her too. Finally after some compromises on both sides Meera agreed to come to the show. When she arrived at the studio according to Nadia Khan,
"When Meera arrived at the studio, she started making a scene saying I was not supposed to be here, I do not want to be in this show. When her manager tried to reason out with her she started shouting and that is when the manager got out of the car and decided to flee from the scene. This is when I asked my producer, who is a woman to talk to Meera. Meera got hyper and she attacked my producer. She injured my producer badly. That is when I went out to talk to her but she kept on insisting that she was supposed to go for some other shoot and she will come to show tomorrow."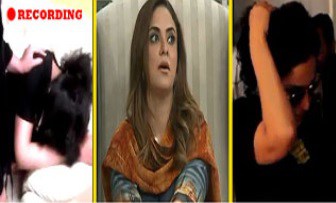 In a leaked video Meera was seen lying down on the sofa upset when some other lady was trying to calm her down.
This is not the first time that something of a violent nature occurred on Nadia Khan's Morning Show. Once before too when Noor was invited as a guest to her show, her husband physically abused her on the show and Nadia Khan took a stand for her. Nadia Khan said,
"I am so upset after this incident that my hands are actually trembling. I am such a wrong judge of character, I thought Meera was a nice person who was just simple but after this my opinion about her has changed. I am not going to show a video of the incident until I get proper approval. I do not want people to think this stunt is for the sake of ratings. I don't give a damn about ratings and viewership which come as a result of such news. I will tell the truth. I am angry and upset and venting out here is the only way for me to cool down."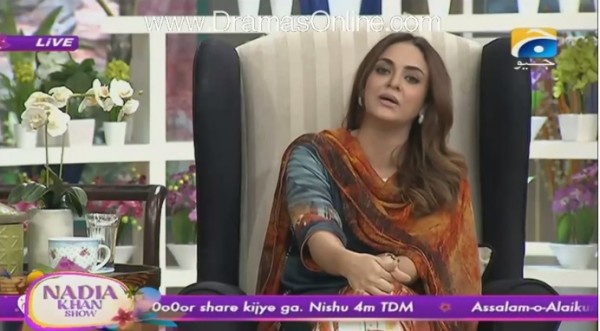 Is this a publicity stunt or Meera really has lost her mental balance? Geo News also showed news regarding this incident. They showed a brief news clip and asked people to watch Nadia Khan Show to know the details.
Watch the entire show here>>>>http://dramaonline.com/nadia-khan-show-16th-november-2015/