Ary is in hot waters wright now, because its most famous sit com Bulbulay happened to be making racist jokes about Pakhtoons.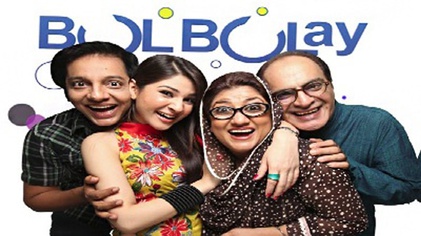 Things were going smooth until someone shared a video clip from drama serial bulbulay in which pathans are supposed to be bringing Naswar or Bombs.
جب ہم ٹی وی پےآرمی کا ڈرمہ چلا تھا تب آرمی والےاس ڈرمہ میں جو دہشتگرد تھےانکو سندھی دیکھایا گیا تھا جو کےاس کو سندھی اجرک پہنایا گیا تھا ہم سندھیوں نےآواز اٹھائی تو سب بول رہےسندھی ھربات کولسانیت پے لےجاتےہیں اب اس میں بم کاذکر کیا توپٹھان اورپوراپاکستاں بائکاٹ کر رہا ہےایسا کیو؟ pic.twitter.com/26WvSOAM0l

— Sindhi Wadero (سنڌي وڏيرو) (@SindhiWadero1) July 23, 2020
A new debate on the internet has started people are demanding a ban on ARY. People are using a new hashtag #BoycottAryDigital to show their anger and rage.
Pakhtun are not terrorist.
If individual person is a Terrorist we can't blame the whole society.
We must acknowledge the achievements of Pathans ❤️🔥 #BoycottAryDigital pic.twitter.com/RbEl5PgUkU

— Azzam Khan (@AzzamKhan94) July 23, 2020
#BoycottAryDigital this is our proud.. pic.twitter.com/iNkFFmihHP

— Nightmare (@Nightma40399998) July 23, 2020
Pakhtuns are integral part of Pakistan.Nation is incomplete without Pakhtun brothers. #BoycottAryDigital Stop this shit of calling Pakhtuns terrorist. Ary digital should be banned on creating such bloody tv series.. pic.twitter.com/TN5QkNdRYB

— Abdul wahab Aslam (@AbdulwahabAsla8) July 24, 2020
Promoting Fascism
Hattered
Divide in nation

ARY Fake News#BoycottAryDigital pic.twitter.com/OfO4eizv8R

— سچ (@KharaSachPK) July 23, 2020
#BoycottAryDigital Don't go for my simple clothes. I have the power to fight the whole world. I can be a joke to myself, but ask the enemy I am fighting how I am. pic.twitter.com/ZfBuS7GFUD

— Aslam Khan (@AslamKh73692317) July 24, 2020
#BoycottAryDigital
We are not made for your laugh.We are More than You Can Imagine. I guess You are Unaware Who are Pukhtoons!

— Shahab Ullah Khan (@ShahabU76018677) July 23, 2020
Nabeel Zafar producer of Bulbulay came forward in defense and said that they got most of their viewership from pakhtoon areas and it isn't possible that they offend someone. Nabeel also said that the sheer purpose of the drama is to bring smile on the faces of masses we have never intended to offend anyone.