Sadaf Kanwal, model and wife of actor Shahroz Sabzwari, has enraged a number of people for reducing feminism to household chores and taking care of the husbands. Sadaf and husband Shehroze Sabzwari sat down on the show 'Hamare Mehman' over Eid, talking about everything from Shehroze's second marriage to Sadaf Kanwal, his relationship with his daughter Nooreh, and Sadaf's thoughts on feminism.
When asked about how she interprets feminism, Sadaf says, "Aurat is not bechari at all. A woman is very strong. I feel very strong and surely you [the host] must be strong as well." She believes that the Aurat March is an entirely different debate.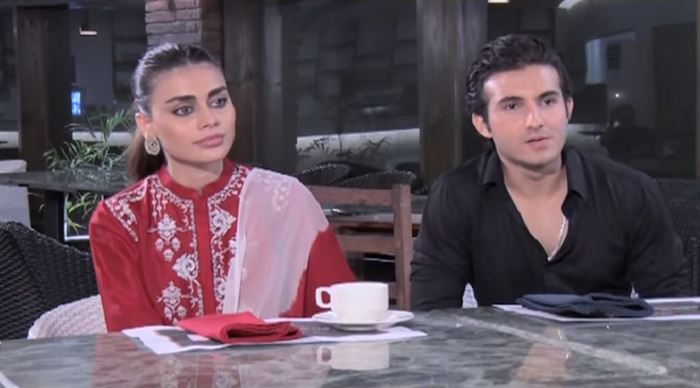 "In our society, our culture is our husband," Sadaf said. "I have to pick up his shoes, iron his clothes (which I seldom do, but I know where they are kept). I should know where Sherry's [Shehroz] stuff is and what and when he has to eat." For Sadaf, feminism is taking care of her husband and giving him respect as this is what she has seen and been taught growing up. She ascribed feminism to increasing "liberals" in society and said that because she is a woman, she should know more about her husband than he does.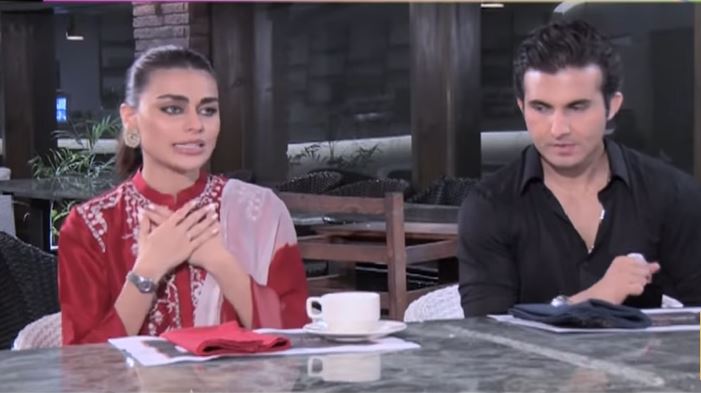 Right after Sadaf's comment the video clip went viral on social media and Sadaf became a top trend on twitter. Many of the netizens were in favor of Sadaf, but on the other hand some of them criticized her for being a hypocrite. Have a look!
Sadaf kanwal rocked❤️
All Desi liberals shocked 🥳
Feminism is caring for and respecting my husband: #SadafKanwal pic.twitter.com/M5cocKENIS

— Shazyah Husain Baloch 🦋 (@imrealshazyah) July 30, 2021
For the very first time I like this girl and her statement, the way she stand and her statement is just perfect as it can be. Welldone #Sadafkanwal for such a great and meaningful statement against such cheap liberals. " bilkul aurat ka farz hai apny shohar ka khayal rkhna"🙏🔥👍 pic.twitter.com/LBF7mx3eh8

— FARAN ALI 🇵🇰 (@SFaran786) July 30, 2021
This is real islamic statement which I was not expecting from Sadaf Kanwal.
Well Said young lady.#SadafKanwal https://t.co/C1zJF22747

— Aisam UL Haq (@AisamULHaq5) July 30, 2021
When i saw sadaf kanwal on trending, i though to myself, Ab kya kardiyaa? But this time its trending for good reasons. Dair aaye, durust agae lekin. #SadafKanwal

— Pupho (@notyourpupho) July 30, 2021
Like if you agree❤️#SadafKanwal pic.twitter.com/ALkSI31zCb

— …. (@Creativ64661124) July 31, 2021
Hats off Sadaf kanwal
The Queen #SadafKanwal pic.twitter.com/UHtnBODglb

— Khadija 👑 (@Khadija_hon) July 31, 2021
For the very first time I like this girl and her statement, the way she stand and her statement is just perfect as it can be. Welldone for such a great and meaningful statement against such cheap liberals. " bilkul aurat ka farz hai apny shohar ka khayal rkhna,___ #Sadafkanwal pic.twitter.com/bMa9GuSbLo

— 𝗨 𝗖 𝗔 𝗠 𝗔 𝗞 𝗔 𝗠 𝗔 𝗟 (@Osama_awaan33) July 31, 2021
I'm also a wife a mother
Yes I'm totally agree with her 👏
Respect #SadafKanwal https://t.co/sY8kUZPK35

— Nadia Zeeshan (@NadiaZeeshan8) July 31, 2021
Your choice of words says a lot about your personality, i' m not expecting this way,idk why i used to hate her but after her statement about "liberals"i 'm here to appreciate her,more power to you brave lady♥#SadafKanwal pic.twitter.com/yg23gxKwxL

— Samra q💫 (@SumariaQ) July 31, 2021
"Women are not oppressed at all, in fact, they are very strong & Feminism is caring about husband & respecting him" #SadafKanwal thinks feminism is nothing more than a result of 'liberals' taking over. She is Right coz Reality can't be deny, more power to U brave lady 💯 pic.twitter.com/b5Wg3FgNEg

— Mian Omer🇵🇰 (@Iam_Mian1) July 30, 2021
Can you imagine this woman is telling Pakistani women's about culture and morality and how they should behave to their husbands according to Islam. But I think she forgot islam while doing mujra.
And this is new ammi of all misogynist. #SadafKanwal pic.twitter.com/BcOqfkN96T

— Malak Salehh (@salahyyyyyy) July 31, 2021
Sadaf Kanwal should think before speaking.#SadafKanwal pic.twitter.com/ULa6E6Bx5B

— ♋ cancerian ♋ (@Qamar82) July 30, 2021
Liberals and Feminist Looking At #SadafKanwal pic.twitter.com/dPWZZiYm6Z

— ANAM 🇵🇰 ❤️ 🇵🇸 (@nizamanitweets) July 30, 2021
Faminist after watching #SadafKanwal video 😂 pic.twitter.com/l6vl0wZ1f2

— Mr RaJa 😎 (@AkRajja) July 31, 2021
Sherry ko mera nahi pata hona chahiye like mian sahab shouldn't even know I exist and his needs are magically being met by an angel, bhai wah! #SadafKanwal

— safa (@cherrimeow) July 31, 2021
2 Legends#SadafKanwal pic.twitter.com/YFQl9CdxWp

— Shoaib Asghar (@ShoaibAsghar170) July 31, 2021
Aurat March Gang after #SadafKanwal interview: pic.twitter.com/llX0oLV4OQ

— Zarrar (@ZararSSg001) July 31, 2021
all the men agreeing with #SadafKanwal are mamas babies who think marriage is having a nokar/massi pic.twitter.com/mT84F3CGzj

— abdullah imran 🇵🇸 (@abdifyy) July 31, 2021
Sadaf kanwal = "Mjhy sherry ka pta hona chahiye sherry ko mera pta nahi hna chahiye" she indirectly said that mai jo mrzi krun sherry apney kaam se kaam rkhe😂😂😂pr vo sans b meri mrzi se ly #SadafKanwal

— R I S H M I L E 🌺 (@RishmileH) July 31, 2021
To all the men jo sadaf se agree hein actually want maasi. Thek h shohar ka khyal rkhna bv ki responsibility ha mgr bv k b kch حقوق hotay hein uska b haq k uska b khyal rkha jaye or miyan ko pta ho k ks time uski spouse ko kya chahiye.#SadafKanwal

— R I S H M I L E 🌺 (@RishmileH) July 31, 2021