This was another episode dedicated mostly to Zainab's exit from the story. It was not the kind of episode that gives you a lot to discuss or ponder upon except for a few of the aspects of Zainab's life that have been part of the discussions before as well. Ironically, all those responsible for Zainab's heartbreak were there for her when she did not need their support and love! While Zainab's exit from the story is a really important development, there was absolutely no need to stretch these scenes so much. Faiz Ullah is testing my patience even more with every passing episode. He has to be the most unbearable and selfish character in the drama right now. His majboori dialogues are making me cringe especially because he claims to love his daughter. Two of the most important developments tonight were Aslam finding out the truth behind Zainab's heartbreak and Arif's proposal for Rakhshi. Maya Ali's crying scenes are getting beyond repetitive and extremely annoying!
Guilt and Realizations
Zainab's death left Akram feeling guilty for all the right reasons. Murad and Sikandar both are equally guilty of putting her through the worst. By the end of this episode, Sikandar realized that Zainab could not love him the way he expected her to. The tombstone signified that Zainab kept her promise because she died as Murad's wife! Sikandar's dialogues however did not work for me at all. Even after everything that happened, somehow he still managed to feel as if he was also the guilty party! Until last week I actually felt for him even though he was toxic and slightly crazy but after this episode, his deewanapan came across as just plain selfishness more than anything else. I felt for poor Aslam, he never expected or wanted his sister to do all that she did for him. Now that he knows how far Zainab went to ensure that he gets married to Rakhshi, he will be feeling guiltier than ever. This will only add to Aslam's troubles even though he is troubled enough as it is. Ishrat could have easily kept Zainab's secret because she did not 'owe' Murad an apology or an explanation after everything he put her through.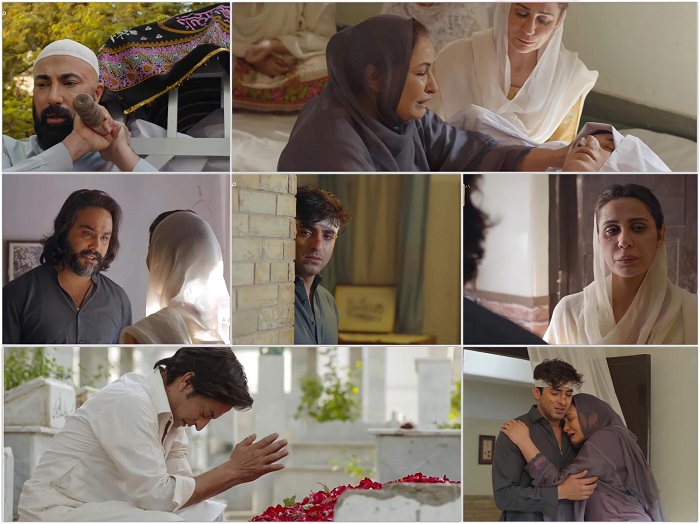 The funeral scenes were elaborate; these scenes alone would have been enough to give this character a fitting farewell. Rakhshi's dialogues regarding Zainab were more impactful than any other. She shared with Munazza that she had witnessed Zainab's death even before she died. This was such an apt way to remind the viewers that Zainab's soul died when she was forced to marry Murad but no one acknowledged or mourned that death. Rakhshi was equally concerned for Aslam since she knows more than anyone else just how close he was to his sister. Maya Ali's acting has been more or less the same in every single scene. She probably made some kind of a record of crying endlessly on-screen while shooting for Pehli Si Mohabbat!
Rakhshi's Marriage
In Faiz Ullah's house, Rakhshi's marriage continued to be the main topic of discussion. Even after finding out about Zainab's death, he somehow managed to connect that to getting Rakhshi married. For the first time, even Nargis' dialogues were not too convincing even though she did take a stand for Rakhshi. However, she did not give Faiz Ullah the kind of reality checks he deserved at this point. He just wants Rakhshi to get married, that is the sole purpose of his life and he has thousands of explanations for this self-created majboori of his! From log kya kahenge to what if I die today, he used every excuse in the book to justify his obsession with Rakhshi's marriage! I have started disliking his character more than any other male character in the drama. He does not deserve all the love and support he gets from his wife and daughter.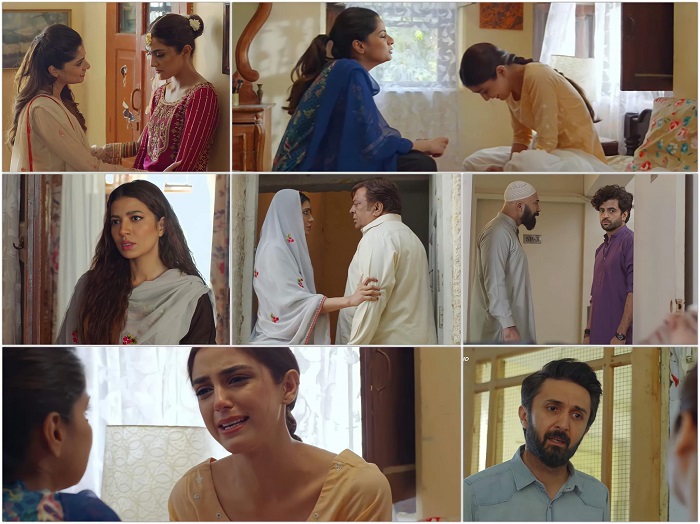 Final Remarks
It seems as if the producers are bent on stretching this drama therefore it isn't even ending next week! Last week's episode was powerful but so much more could have been covered in this episode and the drama could have easily ended next week. The next episode's preview suggested that Aslam might refuse to marry Rakhshi and she would end up getting married to Arif, maybe. I was waiting for Rakhshi's character to come into its own but it is already too late! I guess we will be witnessing her crying right till the end.
Did you watch tonight's episode of Pehli Si Mohabbat? Do share your thoughts about it.