Google has released its Year in Search report – revealing which celebrities were searched for the most in Pakistan this year. Here's us, quenching your thirst for curiosity and giving you some expected and some unexpected names!
Have a look.
1. Naimal Khawar Khan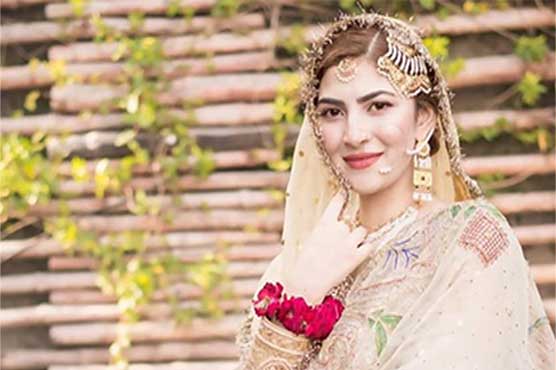 The former actress got hitched to actor Hamza Ali Abbasi in August and their nikkah ceremony became the talk of the town.
Naimal's dress itself was discussed in great length, and her overall look for both the nikkah – where she did the makeup herself – and reception made the rounds on social media for weeks to follow.
The couple had a very intimate ceremony and their wedding hit the social media by storm.
2. Waheed Murad
Google paid tribute to legendary Pakistani actor, producer, and scriptwriter Waheed Murad on his 81st birth anniversary with a doodle. The chocolaty hero of Lollywood who received a plethora of awards for his contribution to Pakistani cinema, including a Sitar-e-Imtiaz can't be forgotten.
3. Babar Azam
This vice-captain of the Pakistani cricket team who has a pool of talent has already broken many records in his short career. At just young at of 25, he's the only batsman in ODI history to score 5 consecutive centuries in one country and holds the record for most runs (1306) in first 25 ODIs innings by any batsman in the world. Not to forget that in 2019, in the match against New Zealand, Babar became the fastest batsman for Pakistan, in terms of innings, to score 3,000 runs in ODIs.
4. Asif Ali
The 27-year-old batsman experienced a gigantic rise in popularity with a whopping number 4 spot on the most-searched list but 2019 also had him experience some incredibly unfortunate losses. The cricketer's two-year-old daughter lost her life after an arduous battle with cancer earlier this year.
5. Adnan Sami
The ex-Pakistani singer Adnan Sami is often trolled for being an "undercover agent" as he previously held a Pakistani passport before gaining Indian citizenship in 2015. He is often seen trending on social media when tensions run high between Pakistan and India.
6. Sara Ali Khan 
Often praised for being grounded, the daughter of actors Saif Ali Khan and Amrita Singh, Sara is at number six on Google's most-searched list in Pakistan. As a member of the royal Pataudi Family, Khan has all the charm of royalty but is largely famous for her Bollywood career.
7. Mohammad Amir
The talented cricketer was blessed with great success this year and was even awarded as the leading wicket-taker in the 2019 Cricket World Cup for 17 dismissals in just eight matches. Amir also made headlines in 2019 for announcing his retirement from Test Cricket in order to focus on limited-overs cricket.
8. Alizeh Shah
Recently a 60-year-old Pakistani man just gave an interview and told the whole world that he has a crush on Alizeh Shah of Ehd-e-Wafa. The man belongs to Bahawalpur and he has shared his immense thoughts in the interview
The 23-year-old is no doubt one of the most talented emerging stars in the Pakistani entertainment industry scene.
9.  Abhinandan Varthaman
Varthaman became an internet sensation after his plane was shot down by Pakistani forces when it entered Pakistani territory. Despite the military tension, Abhinandan's video showing him sipping a cup of tea in Pakistan and saying that the tea was fantastic made him a viral sensation.
10. Madiha Naqvi
Popular TV show host weds charismatic politician belonging to a major Pakistani political party. Most of us have heard of this headline by now. Madiha Naqvi tied the knot with Faisal Sabzwari of Muhttahid Quami Movement (MQM) in a low-key wedding ceremony, and they both looked perfect.
So, there you go!