The Pakistani entertainment industry and the showbiz industry across the border have collaborated more than once. Even though the relations between the two countries are not ideal, there is no denying the fact that the public on both sides of the border enjoys dramas or films from across the border. The Indian public has always praised Pakistani dramas and singers. Now more than ever, with the advent of social media, they show this love and it is no longer a secret. Similarly, most Pakistanis grew up watching Bollywood films and follow the film industry there with great interest. It is also true that some Pakistani actresses are often compared to Bollywood actresses in terms of looks. They have also admitted more than once that such comparisons also made them a favorite among producers. However, these Pakistani stars have always reacted differently to these comparisons. While most of them do not have a problem being compared to Bollywood actresses. There are some who feel that such a comparison is not needed.
Here is what Pakistani stars feel about being compared to Bollywood actresses:
Sonya Hussyn on Comparisons With Priyanka Chopra
Sonya Hussyn has often been called Priyanka Chopra of Pakistan. Many people also believe that Sonya got cosmetic surgeries to look more like the Bollywood actress. She has also been accused of copying Priyanka's look more than once. The actress is probably not to be blamed because there must have been pressure on her to look like the Bollywood actress, especially in photo shoots. In a recent interview, Sonya's first reaction after she was shown one of her latest photoshoots also suggested that the make-up artists and stylists make a conscious effort to make her look like Priyanka. After looking at her picture Sonya asked if the host wanted to know how she managed to look like Priyanka Chopra.
Talking about the comparisons, Sonya said that she does not dislike the fact that people often draw comparisons between her and Priyanka. She also said that she does not feel that she looks like Priyanka. Her statement also suggested that photographers made a conscious effort to take pictures from those angles which made her look more like the Bollywood actress. This particular photoshoot went viral because a rather unusual look of the Bollywood actress was copied yet again and the similarities were too obvious.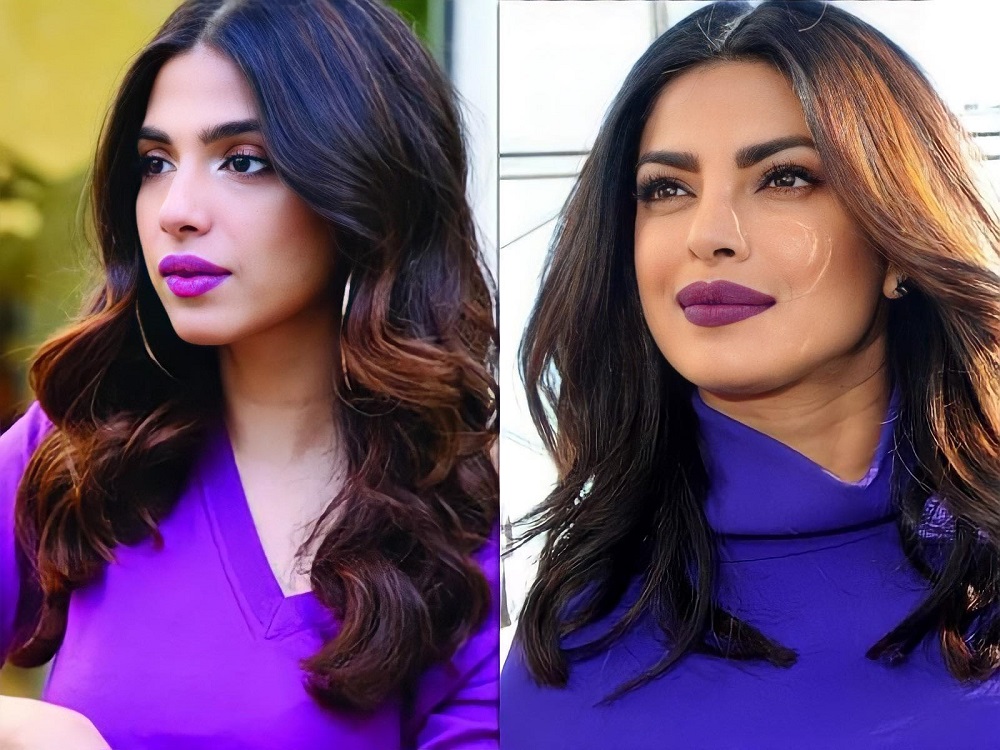 Ramsha Khan on Being Compared To Anushka Sharma
Ramsha Khan stepped into acting only a few years back but she is already well recognized as a well-established actor who takes her craft seriously. Ramsha is also known for choosing the projects she works in really carefully. So far, she has managed to earn the reputation of playing dynamic and powerful roles. More than once the public has highlighted the fact that Ramsha Khan bears an uncanny resemblance to Bollywood actress Anushka Sharma. Ramsha Khan has talked about how that makes her feel more than once. Ahsan Khan asked her how she felt about it and without thinking twice she replied that she did not like such comparisons. She wants to be known as Ramsha Khan and not as Anushka Sharma look alike.

Even though Ramsha Khan clearly does not like such comparisons, like many other actresses who look like Bollywood actresses, brands have asked make-up artists to give the actress the same make-up look as Anushka. In one of the photoshoots, Anushka Sharma's bridal look resembled Anushka's look from her actual wedding. It was definitely not a coincidence since this photoshoot came right after Anushka's wedding.
Although Ramsha has repeatedly shared her discomfort and displeasure with being compared to Anushka, it seems as if the brands want her to look like the actress and perhaps also give her these modeling projects based on the comparison.
Hania Aamir's Take on Being Compared To Alia Bhatt
Hania Aamir is one of the most sought-after actresses in Pakistan. It was only recently when she revealed that her resemblance with Bollywood actress Alia Bhatt has actually contributed to her career in more ways than one. She candidly shared in an interview that her innocent looks and dimple are often compared to that of Alia's. She also mentioned that when a brand signs Alia Bhatt as their brand ambassador, Hania is their choice in Pakistan. We have witnessed Hania and Alia promoting the same brands on different sides of the border. Maybelline, Garnier, Cornetto, and Lays are some of the brands which both the actors have endorsed in the past.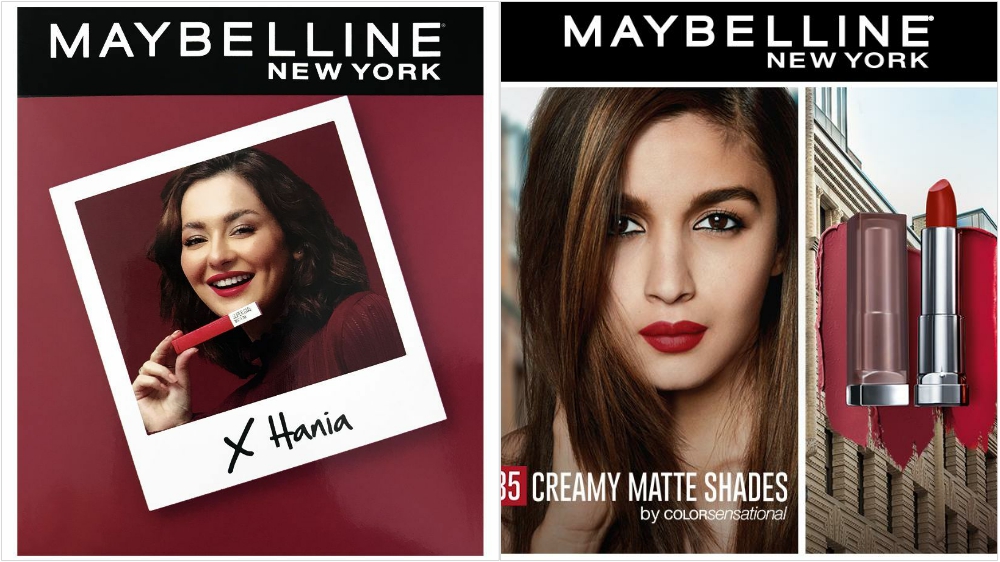 Unlike Ramsha Khan, Hania does not mind being compared to Alia Bhatt because she believes that Alia Bhatt is a good actress and being compared to her is a compliment. While Hania made this statement in a positive manner, the Indian media covered the news in a way that was not positive! They made it sound like Hania's entire career rested on Alia's popularity! In Pakistan however, the public largely believes that Hania is more talented than Alia and is more good-looking as well.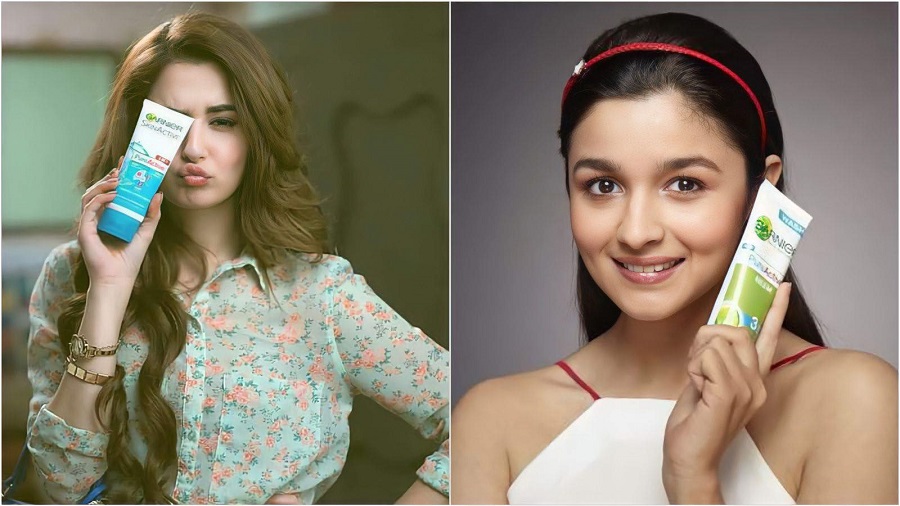 Zhalay Sarhadi's Views about Comparisons to Priyanka Chopra
Zhalay Sarhadi is known for her strong and confident personality more than anything else. She started her career as a host and right from the beginning she has been compared to Priyanka Chopra. In an interview, she shared that she entered in showbiz in the same year when Indian channels were banned in Pakistan and Priyanka became Miss World in the same year. She shared that when she hosted her first show at that time, most people used to mistake her for Priyanka. She was even approached by an Indian producer for playing Priyanka's body double in a film. Zhalay never liked such comparisons and she did not like this offer.
In an interview as well, she shared that she was proud of being Zhalay and she did not consider being compared to Priyanka a compliment. She also shared that all the young people out there should identify with their own individuality as opposed to copying others. She also replied to a follower on Instagram about the comparisons. Her reply clearly showed that she did not even believe that Deepika was her lookalike! Zhalay always had a clear stance about this even though the Indian media gave her more coverage than any other lookalike from the Pakistani industry.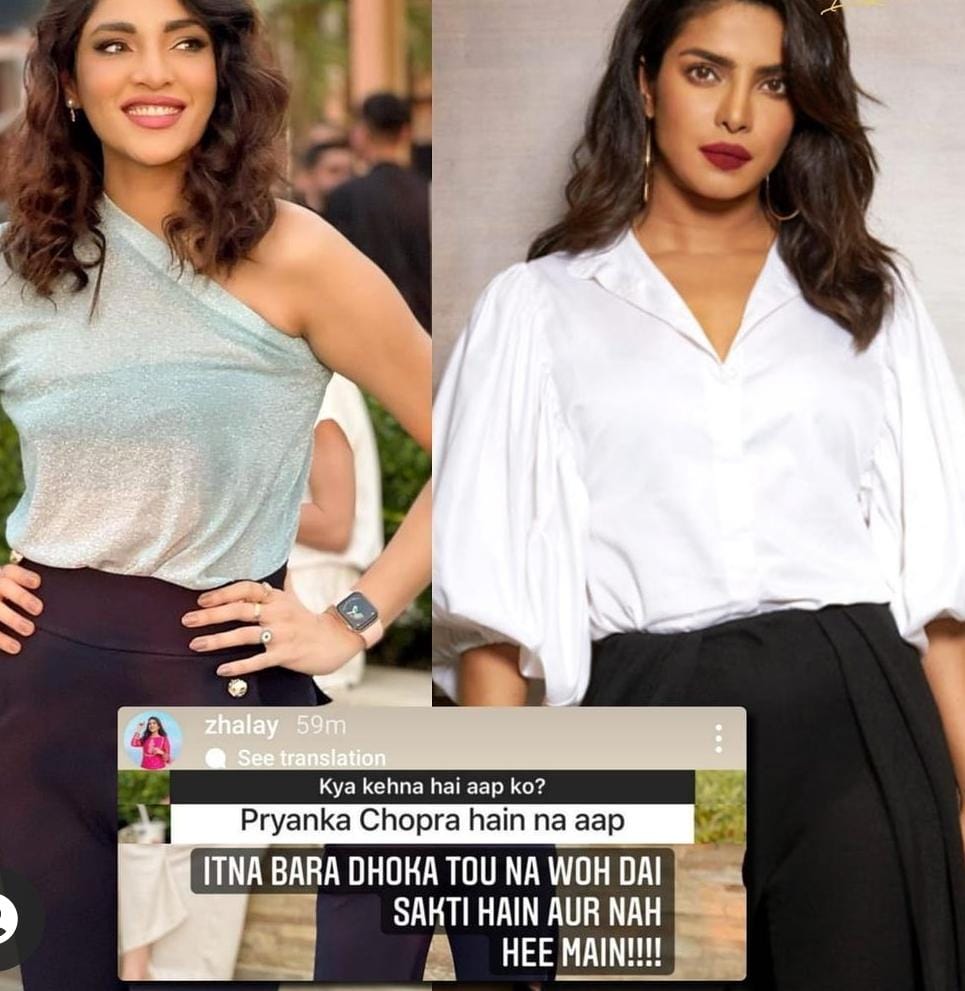 Hira Mani's Thoughts on Comparison With Katrina Kaif
Hira Mani has made a big name for herself over the years. She has always expressed her love for Bollywood actors openly. She is a big fan of Kareena Kapoor and Shahrukh Khan. Even when she is criticized for being their fan, she does not hold back. But, when a follower compared her to Katrina Kaif, she was not happy with the comparison! Clearly, Hira is also proud of being Hira Mani and would not want to be mistaken for any Bollywood celebrity.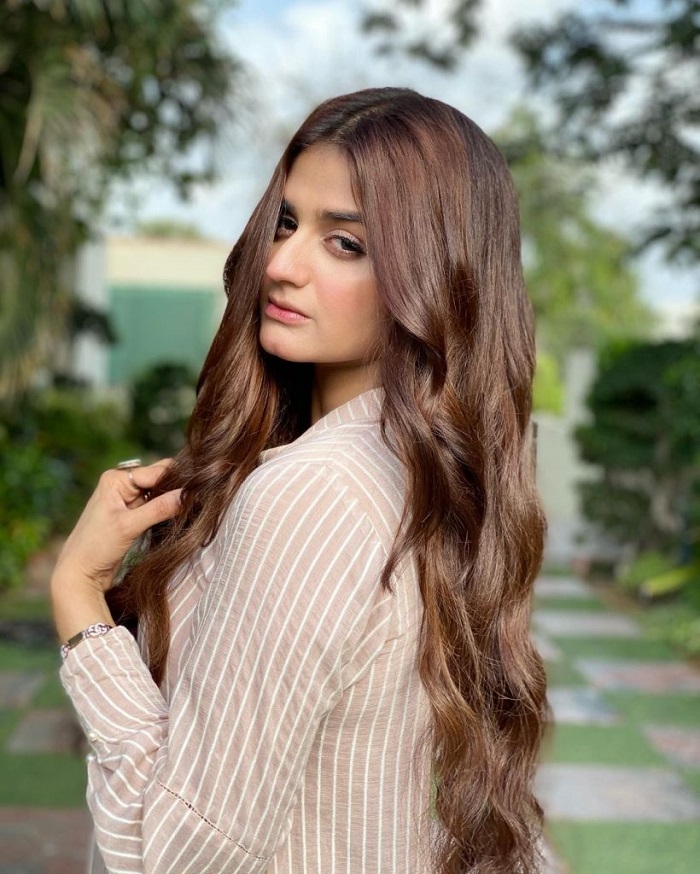 Indian Media and The Comparisons
Indian media perhaps gave most attention to the comparisons between Zhalay Sarhadi and Priyanka Chopra. Perhaps because Zhalay was actually offered a project based on her resemblance. Most of this media coverage was done as Priyanka Chopra's lookalike from Pakistan.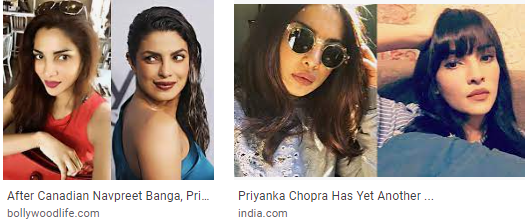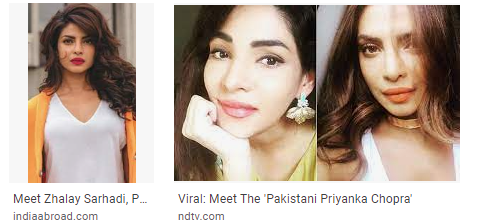 However, when it came to Hania Aamir, the stance of the Indian media was anything but likable. They actually credited Hania's success to Alia Bhatt and reported it in such a way as if Hania had no talent or standing of her own. This came after Hania's candid and positive reply about being compared to Alia Bhatt. It was really disappointing to see the perverse manner in which this news was covered across the border.
https://zeenews.india.com/video/india/bollywood-breaking-hania-aamir-meet-alia-bhatts-look-alike-from-pakistan-2459582.html?fbclid=IwAR0J9ySaMPOizlrLcKSf1t52XpWPVg5Ima9BbWwUrGUbC2iqRy4xlDgKvVI
Final Remarks
Each one of these Pakistani actresses has a different opinion regarding the comparisons. Most of these actresses would rather not be compared to Indian actresses and they prefer being known for their work. They want people to know them personally because they have worked hard over the years to make a name for themselves. We also feel that certain brands need to stop putting pressure on these celebrities to look more like their look-alikes from across the border. It is evident that there have been a number of times when they had to sport looks which their look-alikes from Bollywood had already sported. Surely, this is not a good trend because these actresses have a standing of their own.
Share your thoughts.