Hum Style Awards were conducted last night in Karachi. These awards are meant to celebrate the sense of fashion and style in the industry and include all the sub-branches like modelling, acting and singing. Many celebrities attended the event and tried to look unique and different. Naturally, each of them wanted to be the best or maybe get noticed. The experiments for many of the celebs, however, turned out to be disasters but some of them actually looked good. Here are some of the celebrities that looked nice and knew the meaning of "Style Awards".
Ayesha Omer: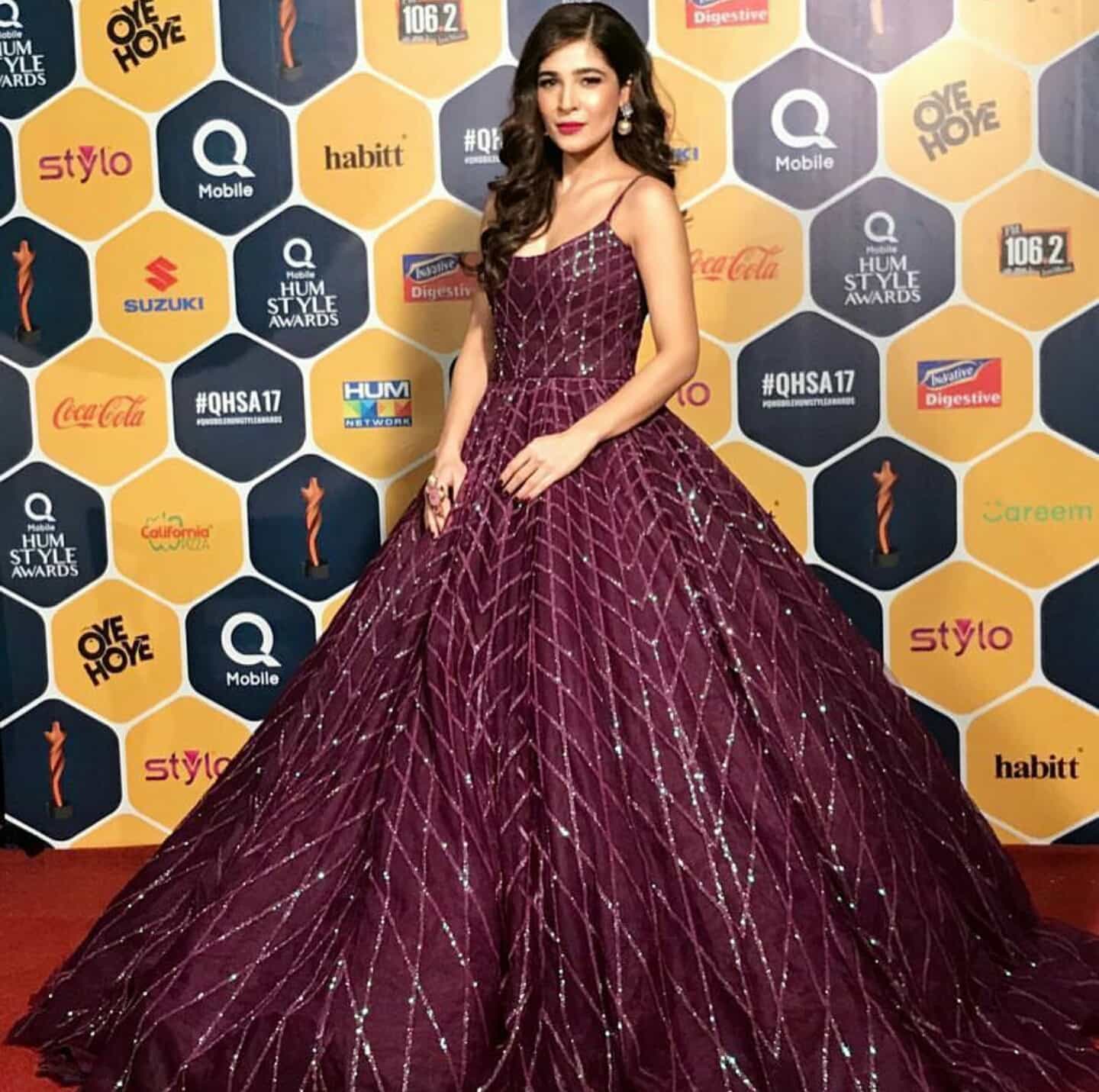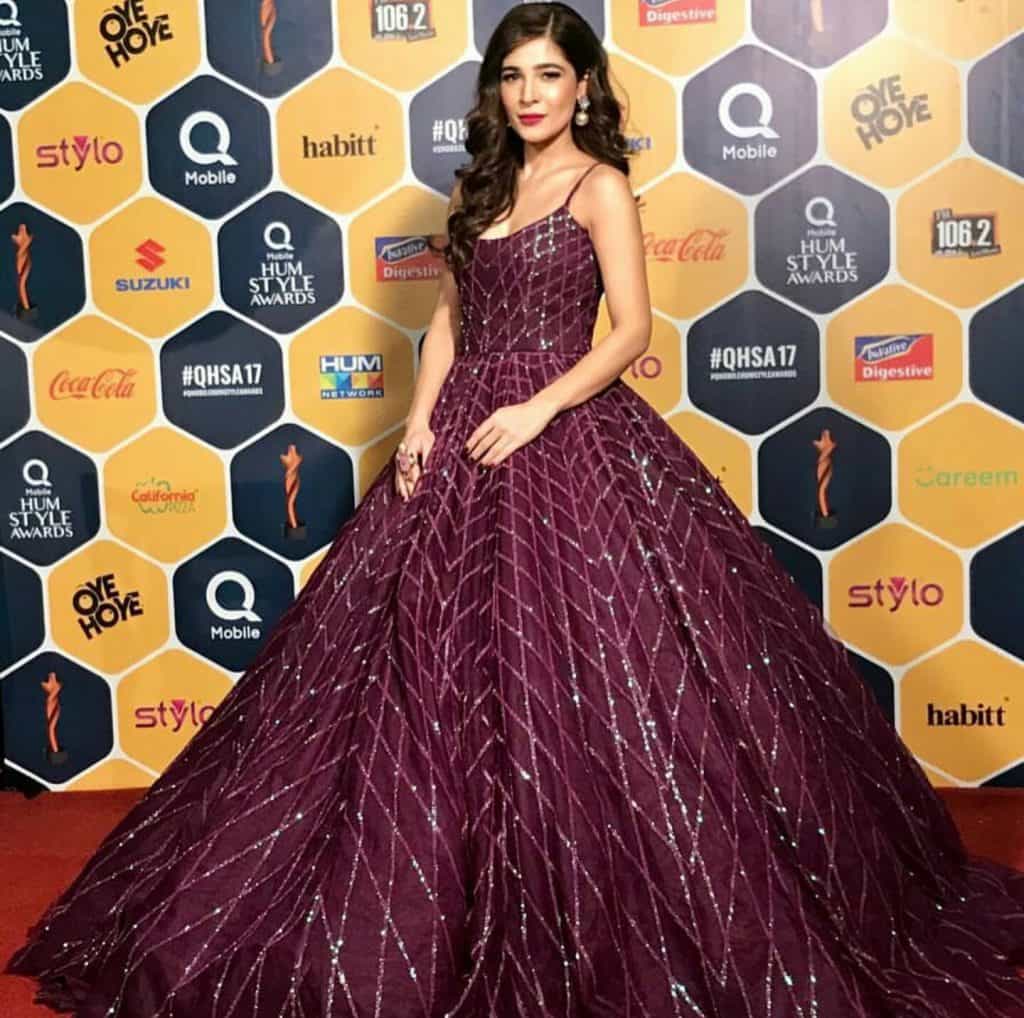 Ayesha Omer was hands-down the queen of the best dressed last night. She wore a beautiful burgundy gown which complimented her skin-tone and her styling was up to the mark too. Her loose curls and dangling earrings made her look complete and she looked like the ultimate fashionista she is.
Sunita Marshal: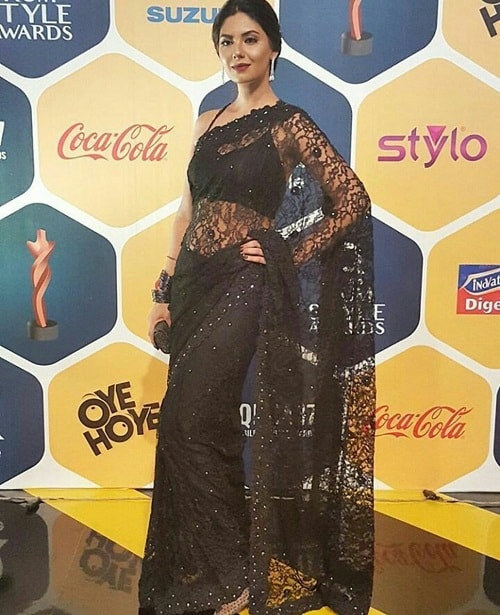 Sunita wore a black net sari which complimented her figure and height. Nets are always a good choice since they rarely go wrong. Same was Sunita's case as she looked beautiful and her black bangles and silver earrings with a hair up-do totally completed the look.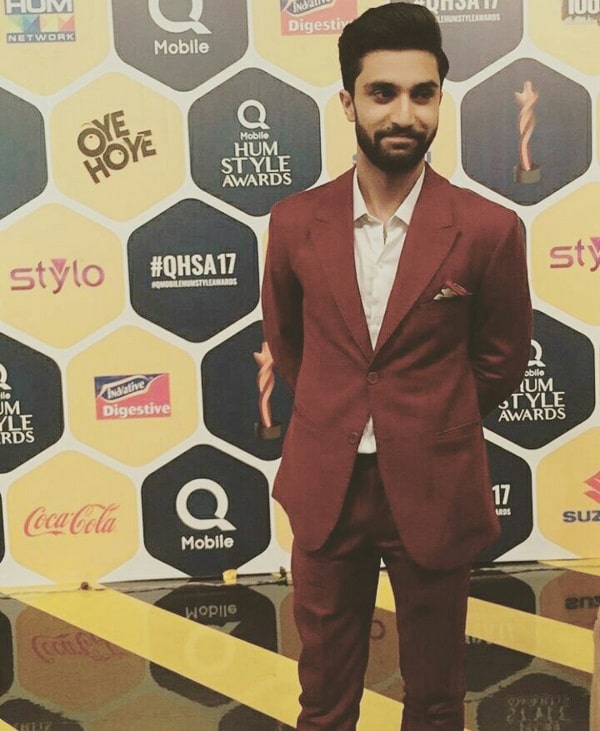 He was wearing a simple maroon tux which landed him on this list because many other male celebrities were trying to make themselves like some space movie characters with strange patterns on their suits or maybe they forgot it was Hum Style Awards event and not met gala. Ahad on the other side kept everything sleek and decent. He also looked different as he opted for a colour other than traditional black but still kept things low and decent.
Madiha Imam: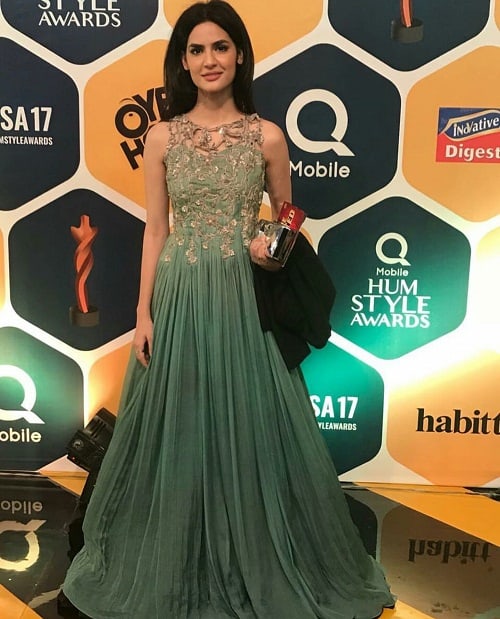 Madiha looked beautiful in this green number. Madiha is petite and the fact that she realized it and kept her accessories and makeup minimal made her looked innocent and pretty. She was one of the best-dressed celebrities of the night. The colour complimented her and her makeup in nude shades was a cherry on the top.
Sajal Aly: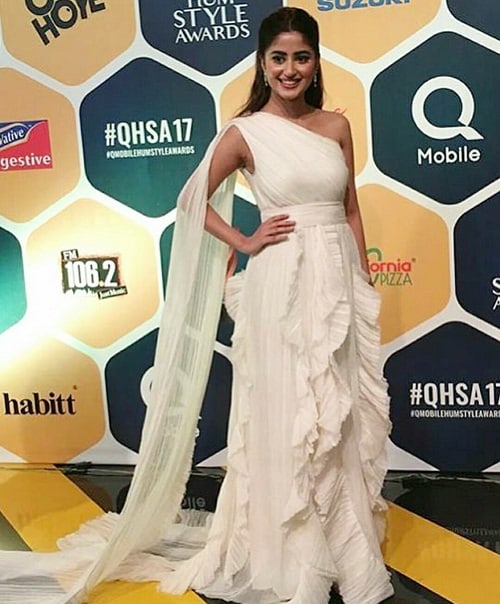 Sajal opted for a white gown with frills falling from all sides. Her dress was not "very beautiful" but her hair and makeup made her look extremely pretty. White is a colour which suits Sajal a lot and it worked this time too. With other celebrities trying to look rock band guitarists, Sajal opted simplicity and looked pretty.
Kanwar Arsalan and Fatima Effendi: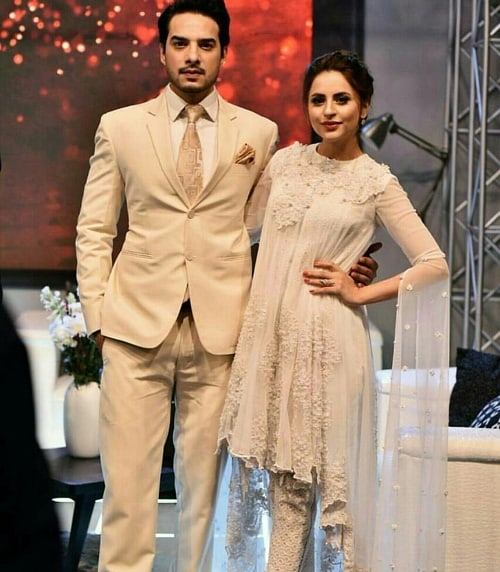 The couple came out in cream toned outfits and looked lovely. Fatima's outfit showed that how you can manage to look stylish and beautiful in eastern outfits too. Her sleeves were a statement and made the length of her shirt looked chick and stylish while keeping the overall look decent. Kanwar also looked dapper in his suit paired with pattern tie.
Shaneira Akram: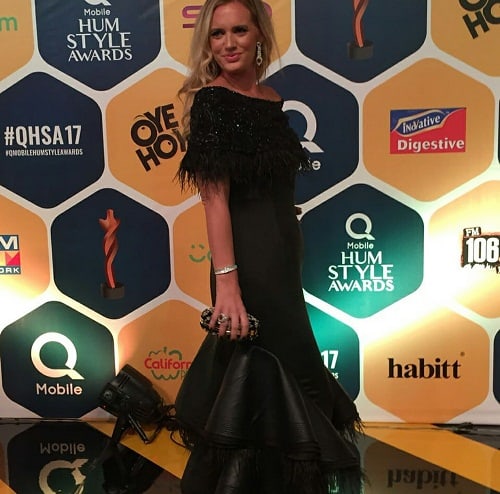 Shaneira rarely goes wrong with her outfit and styling. Last night she wore a black gown with cape style sleeves and looked ethereal. Her earrings brought an oomph to otherwise a simple black gown and made her land on the best-dressed list.
Feroze Khan: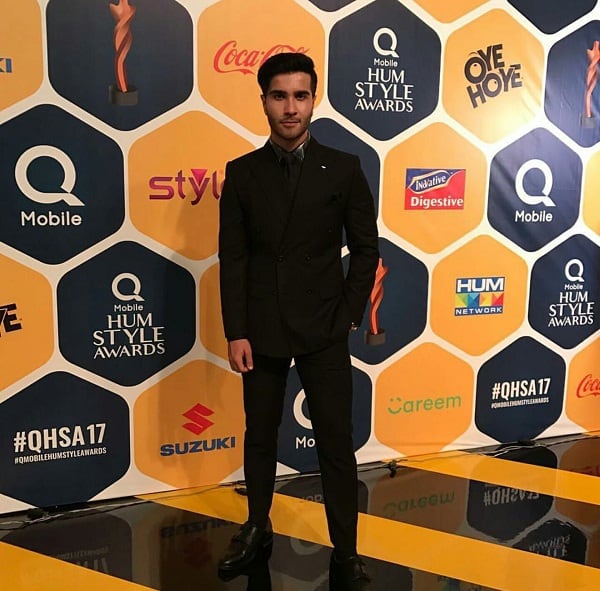 Feroze Khan opted a simple black suit. Black suits rarely go wrong and Feroze was able to pull off this look extremely well. He looked dapper and handsome. He also won an award for best-dressed actor television male and with his look at the event, he justified his win by looking stylish and handsome.
Alishba Yousuf: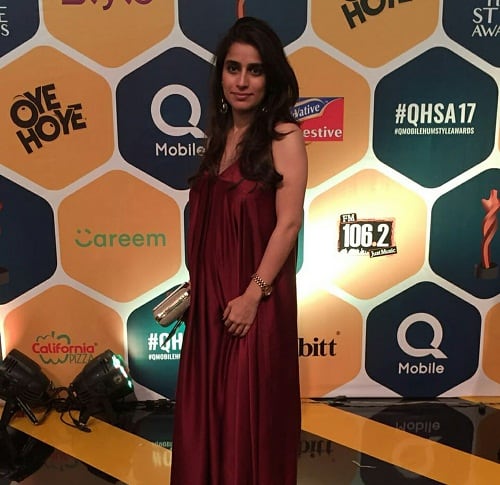 Alishba showed up in a vine coloured simple gown. She kept the styling and accessories minimal which complimented her choice of outfit. The dress looked pretty and comfortable and the way she styled herself by also keeping the comfort factor in mind made her look elegant. And yes Alishba was the only Yousuf sister who looked nice last night.
Hareem Farooq: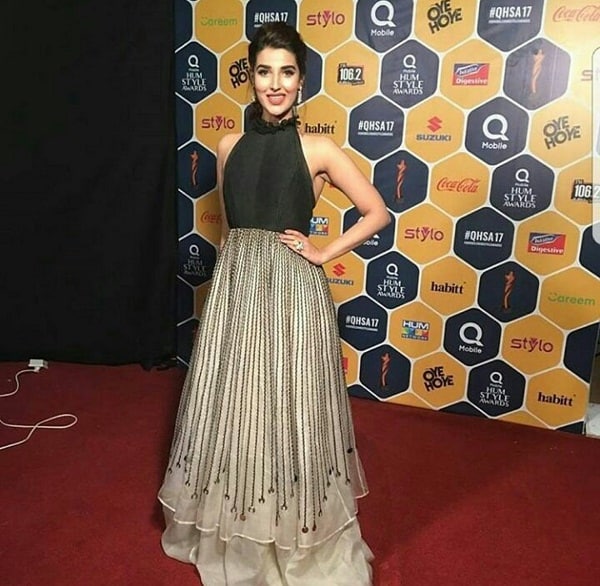 Hareem also looked good in a two-toned gown. Hareem has lost a lot of weight and now she usually opts for cuts that can show her newly acquired figure. This time too she went for similar kind of dress and she looked nice. Her hairstyle also complimented the overall look. It was a good choice for her to ditch her normal style of loose strands.
Amna Ilyas: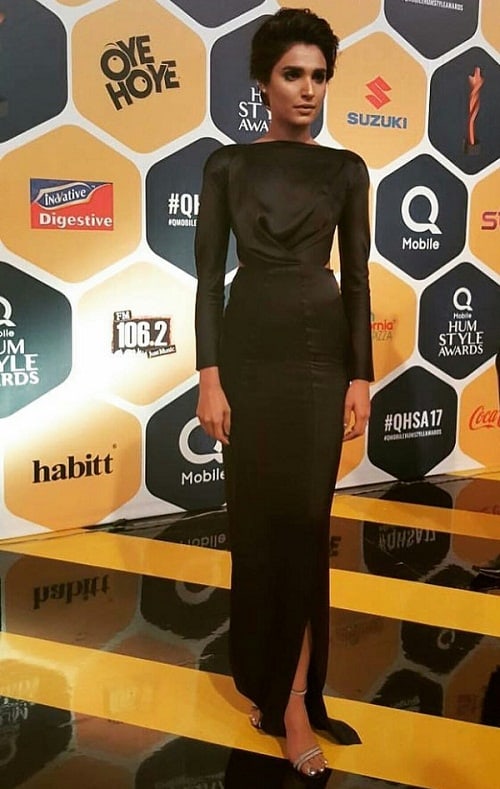 Amna was probably the only model other than Sunita who looked nice. She wore a simple black form-fitting gown. Her sandals and hairdo were the best parts about her overall styling and look. Her on the point highlight and minimal makeup made her look beautiful.
Hamza Ali Abbasi: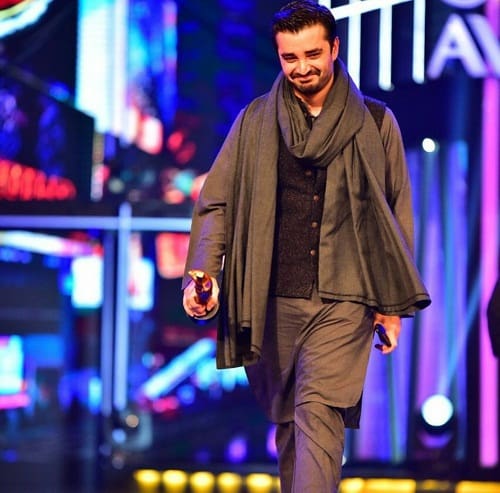 Hamza knows how to mix tradition with style. He always makes a statement at such events and pulls off his looks with grace and style. This time too he was able to grab the attention in his eastern greyish green attire.
These are the celebrities who looked nice at Hum Style Awards and maybe they were the ones who understood that it was an event meant to celebrate style and not some kind of robotics exhibition. Which celebrities you think should be on the list? Share your thoughts in comments!