Hum TV is one of the leading channels of Pakistan. They paved their way to success by reviving the Pakistani dramas which were suffering during the mid 2000's when everyone was watching Star Plus dramas. Hum TV is run by Sultana Siddique, Moomal Shunaid and Momina Duraid. These are three leading ladies that are behind every drama that goes into production under the banner of Hum TV.
In the last couple of decades, Hum TV has produced some superhit dramas and as a result, those dramas have given out some big names to the industry. Hum TV's constant support has earned these actors massive popularity and star status. Among those stars, the biggest names are Fawad Khan and Mahira Khan. Although it is good to see Hum TV going out of the way to promote new talent but the precedent they are setting to achieve that is wrong on so many levels. Channel heads like Sultana Siddique and Momina Duraid have proved it time and again that they will do anything to please their favorite stars. The drama industry evolves but in the field of arts, newcomers learn the craft and skills from their seniors who have left behind their legacies. Hum TV has time and again proved that at the expense of senior and veteran actors, they will do what it takes to please the stars from their lobby.
These are the look at the two major incidents which show how Hum TV has disrespected the legends:
Badar Khalil And Fawad Khan (2014)
In 2014, Badar Khalil was invited to attend Hum Awards as she was receiving The Lifetime Achievement Award. After the function, she let everyone know how Sultana Siddiqui humiliated her, only to accommodate Fawad Khan. Badar Khalil clearly stated that it was not Fawad Khan's fault to demand to be seated in the front row. According to Badar Khalil, she could hear Fawad Khan on the phone call to Sultana Siddique, where he told her that he will not attend the function if he will not be seated in the front row. Sultana Siddiqui asked Badar Khalil to vacant her seat and sit somewhere else. Badar Khalil left the award she had received on the seat and chose to walk out of the function. Badar Khalil left for Canada after this incident, but after she came back, she spoke to Faysal Qureshi in detail and explained what had happened. She stated again that it was not Fawad Khan's fault, however it was the responsibility of Sultana Siddique to make sure to not hurt her or Fawad's feelings. Badar Khalil said that Sultana Siddiqui's daughter in law Momina Duraid was also seated next to her, but she didn't ask her for a favor, rather told Badar Khalil to do so.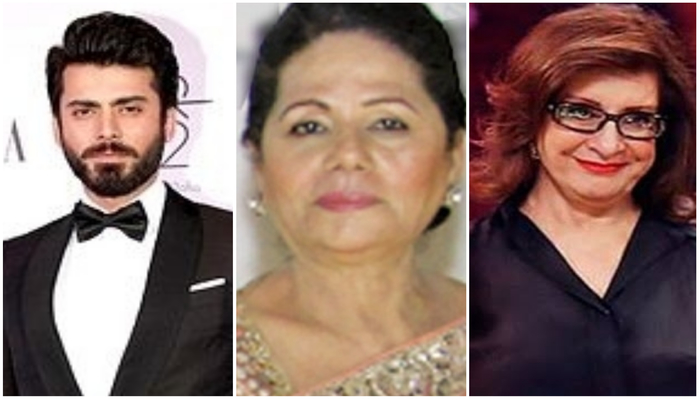 This entire statement of Badar Khalil sparked a debate back then and almost everyone came in support of Fawad Khan. Very few actors spoke in favor of Badar Khalil. She also compared the treatment she received when she got the same Lifetime Achievement Award from PTV. Badar Khalil has given 50 years to the industry but the owners of Hum TV made it very obvious that for them, the fresh talent was far more important than these of legends of the industry. No apologies were issued by Sultana Siddiqui to Badar Khalil. Sadaf Fawad claimed that everything that Badar Khalil told was a lie.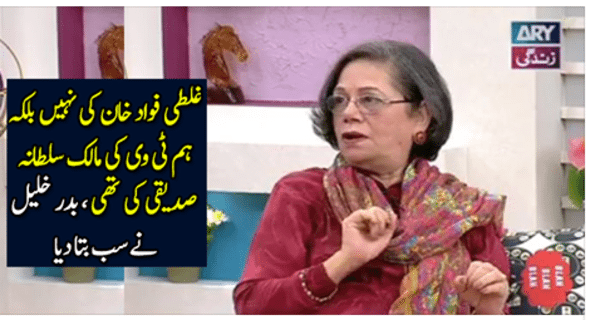 Firdous Jamal and Mahira Khan (2019)
In Faysal Qureshi's show Salam Zindagi, Firdous Jamal shared his opinions about Mahira Khan and that sparked a huge controversy. A lot of actors like Asma Abbas, Gohar Rasheed, Mawra Hocane, Fahad Mustafa, Shehryar Munawwar, Humayun Saeed etc have spoken in favor of Mahira Khan and they all were of the opinion that being a senior actor, Firdous Jamal should not have passed such remarks about his junior. Mahira Khan didn't say much but posted a hand-written letter where she spoke about spreading love. Mahira Khan got a good response for tackling this issue with maturity.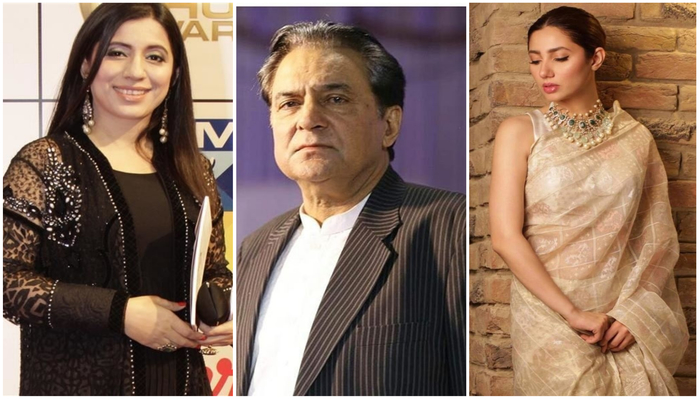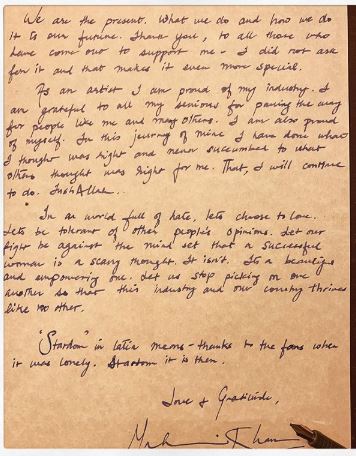 This entire controversy took an ugly turn when Momina Duraid of Hum TV shared her sentiments and clearly told that she was putting a ban on Firdous Jamal. According to Momina Duraid, she is ashamed of the fact that Firdous Jamal is a part of this fraternity and that he had no right to pass such regressive remarks about Mahira Khan. Momina Duraid has proved that for her, Mahira Khan is far more important and the amount of work Firdous Jamal has done over the past 45 years is not worth being respected for.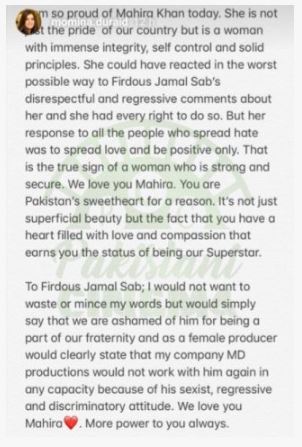 This statement by Momina Duraid has now sparked another debate and actors like Mishi Khan, Feroze Khan, Hamza Firdous are openly speaking against Momina Duraid. Mishi Khan has called it a mafia because for everyone this is unfathomable that based on an opinion of Firdous Jamal, his status and respect is being dragged down like this. People are also questioning that Mahira Khan spoke about spreading love but why is she not telling Momina Duraid to backtrack from her decision? In the past, celebrities like Nadia Khan and Veena Malik have also shared their opinion that they don't see Mahira Khan as an amazing actor.
Hum TV is setting the wrong precedent. In this era of freedom of speech, the owners of Hum TV are making it very obvious that they will not hold back in disrespecting the seniors for their favorite actors. Being one of the leading channels of Pakistan, the owners of Hum TV also has a responsibility to maintain balance and neutrality. If they want to support or promote their favorite stars, they are free to do that but definitely not at the cost of disrespecting the legends who have given their entire life to Pakistani drama industry.