Mathira is born on 23 February 1992 in Harare, Zimbabwe. Her father is Zimbabwean while mother is Pakistani. Mathira came to Pakistan six years ago, and started her career in showbiz. Talking to Akhbar-e-Jehan, (Urdu Weekly) whether she only wants to do item songs in films, Mathira said 'I am not an Item girl, dance is a complex job to do. In india even senior artists are doing item songs". She said my item song in film "Mein Hoon Shahid Afridi" was of two minutes duration. I believe whether it is two minutes show, but it should be noticed and remembered. I performed for two minutes but it will be remembered for two years.
On Veena Malik, Mathira said, Veena has done "C Class" work in India, there is no comparison between Veena and her.
Mathira told Samina peerzada, Faisal Rehman and Humayun Saeed are her favorite actors. In films she considers Shan a great hero of Pakistani films.
Here is the actual excerpt from Urdu Weekly Akhbar-e-Jehan.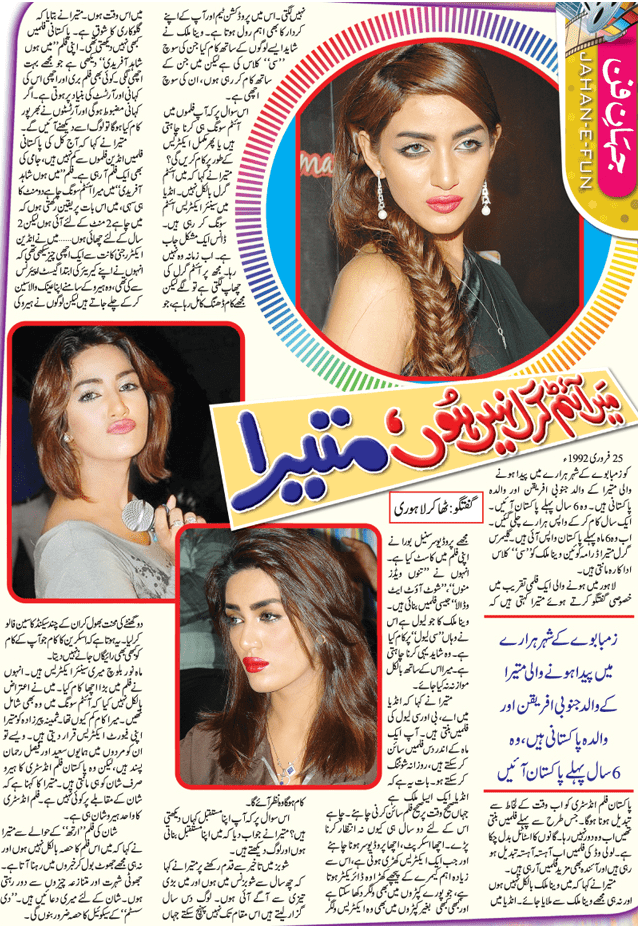 Rashid Nazir Ali