Ushna Shah makes good use of her facebook account to get many messages across to her fans and co-stars alike. We have seen her telling people off many times mainly her co-stars through her facebook statuses and now she is tired of fans who keep on approaching her in public. Ushna Shah is constantly reminding people that she is not a very friendly person! There are some who also go far enough to get hold of her phone number and call her probably thinking that Ushna Shah would be like those simple girls which she has been playing on screen. Ushna wants such fans to know that she is nowhere near Rudaba's character in real life.
Ushna Shah likes her privacy intact, she does not even want people staring at her while she is in public. Here is her latest status update in which she admits that she is a " cold/rude bi*ch":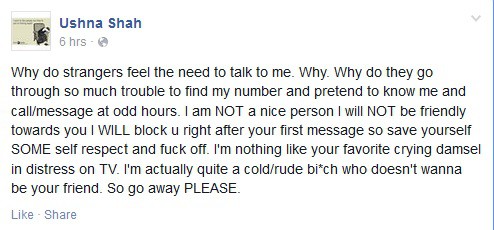 Every actor must feel that they need more space on and off but is this the right way to tackle with the situation? Girls get harassed even if they are not celebrities and they obviously feel the same way as Ushna does but does that mean that you call yourself a bi*ch?