Imran Abbas Naqvi is one of the finest young actors of recent times and has been in the industry for a long time now. He is popular for his striking good looks accompanied by his brilliant acting. He started his career as a model and turned into a Television actor later on. He initial plays include Umrao Jaan Ada, Love Stories and popular plays directed by Sultana Siddiqui like Qismat Ke Sitaray and Jannat. However, he came in the limelight and won the hearts of millions through his spectacular performance in Khuda aur Muhabbat, Meri Zaat Zarra-e-Benishaan, Akhbari Asghari, and Mere Paas Paas Sequel. He is also seen in the show Dil-e-Muztar which is currently on air on Hum TV and was recently seen in the Tarang telefilm Anjuman opposite Sara Loren.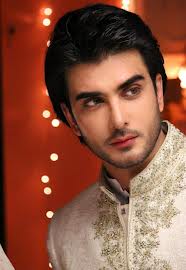 Like many other Pakistani actors, Imran Abbas has been trying for a long time to get into Bollywood. He has come close to signing many films but nothing really worked out in the past few years. However, he finally signed Anthony D'Souza's film opposite Akshay Kumar called 'Naam Hai Boss' but bad luck played its part again and Imran lost the role as he violated the terms of contract.
Apparently, producer Ashwin Varde had signed Imran on an exclusive contract with his company. The deal prohibited the newbie from getting involved with any other film. "But Imran unknowingly auditioned for another project starring one of the big Khans. That irked the makers, who have been sponsoring Imran's training, accommodation and other expenses all this while. After the breach of contract, Imran was dropped from the film. After the debacle, Imran immediately departed for Pakistan. He came back dejected and disappointed by the misfortune and signed Momina Duraid's show Dil-e-Muztar and we saw him back on screen after a long time.
A friend of Imran stated: "Imran didn't sign up for any film. If he had, the makers would have had all the right to fire him. But he only auditioned. I don't understand how any contract can stop you from auditioning for random films."
It was highly unfortunate for Imran to miss out on such a big opportunity. However, this was not the end of his bad luck. Apparently, he had been offered the Indian movie 'Aashiqui 2' produced by the Bhatt camp which he had declined. Though, the reason for not opting for this movie is not yet clear as we do not know whether he declined to do the role or if he could not do the movie as he had already signed a movie contract.
Aashiqui 2 had surprisingly turned out to be a SUPER blockbuster of the year 2013. It has earned 62 crores in India in just 17 days and 3 crores in overseas. It has got outstanding reviews and its music has become a rage all over. Imran Abbas highly regrets declining the movie as he posted on his twitter: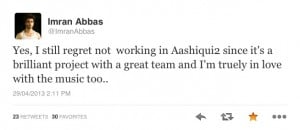 He was seen appreciating the movie and congratulated the makers on the success of Aashiqui 2 as he twitted to Mahesh Bhatt:
Well, this has turned out to be the biggest stroke of bad luck of his life as the leads of the movie, Aditya Roy Kapoor and Shraddha Kapoor has become superstars overnight!
But now after a series of unfortunate events, he is finally making his debut with actor Bipasha Basu in a film titled "Creature" being produced by Bhushan Kumar and directed by Vikram Bhatt. Imran who was in Mumbai recently spoke to Times of India and said, "Yes it is true that I have signed the movie "Creature" where I shall act with Bipasha Basu. The shooting dates are yet to be finalized. I was in Mumbai for the final discussion and shall be back again for the shooting of the movie very soon."
He had recently finished shooting for Dil-e-Muztar and is now heading off to Mumbai soon to start the shooting of his new movie according to his new tweet:

We wish the best of luck to Imran Abbas for his upcoming movie and hope that nothing ill meets his way this time!
Mariam Shafiq