There are a number of legendary artists that Pakistan Film Industry has produced but there are only a few legendary artist whose children are proud to carry their legacy forward and enchant their name in the years to come. One of such outstanding legendary personality is of Madam Noor Jehan, whose daughter "Mina Hasan" is energetic enough to sprinkle glitters over the name of her mother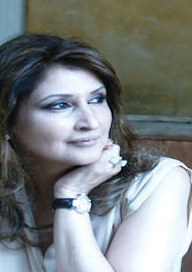 The resemblance to her late mother, Madam Noor Jehan, is striking just as Mina's witty conversation reflects the singer's style
But she quickly composes herself.
There is an inborn elegance and regality in the way Mina Hasan talks. It is also obvious that she led a pampered life. She is also a designer par excellence.
Being the daughter of Noor Jehan and wife of the Hockey legend Hasan Sardar, one would think that she has lived in their shadows all her life.
"Being part of her has given me so much confidence and has opened doors for me in the clothing business. When my partner in India introduces me as Noor Jehan's daughter, doors start opening everywhere. In India Javaid Akhtar and Kiron Kher take very good care of me because of this privilege, just as the army circle here does because of my mother's patriotic contribution during the '65 and '71 wars. My husband Hasan, who has a name for himself, takes a backseat when people find out who my mother is."
Life with her mother was heaven. "An amazing parent," she would cook for them, take them on vacations. She was always a mother first and Mallika-i-Tarannum later, with a huge sense of humour, and loved them fiercely.
Reminiscing ruefully, Mina says Noor Jehan was extremely intelligent and had an intimidating personality. She loved art and the fine things in life and instilled this in her children along with oodles of confidence. Ghalib being her favourite poet, she would quote him often and wrote poetry herself.
"She refined us." She also knew what to say at the right moment. "When the former Indian Prime Minister Rajiv Gandhi visited Pakistan, he asked my mother to sing at a dinner. She readily agreed saying that as he was a guest she could not decline as she did his mother, Indira Gandhi, in India when she was their guest."
Mina's relationships with her extended family is inspiring. "My mother went through tough times during her career and acquired a big view of life in the process. All her daughters are headstrong because she pampered and smothered them with love."
Her step-sister Zille Huma and brothers from Shaukat Husain Rizvi were very close to each other just as their children are. Both her brothers have died. "My father, Eijaz, remarried and we are close to my stepmother and three step-sisters. We all get on well and can't think otherwise."
Mina Hasan began designing for herself, family and friends as a pastime. "I've seen so much glitz and glamour in my life that it seems I have inherited it. I got into couture after my mother passed away. I had nothing to do when she died as my focus in life was just to take care of her during her illness. There was so much emptiness around me when she was gone that I would continuously cry. Distressed at my condition, it was my father who suggested I get into designing clothes commercially."
With a diploma from London, children all grown up, Mina started making clothes for select clients and gradually expanded the business. "It can be tedious, the minute work, but even then I love it." Her husband Hasan Sardar has been very helpful and has supported her throughout. She now supplies clothes to a few outlets. "I have opened a shop now, so let's see how it all works out."
The glamour through her mother and Hasan, the money and recognition through her work, have come in a package. "I strongly believe women should be independent and be able to make a living for themselves, that is why my daughter and nieces are all educated and working."
Having always been into bridals and party wear, one year back she stepped into prêt and started sending her clothes abroad. "I design differently according to the taste of the country. India is into heavy stuff and bright colours and in America it's semi-formal dark colours, black, peacock, etc."
She admits her clothes are on the expensive side but women in Dubai, Delhi and Karachi, she says, know how to dress and go for quality. "Globally, people are becoming more aware of fashion and we, too, have fantastic designers here in the country."
She went into prêt because it is casual and chic and in demand 12 months round, needing new designs constantly, whereas bridals are limited to seasons. "Designing is actually your imagination and creativeness and good cloth at work, it just comes out when you combine them. The degree helps but you have to have the talent in you. Like actor Mohammad Ali used to say when he would hear my mother sing, that you have to have a voice to sing."
Noor Jehan loved to wear flashy clothes and dazzling jewellery and had a dress sense which her daughters were exposed to from a young age. "She was immaculately dressed all the time with her hair done up in an elaborate bouffant with a big flower. How you carry yourself is important, you might be wearing very expensive clothes but you look bad if you don't have proper grooming. She was good at everything. I idealize her and have inherited the dress sense from her and decided to go for a diploma in clothes designing abroad because of the way she looked."
Mina's design orientation is Karachi-based, and she makes modern eastern clothes. Her environment was the Murree convent whereas her mother was Lahore-based and had to be glitzy due to her showbiz environment. "But then she could carry her jewellery and saris."
Plans to present her clothes on the ramp are under way. She will do both prêt and bridal in a fashion show early next year, and is waiting for the right place and the right time.
Auctioning of personal items of famous stars is a known concept abroad. Noor Jehan being a legend, many people would be interested in owning her beautiful clothes. Such a thought has not crossed her children's mind. "The concept of auction is unknown here. We haven't thought about it and have distributed her clothes among ourselves. I would have auctioned her clothes for a good cause here if it was demanded."
Having inherited the genes for singing from her mother, Mina loves to sing for her friends but has never gone public as Noor Jehan never encouraged her children to sing. She had an ustad for six months only. "Singing is more like a therapy for me as I get immense pleasure from it and my husband loves to hear me sing, but I will never perform on the stage."
Having quite a few qualities herself does her daughter idolise her the way she idolised Noor Jehan? "I would hope so," Mina says. The mother and daughter bond is quite strong and Alisha, her daughter, trusts her completely in everything. She left a job after getting straight As in America, coming back to Pakistan at her mother's request, not questioning her once. "We have never been strict with our children but we have given them guidelines as well as their space, just as our parents did with us"
*——————————————————————————————————————————————————-*
This was all for you from her-side. Now, it is time for you to share your views with us.  Did it inspire you as well, the way she is carrying her mother's legacy forward or do you have some other opinion about it?. Please, drop your comments beneath.
S. Rasool