Interview of Aamina Mufti – "No one contacted to write another unique drama like 'Ullu Baraye Farokht Nahin'."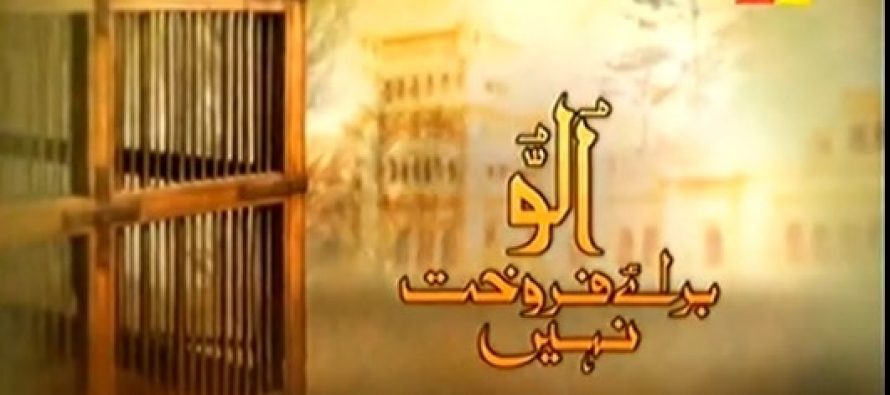 Ullu Baraye Farokht Nahin (UBFN) is recently concluded serial, of HUM TV. It was applauded for its direction, story and acting. Recently Aamina Mufti writer of the drama has given an interview to Voice of America (VOA) and expressed her views on UBFN and her other writings and contemporary trends in drama writing. While we listen to actors and directors, most of the female writers of drama never appear on media especially television. The fans never hear the opinion of writer about the drama. But Aamina Mufti has appeared on VOA Urdu and talked quite openly on UBFN and current trends in drama writings.
As per Aamina, "No one has contacted her to writer another unique and different drama like UBFN. Demand of drama market is to write something spicy. Once there was repression of Dictator and now it is replaced by TV Channels".
The interview is done by Madeeha Anwar. Here is the URL to listen to this very interesting half hour interview of Aamina Mufti.
http://www.urduvoa.com/audio/Audio/345342.html
'الّو برائے فروخت نہیں'، کردار کہتے رہے ہم پر لکھو: آمنہ مفتی
ڈرامہ رائٹر آمنہ مفتی کہتی ہیں کہ، '' اس ڈرامے کے بعد مجھ سے کسی نے رابطہ کرکے یہ نہیں کہا کہ ایسے ہی کسی اچھوتے خیال پر ڈرامہ لکھ کر دیں۔ ڈرامہ مارکیٹ میں فرمائش کی جاتی ہے کچھ 'مزیدار' سا لکھیں۔ دراصل ایک زمانے میں آمر کا جبر تھا، آج 'پرائیویٹ چینلز' کا ہے
'میرے ذہن میں ہمیشہ یہ بات ہی ہے کہ جو زمین سے پھُوٹنے والی خُوشبو کا یا خاص قسم کے خطے میں رہنے والوں کا ایک ذہن بن جاتا ہے، اس کو نہ تو آپ خرید سکتے ہیں نہ بیچ سکتے ہیں، نہ ڈرا سکتے ہیں اور نہ ہی اِس سے آپ کسی کو الگ کر سکتے ہیں'۔۔۔ یہ کہنا تھا آمنہ مفتی کا جن سے ہم گفتگو کر رہے تھے ان کے حالیہ ڈرامے 'الو برائے فروخت نہیں' کے بارے میں۔۔۔
ایک ایسے وقت میں جب ہر ٹی وی چینل پر لگنے والے ہر ڈرامے کی کہانی ساس بہو کی چپقلش، بہنوں کی ناراضی، سوکنوں کی سازش، بیٹے کی رنجش، سسر کی سختی یا پھر کوئی دنیاوی چوٹ کھا کر مالک ِ حقیقی کی طرف پلٹنے جیسے موضوعات کے ارد گرد ہی گھومتی دکھائی دیتی ہے، 'الو برائے فروخت نہیں' جیسے ڈرامے نے یقیناً دیکھنے والوں کو کچھ نیا اور کچھ ہٹ کر دیا۔ شاید یہی وجہ ہے کہ یہ ڈرامہ اپنے اختتام تک ناظرین کو اپنی گرفت میں لیے رکھنے میں کامیاب رہا۔
ڈرامے کی مصنفہ آمنہ مفتی سے گفتگو میں ہم نے اس ڈرامے کے اچُھوتے نام کی بابت سوال کیا تو آمنہ کا کہنا تھا، 'الّو دراصل ایک علامت ہے۔۔۔ الّو علامت ہے ویرانے کی، جادو کی، عقلمندی کی ۔۔۔ اور یہاں پر میں نے الّو کو عقل یا لوک دانش کے طور پر استعمال کیا ہے'۔
مگر ریٹنگ کے اس دور میں جب ہر ڈرامہ 'مصالحہ' کے نام پر بنتا اور بکتا ہے، 'لوک دانش' کی گنجائش کتنی ہے؟ اور کیا ہمارے لوگ 'لوک دانش' کو سمجھنے اور جذب کرنے کی صلاحیت رکھتے ہیں؟ ۔۔۔ آمنہ اس حوالے سے قدرے مختلف خیالات رکھتی ہیں۔ وہ کہتی ہیں کہ، 'ہمارے لوگ بہت باصلاحیت ہیں اور مشکل چیزیں بھی سمجھ لیتے ہیں۔ ایک زمانہ تھا جب پی ٹی وی پر فلسفیانہ موضوعات پر ڈرامے لکھے گئے لیکن انہیں پذیرائی ملی۔ اس لیے یہ کہنا کہ لوگوں کو سمجھ نہیں آتا، غلط ہے۔ آپ دیکھیئے گدھا گاڑی پر، قلفی کی ریڑھی پر یا پھ ٹرک پر بعض اوقات آپ کو 'پھڑکتا' ہوا شعر یا کوئی خیال دیکھنے کو ملتا ہے۔ بیشک ہجّے غلط ہوں گے مگر اصل بات اس خیال کی خوبصورتی ہے جو ایک عام شخص نے لکھا ہوتا ہے۔ یہی رویہ ڈرامہ دیکھنے والے کا بھی ہے۔ آپ اچھی چیز دکھائیں گے تو وہ ضرور سمجھے گا، جذب کرے گا۔ گویا جو کچھ آپ ٹی وی پر دکھائیں گے، وہی آپ کی قوم کا مزاج بنتا جائے گا'۔
کیا واقعی ہمارے ٹی وی ڈرامے ہمارے قوم کے مزاج کے عکاس ہیں یا معاملہ کچھ اور بھی ہے؟ ۔۔۔ آمنہ مفتی کہتی ہیں کہ، 'آج کل ادیب نہیں لکھتے بلکہ انہیں بلا کر 'سٹوری لائن' دی جاتی ہے۔ انہیں بتایا جاتا ہے کہ یہ دو فلمیں ہیں اور ایک ڈرامہ ہے، اسے مکس کیجیئے اور ایک سیریل تیار کیجیئے۔ حتیٰ کہ بڑے اور نامور ادیبوں سے بھی انہی خطوط پر لکھوایا جاتا ہے'۔۔۔
مگر ایسے میں اُن لکھاریوں کی شنوائی کہاں تک ہوتی ہے جو آج بھی اپنی تحریر میں کسی دوسرے کے خیال کی آمیزش سے گریز کرتے ہیں، کرداروں کی بُنت پر وقت لگاتے ہیں اور منظر نگاری کے لیے گہرے مشاہدے کو ترجیح دیتے ہیں۔۔۔ آمنہ مفتی کہتی ہیں کہ، 'ایسے ادیبوں کی تعداد کم ہے۔ خود میں نے اپنی ایک دو کہانیاں لوگوں کو ڈرامہ بنانے کے لیے آفر کیں۔ مگر ڈرامہ مارکیٹ میں فرمائش کی جاتی ہے یہ بھی اچھی ہیں مگر کچھ 'مزیدار' سا لکھیں دراصل ایک زمانے میں آمر کا جبر تھا، آج 'پرائیویٹ چینلز' کا ہے!'
تو پھر ایک ایسے ماحول میں 'الو برائے فروخت نہیں' کا لکھنا مشکل نہیں تھا۔ ایک ادیب ہونے کے ناطے آپ نے یہ تجربہ کیوں کیا؟ ۔۔۔ اس کا جواب آمنہ مفتی نے کچھ یوں دیا، ''میں نے یہ ڈرامہ پذیرائی کے لیے نہیں لکھا تھا۔ مجھے اندازہ بھی نہیں تھا کہ لوگ اسے اتنا سراہیں گے۔ دراصل 'الو برائے فروخت نہیں' کے کردار ہمیشہ مجھ سے کہتے رہے کہ ہمارے بارے میں لکھو۔''
Hope you will like this sharing. Do share your thoughts.
Thanks.
 Rashid Nazir Ali
---