Interview of Chef Zakir Qureshi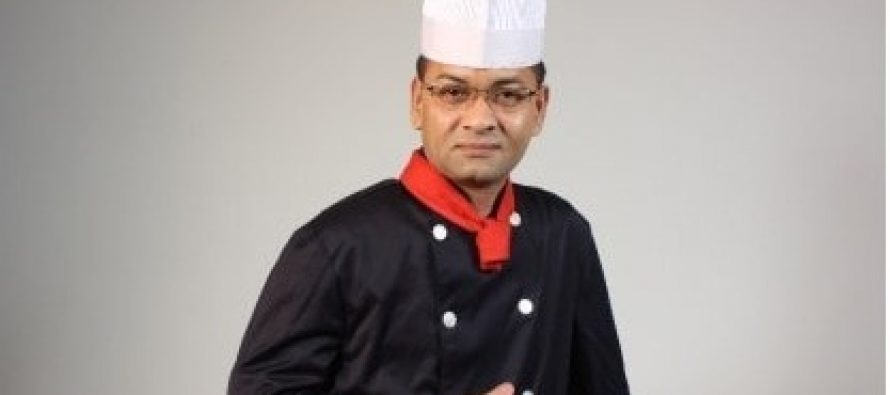 Muhammad Zakir Qureshi is famous chef of Masala TV, here is his interview from sunday magazine of urdu daily Dunya, done by Yasmeen Taha.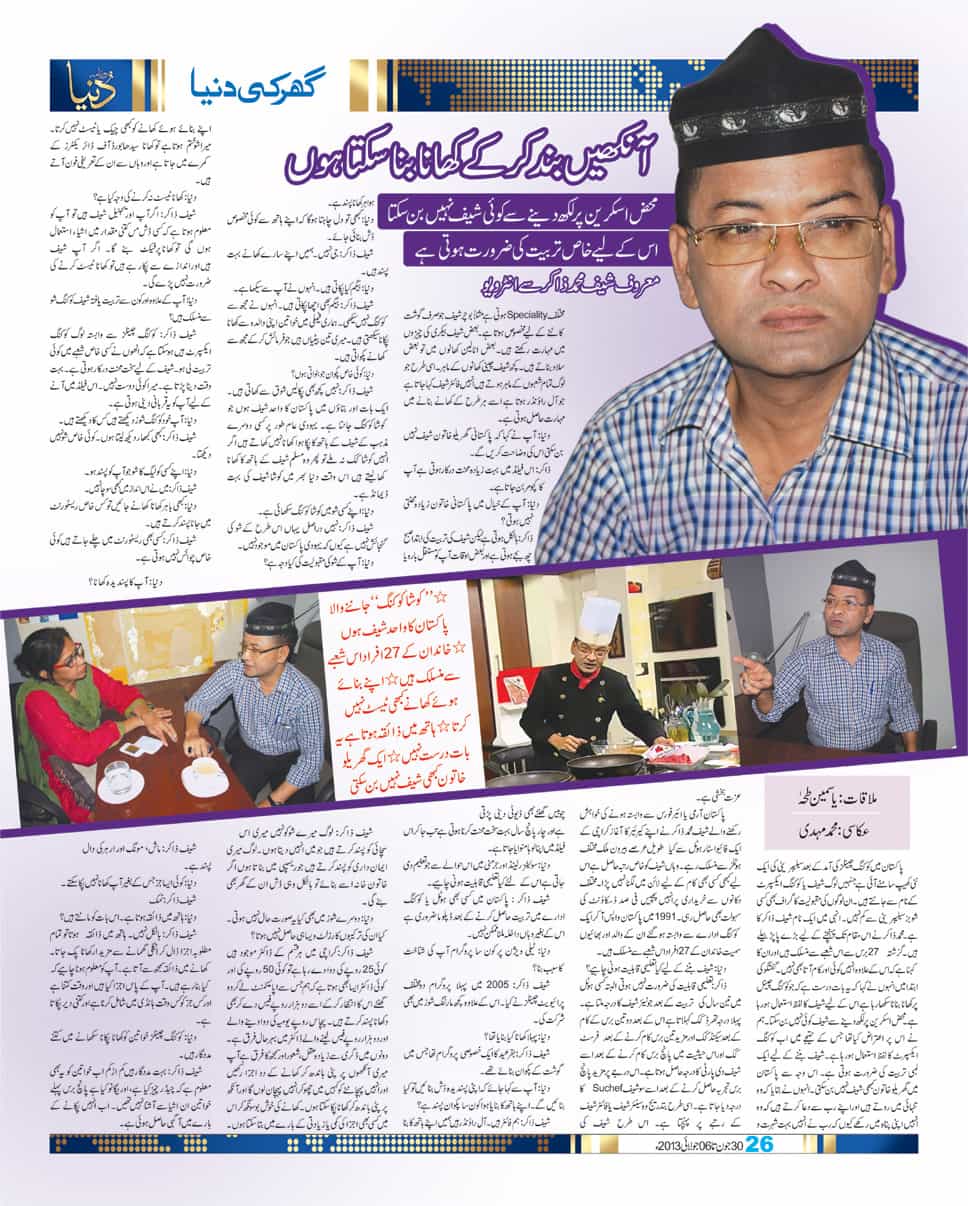 Interview content in roman urdu
Pakistan mein cooking channels ki aamad kaay baad celebrity ki aik nayee khhaip saamnay aaye hai jinhain log chef yaa cooking expert kaay naam say jantay hain. In logon ki maqbooliyat ka graf bhi kissi showbiz celebrity say kam nahin nahin hain. MUHAMMAD zakir nay iss muqaam tak pohanchnay kay liye baray papar belay hain. Guzishta 27 baras say iss shobay say munsalik hain aur unka kehna hai kaay iss kay ilaawa unhain koi aur kaam aata bhi nahin. Guftugu ki ibtida mein unhoon nay kahan kaay yeh baat durust hai kaay jo cooking channel per khaana banana sikkha raha uskay kiye chef kaa lafaz istimaal ho raha hai. Mehaz scree per likkh denay say chef koi nahin ban sakta. Hum nay iss per aitraaz kiya thha jis kay nateejay mein ab cooking epert ka lafaz istimaal ho raha hai. Chef ban-nay kay liye aik lambi tarbiyat ki zaroorat hoti hai . issi wajah say Pakistan mein gharelo khatton kabhi chef nahin ban sakti/ unhon nay bataya kay who tanhayee mein rotay hain aur apnay rab say dua kartay hain kaay who unhain apni panah mein rakhhay kyonkay rab nay unhain bohat shohrat o izzat bakhshi hai.
Pakistan army yaa airforce say wabasta honay ki khwahish rakhnay waalay chef MUHAMMAD zakir nay apnay career ka aaghaz karahi kay aik five star hotel say kiya. Taweel arsa beroon mulk mukhtalif hotels say munsalik rahay wahan chef ko khaas rutba haaskil hota hai isliye kabhi kissi bhi kaam kay liye line mein lagna nahin para. Mukhtalif dukanon per 25 % discount ki sahoolat bhi haasil rahi. 1991 mein Pakistan waapis aa kar aik cooking idaaray say wabasta ho gaye unkay waalid aur bhayion samait khandaan kaay 27 afraad is shobay say munsalik hain.
Q: chef ban-nay kayliye kiya taaleemi qabliyat honi chahiye
ZQ: taalmi qabliyat ki zaroorat nahin hoti albaata kissi hotem mein teen saal ki tarbiyat kaay baad junior chef kaa darja milta hai. Pehla darja third cook kehlaata hai iss kaay baad do teen baras kaay kaam kaay baad second cook aur mazeed teen baras kaam kaay baad first cook aur iss haisiyat mein paanch baras kaam karnay kaay baad ussayy chef de party kaa darja haasil hota hai. Is darjay per mazeed paanch baras tajarba haasil kanray kaay baad ussay suchef kaa darja diya jaata hai issi tarah batad-reej who senior chef yaa fighter cheff kay rutbay per pohanchta hai. Iss tarha cheff ki mukhtalif speciality hoti hai maslaan butcher chef jo sirf gosht kaatnay kay liye makhsoos hota hai. Baaz chef bakery ki cheezon mein maharat rakkhtay hain. Baaz Italian khhanon mein to baaz salad banatay hain. Kucch chef Chinese khhanon kaay maahir. Issi tarah jo log tamam shobon kay maahir hotay hain unhain fighter chef kaha jaata hai jo all rounder hota hai aur ussay har tarah kaay khhanay bana-nay mein maharat haasil hoti hai.
Q: aap nay kaha kay Pakistani gharelo khatoon chef nahin ban sakti is ski wazahat karain.
ZQ: is field mein bohat zyada mehnat darkaar hoti hai aap ka kachumar ban jaata hai
Q: aapkay khayal mein Pakistani khatoon zyada mehanti nahin hoti
ZQ: bilkul hoti hain lekin chef ki tarbiyat ki ibtida subah chhay bajay hoti hai aur baz auqaat aapki mustaqil baara yaa chaubis ghantay bhi duty deni parti hai aur chaar paanch saal bohat sakht mehnat karna hoti hai tab jaat kar is field mein apna loha manwaya jota hai
Q: Switzerland aur germany mein iss hawalay say jo taaleem di jaati hai uskay liye kiya taaleemi qabliyat honi chahiye
ZQ: Pakistan mein kisi bhi hotel yaa cokking adaray mein tarbiyat haasil karnay kaay baad diploma zaroori hai uskay baghari wahan daakhla milna mumkin nahin
Q: television per kon program aapki shinaakht bana
ZQ: 2005 mein pehla program do mukhtalif private channels nay kiya. Iskay ilaawa kucch morning shows mein bhi shirkat kee
Q: pehla khhana kiya banaya thha
ZQ: bakar eid ka aik khasoosi program tha jis mein gosht kay pakwan banaye thay
Q: aap say kaha jaye kay apni pasandida dish banaye to kiya banayen gay apnay haath ka banaya konsa pakwan pasand hai
ZQ: hum fighter hain all rounder hain hamain apnay haath kaa bana huwa har khana pasand hai
Q: kabhi to dil chahta ho ga kay apnay haath say koi makhsoos dish banayee jaye
ZE: ji nahin hamain apnay saaray khhanay bohat pasand hain
Q: begum kiya pakati hain unhon nay aap say seekkha hai.
ZQ: begum bhi accha pakati hain, unhon nay mujh say cooking nahin seekkhi. Humari family mein khawateen apni walida say khhana pakana seekkhti hain. Meri teen betiyan jo farmayesh kar kay mujh say khaanay pakwaati hain.
Q: koi khaas pakwaan jo banwaati hon
ZQ: nahin kucch bhi paka lain shoq say khhati hain. Aik baat aur bataoon mein Pakistan kaa wahid kosher cooking jaanta hai. Yahoodi aaam taru per kissi doosray mazhab kaay haath kaa paka khana nahin khatay hain agar unhain kosher cook naa milay to phhir who muslim chef kay haath ka khana khaa letay hain iss waqt dunya bhar mein kishar chef ki bohat demand hai
Q: yahan kiss show mein kosher cooking sikkhayee
ZQ: nahin darasal yahan iss tarah kay show ki gunjayesh nahin hai kyon kay yahoodi Pakistan mein mojood nahin
Q:aapkay show ki maqbooliyat ki kya wajah hai
ZQ:log merayy show ko nahin meri iss sachayee ko pasand kartay hain jo mein unhain detay hoon. Log meri imaandaari ko pasand kartay hain jo recipie mein banata hoon agar khatoon khana ussay banaye to bilkul wohi dish unkay ghar bhi banay gi
Q: doosray shows mein bhi kiya yeh soorat haal nahin hoti kiya unki tarkeebon ka result wesa hi haasil nahin hota?
ZQL Karachi mein har kisam kay doctor mojod hain, koi 24 rupay ki dawayee dey reha hai to koi 50 ki  aur koi doctor aisa bhi hota hai kay hum jiss say appointment aly kar do ghantay us ka intizar kar kay ussay do hazar roopay fees day kar bhi dikhhana pasand kartay hain, pachaas rupaay yomiya ki diwayee denay walay aur do hazar rupay fees lenay waalay doctor mein behar haal farq hai. Donon mein degree say zyadah aqal, shaoor aur samajh ka farq hai aap meri aankon per patti baandh kr khhanay kay do ajza rakkhain aur unhain pehchan-nay ko kahian mein chho kar unhain pehchan loon gaa aura ankh per pati baandh kar khhana paka sakta hoon. Khhanay ki khooshbo soongh kar uss mein kissi bhi ajza ki kami yaa zyadti kaay baaray mein bata sakta hoon. Apnay banaye huway khhanay ko kabhi check yaa test nahin karta mera show khatam hota hai to khhana seedha borad of directors kaay kamray mein jaata hai aur wahan say unkay tareefi phone aatay hain
Q: apna khaana test na karnay ki wajah kiya hai
ZQ: agar aap original cheff hain to aapko maaloom hota hai kay kissi dish mein kitni miqdaar mein ashyaa istimaal hon gee to khana perfect banay gaa. Agar aap chef hain aur andazay say pukaar rahay hain to khhana test karnay ki zaroorat nahin paray gi
Q: aap kay ilaawa aur kon say tarbiyat yaafta cheff cooking show say munsalik hain
ZQ: agar aap original cheff hain to aapko maaloom hota hai kay kissi dish mein kitni miqdaar mein ashyaa istimaal hon gee to khaana perfect banay gaa. Agar aap chef hain aur andazay say paka rahay hain to khhana test karnay ki zaroorat nahin paray gee
Q: aap kay ilaawa aur kon si tarbiyat yaafta chef cooking show say munsalik hain
ZQ: cooking channels say wabasta log cooking expert  mein ho sakta hai kay unhon nay kissi khaas shobay mein koi tarbiyat li ho. Chef kayliye sakht mehnat darker hoti hai . bohat waqt dena parta hai. Mera koi dost nahin. Is field mein anay kay liye aapko yeh qurbani deni hoti hai
Q: aap khood cooking shows dekhtay hain kiss kaa dekhtay hain
ZQ: kabhi kabhar dekh leta hoon, koi khaas show nahin dekhta
Q: apnay kissi colleague ka show jo aapko pasand ho
ZQ: kabhi kabhar dekh leta hon, koi khaas show nahin dekhta
Q: apnay kissi collegue ka show jo aapko pasand ho
ZQ: meinnay iss andaaz mein kabhi socha nahin
Q: kabhi bahir khana khanay jayen to kiss khaas restaurant mein jaana pasand kartay hain
ZQ: kissi bhi restaurant mein chalay jaatay hain koi khaas choice nahin hoti hai
Q: aap ka pasandeeda khhana
ZQ: mash, moon gaur arhar ki daal pasand hai
Q: koi aisa juz hai jiskay baghair aap khana nahin paka saktay
ZQ: namak
Q:haath mein zaiqa hota hai uss baat ko mantaay hain
ZQ: bilkul nahin haath mein zaiqa hota to tamam matlooba ajzaa daal kar ungli ghumanay say mazedaar khaana pak jaat. Khanay mein zayeqa samajh say aata hai. Aapko maaloom hona chahiye kaay kiya bana rahay hain. Aapkay paas ajzaa kiya hain aur waqt kitna hai aur kiss juzz ko kiss waqt handi mein shaamil karna hai aur kitni dair pakana hai
Q: cooking channels khawateen ko khaana pakana sikkhanay mein kitnay madadgaar hain
ZQ: bohat madadgaar hain kam az kam khawateen ko yeh bhi maaloom hai kay chadder cheese kiya hai oregano kiya hai paanch baras pehlay khawateen in ashaya say aashna nahin then. Ab unhain pakanay kay  baaray mein aaghi haasil hoti hai
Rashid Nazir Ali
---