Interview of Uroosa Sidiqi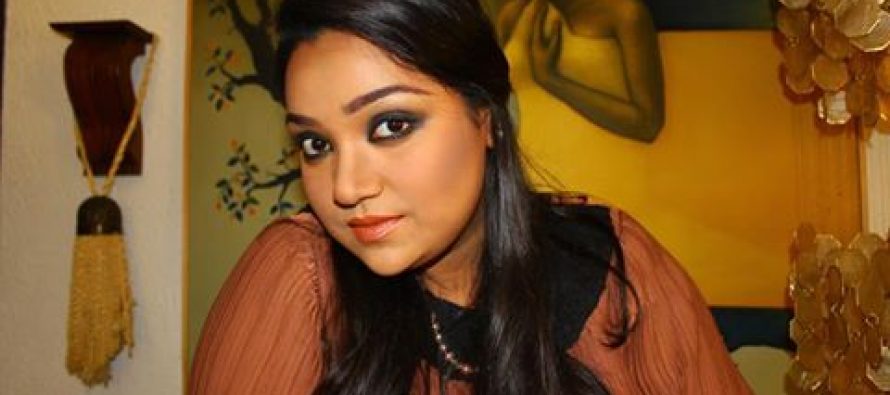 Interview of Uroosa Sidiqi from Sunday Magazine of Urdu Daily Dunya, done by Nosheen Naqvi. Uroosa Sidiqi is a lively personality, she has mostly done comedy rules but have done justice to all type of roles she has performed. Takay ki aayegee barat, ishq ki inteha, bulbulay, rusgullay, kankar are some of notable dramas she has worked in.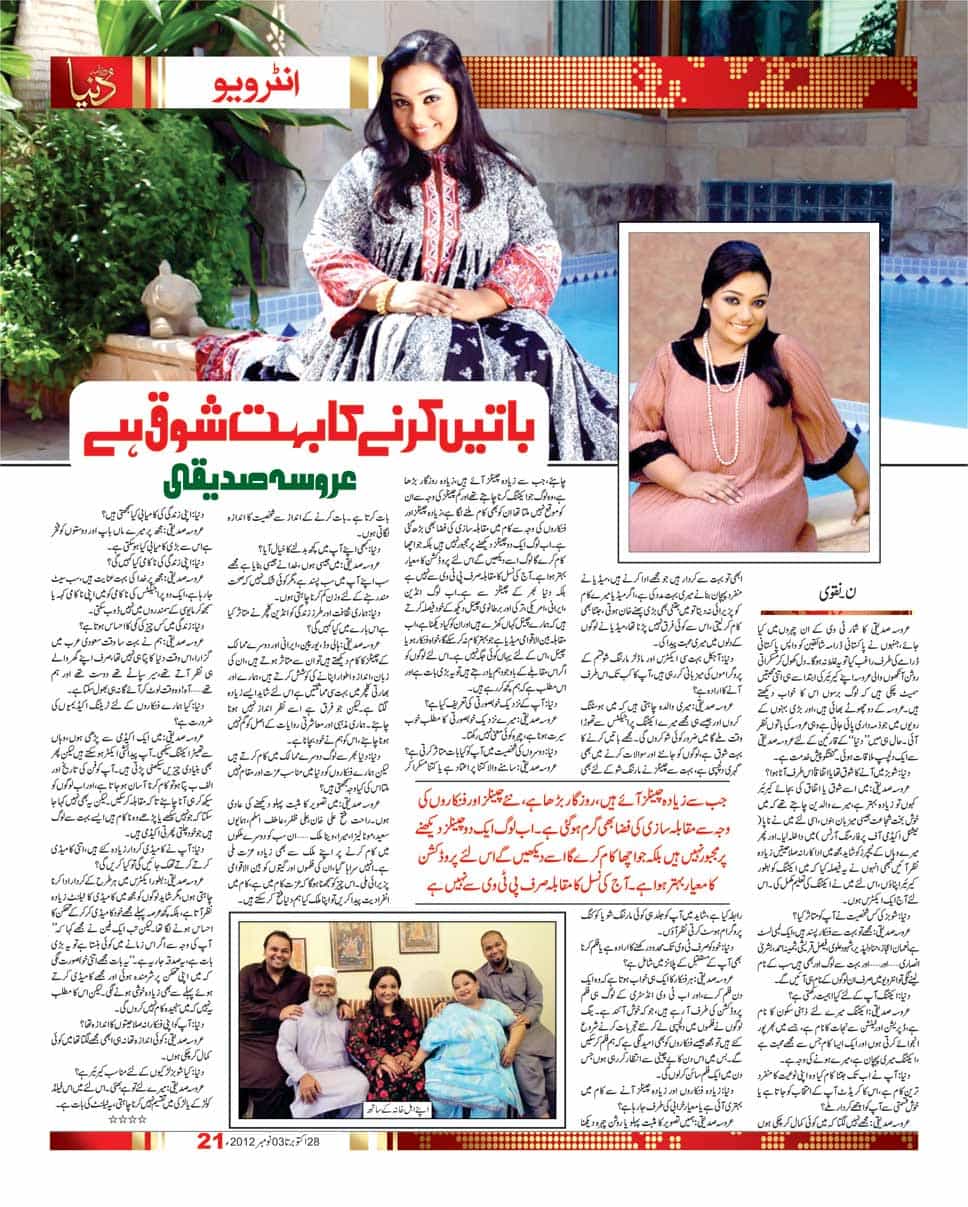 Content of interview in roman urdu
Ursoos sidiqi ka shumaar tv kay unn chehron mein kiya jaye, jinhon nay Pakistan drama shayeqeen ko wapis Pakistani drama kee taraf raghib kiya to yeh ghalat na ho gaa. Dil khol kar muskarati roshan aankhon wali uroosa apnay career kee ibtida say hee itni mohabtain samait chukee hain kay log barson iskaa khawab daikkhtay hain. Uroosa kaay do chhotay bhai hain aur bari behnon kay rawaiyon mein jo zima-dari payee jaati hai wohi uroosa kee baton mein nazar aayee. Haal hee mein 'dunya' kay qar-een kay liye uroosa sidiq say aik dilchasp mulaqat huwee. Guftagoo paishe khidmat hai
Q: showbiz mein aanay ka shoq thaa ya itefaqan iss taraf aana huwa?
US: mein issay shauq yaa ittefaq kee bajaye career kahon gee to zyadah behtar hai meray walidain chahtaay thhay kay mein khusbakht shujaat jaisi maizbaan banon isiliye mein nay NAPA (National academy of performing arts) mein daakhla liya aur phhir meray wahan kay teachers ko shayed mujh mein ada-karaana salaheyat zyada nazar aayen tabhi unhon nay yeh faisla kiya kay mein acting ko bator career apnaoon meinnay acting kee taleen mukamil kee. Isliye aaj aik actress hoon
Q: showbiz ki kis shakhsiyat nay aap ko mutaasir kiya?
US: mujhay to bohat say funkaar pasad hain, aik lambi list hai nauman ejaz, hina dilpazeer, shahood alwi, faisal qureshi, samina ahmed, bushra ansari aur aur bohat say log aur bhi hain sab kay naam lenay lagi to interview mein sirf in logon kaay naam hee ayeen gay.
Q: acting aap kaay liye kiya ahmiyat rakkhti hai?
US: acting meray liye zehni sukoon kaa naam hai. Depression aur tension say nijaat kaa naam hai jissay mein bharpoor enjoy karti hoon aur aik aisa kaam jis say mujhey mohabbat hai, acting meri pehchan hai meray honay kee wajah hai
Q: aap nay abhi tak jitna kaam kiya woh apni nawiyat kaa munfarid tareen kaam hai, iss ka credit aap kay intekhab ko jaata hai yaa khush qismati say aap ko acchay kirdaar milay?
US: mujhay nahin lagtaa key mein koi kamal kar chukee hoon. Abhi to bohat say kirdaar hain jo mujhey ada karnay hain, media nay munfarid pehchan bananay mein meri bohat madad kee hai agar media meray kaam ko pazi-rayee na deta to mein jitni bhi bari phhanay khan hoti jitna bhi kaam kar leti uss say koi farq nahin parna thaa. Media nay logon kay dilon mein meri mohabat peda kee
Q: aajkal bohat see actress aur models morning show qisam kay programs kee maizbaani kar rahee hai. Aap ka kab tak iss taraf aanay ka irada hai?
US: meri walida chahtee hain kay mein hosting karoon aur jesay hee mujhey meray acting projects say thora waqat millay gaa mein zaroor koi show karoon gee. Mujhay batain karnay ka bohat shauq hai, logon ko jan-nay aur sawalaat karnay mein bhi gehri dilchaspi hai. Bohat say channels nay morning show kay liye bhi raabta kiya hai, shayed mein aap ko jald hee koi morning show yaa cooking program host karti nazar aaoon
Q: khud ko sirf tv tak mehdood rakhnay ka iraada hai yaa film karna bhi aapkaay mustaqbil kay plans mein shamil hai?
US: har funkar kaa aik hee khawab hota hai kay who aik din film karay aur ab tv industry kay log hee film production kee taraf aa rahay hain jo kaay khush aayend hai. Young logon nay filmon mein dilchaspi lay kar nayay tajrubaat karnay shru kiye hain to mujh jesay funkaron ko bhi umeed lagi hai kaay hum film kar sakain gay bas uss din kaa bechaini say intezaar kar rahi hoon jis din mein aik film sign kar loon gee
Q:  zyada funkaron aur zyada channels aanay say kaam mein behtari aayee hai yaa meiyaar kharabi kee taraf jaa raha hai?
US: hamain tasweer kaa musbat pehlu yaa roshan chehra dekhna chahiye, jab se zyada channels aaye hain zyada rozgar barha hai, who log jo acting karna chahtay thhay aur kam channels kee wajah sey unko mauqa nahin milta thaa, unko bhi kaam milnay laga hai. Zyada channels aur funkaron kee wajah say kaam mein muqabla saazi kee faza bhi barh gayee hai. Ab log aik do channels dekhnay per majboor nahin hain balkay jo accha kaam karay gaa log usaay daikhain gay isliye production kaa meiyaar behtar huwa hai. Aaj kee nasal ka muqabla sirf ptv say nahin hai balkay dunya bhar kay channels say hai. Ab log Indian, irani, amreeki, turkey aur british channels daikkh kay khud faisla kartay hain kaay hamaray channels kahan kharay hain aur unko kiya daikhnaa hai, ab muqabla international media sey hai, jo behtar kaam na kar sakay gaa, khwah funkaar ho yaa channel uss kay liye yahan koi jagah nahin. Isliye logon ko is muqablay kay bawajood ham yaad rehtay hain to yeh bari baat hai aur is kaa matlab hai kaay ham kucch kar rahay hain
Q: aapkay nazdeek khoobsoorti kee tareef kiya hai?
US: meray nazdeek khoobsorti kaa matlab khoob seerat hona hai. Chehra koi maani nahin rakkhtaa
Q: doosron kee shakhsiyat mein aap ko kiya baat mutaasir karti hai?
US: Samnay waala kitnaa pur-aitmaad hai yaa kitna muskara kar baat karta hai . baat karnay kaay andaaz say shakhsiat kaa andaza lagaati huun
Q: kabhi apnay aap mein kucch badalnay ka khayal aaya?
US: mein jesi hoon, khuda nay jesi banaya hai mujhey sab apnay aap mein sab pasand hai magar koi shuk nahin kaay sehatmand rehnay kayliye wazan kam karna chahti hoon
Q: hamari siqafat aur tarz-e-zindagi ko Indian culture nay mutaasir kiya hai iss baray mein kiya kahain gee?
US: Hollywood, European, irani aur doosray mumalik kaay channels kaa kaam dekhtay hain to uun say mutaasir hotay hain, unnkee zuban, andaz o atwaar apnanay kee koshish kartay hain hamaray aur bharti culture mein bohat see momaslatain hain isliye shayed aisay zyada lagtaa hai lekin jo farq hai ussay nazar andaz nahin hona chahiye. Hamari mazhabi aur muashrati riwayat kay asal ko kam nahin hona chahiye. Is ko ham nay khood bachaana hai
Q:dunya bhar say log doosray mumalik mein kaam kartay hain lekin hamaray fankaron ko dunya mein munasib izzat aur muqaam nahin milta iskee kiya wajah samajhti hain?
US: mein tasweer ka doosra pehlu daikhhnay kee aadi hoon, rahat fateh ali khan, ali zafa, atif aslam, humayun saeed, mona liza, meera, veena malik in sab ko sooray mulkoon mein kaam karnay per apnay mulk say bhi zyadah izzat milli hai inhain siraha gaya unki filmon aur geeton ko international pazi-rayee mille. Iss cheez ko samajhna ho gaa kaay izzat kaam main hai, kaam mein infaradiyat paida karain to apna mulk kiya hum dunya fatah kar saktay hain
Q: apni zindagi kee kamyabi kiya samajhti hain?
US: mujh per meray maan baap aur doston ko fakhar hai iss say bari kamyabi kiya ho sakti hai
Q: apni zindagi ki nakaami kiya kahain gee?
US: mujh per khuda kee inayat hai sab set jaa raha hai, aik do projects kee nakaami ko mein apni nakaami keh yaa samajh kar mayoosi kaay samundrun mein nahin doob saktee
Q: zindagi mein kis cheez kee kami ka ehsaas hota hai?
US: hum nay bohat saa waqt Saudi arab mein guzara hai uss waqt dunya ka pata hee nahin thha, sirf apnay ghar walay hee nazar aatay thhay, sair sappatay thay dost thay aur hum thay. ….. aah woh waqt laut kar aaye gaa aur naa hee bhool sakta hai
Q: kiya hamaray fankaron kay liye training acacdemy kee zaroorat hai?
US: mein aik academy say parhi hoon wahan say theater acting seekhi. Aap paidaishi actor ho saktay hain lekin phir bhi bunyadi cheezain to seekhni parti hain. Aap ko fun kee tareekh aur alif bay pata ho to kaam karna asaan ho jaata hai aur ab logon kar seekh kar hee aana chahiye takay muqabla kar sakain. Lekin yeh bhi nahin kaha ja sakta kaay jo nahin seekhay yaa parhay who nakaam hain. Aisy bohat say log hain jo khud chalti phirti academy hain
Q: aap nay comedy kirdar zyada kiye hain, itni comedy kartay kartay thak jayen gee to kiya karain gee?
US: bator actress mein har tarah kaay kirdaar ada karna chahti hoon, magar shayed logon ko mujh mein comedy ka talent zyada nazar aata hai. Balkay kucch arsa pehlay mujhey khud comedy kar kar kaay thakkan ka ehsaas honay laga thha. Lekin tab aik fan nay mujhey kaha key "aap kee waja say agar iss zamanay mein koi hanstaa hai to yeh bari baat hai sadqa jaariyah hai" yeh baat mujhey itni khoobsurat lagi kaay mein apni thakkan per sharminda huwi aur mujhey comedy kartay huway pehlay say bhi zyada khushi honay lagi lekin is ka matlab yeh nahin kaay mein sanjeeda kaam nahin karon gee
Q: aapko apni fankarana salahiton kaa andaza thha?
US: koi andaaza thha naa hee abhi mujhay lagtaa thha mein koi kamal kar chukka hoon
Q: kiya showbiz larkiyon kay liye munaasib career hai?
US: meray liye to hai bhayee, is liye mein is field ko larkay aur larki mein taqseem karna nahin chahtee yeh talent kee baat hai
Rashid Nazir Ali
---