Allama Muhammad Iqbal is a visionary and philosopher. He is the one who made Pakistan a possibility when he put forward the idea of a separate Muslim country for the Muslims of Sub-continent. Allama Iqbal was born on 9th November 1877. It was not the birth of an individual, it was actually the birth of an era, a dream that became a reality after so many hardships.
Allama Iqbal used the power of his pen and woke the Muslims of the sub-continent. His words, his philosophies and teachings are still very much relevant and they teach us tolerance, determination and Khudi to do good for everyone. On the occasion of the birthday of Allama Muhammad Iqbal, our celebrities also wished the fellow Pakistanis on Iqbal day. Here are some of the messages they had to give to their fans: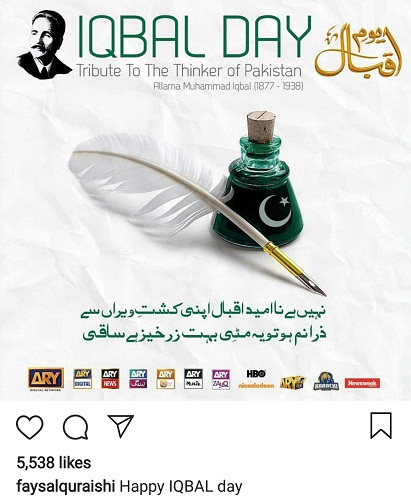 A Happy Iqbal Day from us to all the fellow Pakistanis. We hope that Iqbal day is not a holiday now, it is a day when we all Pakistanis will strive for a better Pakistan, a Pakistan Iqbal would have wanted to see from us!