Earlier Pepsi was known for the Battle of Bands and now it also has the Battle of Brands. Brand war is a thing worldwide. Different brands try to put each other down and this time the war is between soft drink giant Pepsi and travelling company Careem. Careem is known for its quirky promos and funny punch lines. They use social media and engage their followers immensely.
So someone asked Careem to give them a promo code instead of offers to win smartphones. Careem got in some fun mode and replied back where they offered them a free Pepsi in place of a promo code: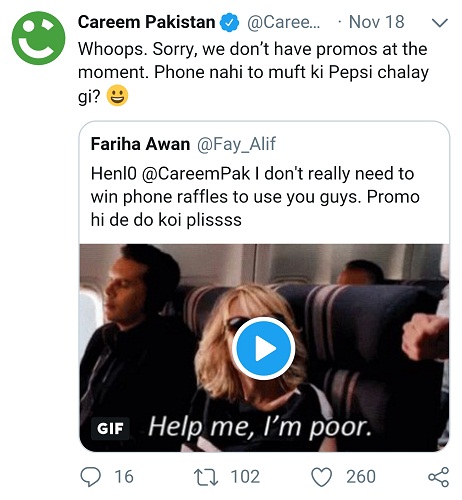 Pepsi was not happy with the above tweet and have their own answer to hit back with:

Careem then replied to Pepsi as their first tweet was just a joke and they asked Pepsi that they are being extra sensitive: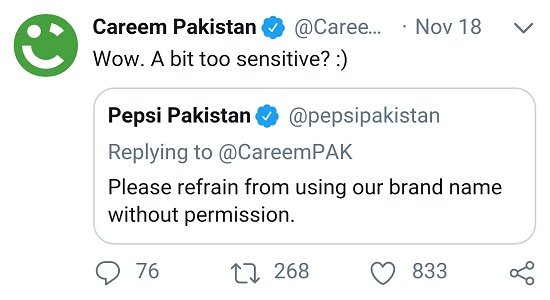 Pepsi was not happy with Careem's reply and hit back with the threat of a legal notice to the company: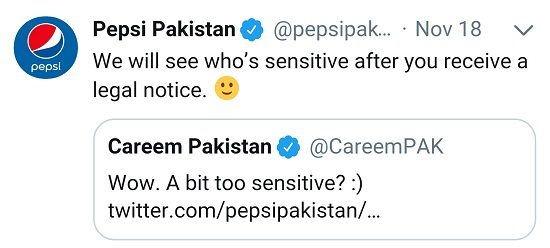 Previously it was between chai or coffee and now its Careem and Pepsi. Brand wars are becoming a norm in Pakistan too. Let's see whether Careem now lets the threat go or will they be replying back!