After making the record opening day business record in Pakistani cinemas of 2.07 crore (20.7 million), now Jawani Phir Nahin Aani, has surpassed its own record of a single day business. On the second day of the Eidul Azha (Saturday, 26th September 2015), the film has earned 2.68 crores (26.8 million) which is an all time record for a single day of business on Pakistani box office surpassing the 2.5 crore record of Furious 7 which it made in April 2015 (Saturday, 4th April, 2015 to be precise). The film JPNA has more than 200 shows daily which surely helped in making this record.
Though producers of Pakistani films seldom shares the revenue figures officially, the producers of JPNA the ARY Films has shared this information in a tweet on their official twitter account.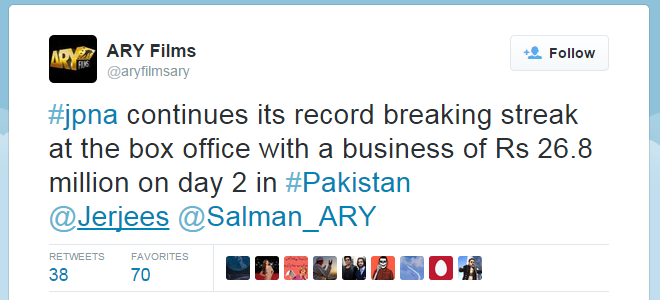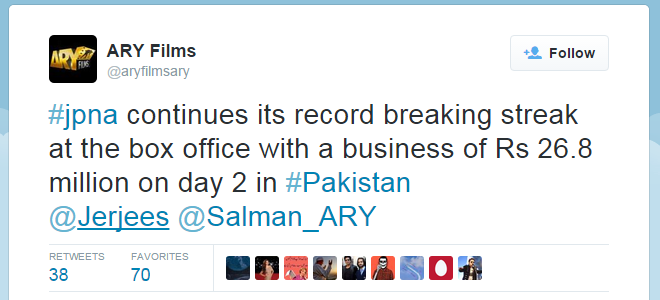 Seeing this trend the film is now expected to earn further on the third day of Eid (Sunday 27th September, 2015) and challenging the record of highest weekend collection of 7.25 crores made by Hollywood's Furious 7 in April 2015.
Hollywood films are released on latest technology screens like IMAX and 3D and therefore that ticket price is quite high ranging from 700 – 1500 or even higher. So the high price of tickets results in high revenue collection of Hollywood films even if a Hollywood film is released on less number of screens. As compared to Hollywood films tickets of Bollywood and Urdu films start from 200-400 rupees.
JPNA is also released simultaneously in many countries like UAE, Qatar, Bahrain, Oman, UK, Canada and USA. On the whole it is an encouraging sign for Pakistani film industry that cine goers are now also watching local Urdu films in huge numbers, along with the routine activity of endorsing Bollywood films.
The market of Hindi/Urdu films as well as Hollywood films in Pakistan is limited to the provinces of Punjab, Sindh and Federal capital Islamabad. In the other two provinces namely Balochistan and Khyber Pakhtunkhwa only Pashto films are released due to limited demand of Hindi/Urdu films. The market of Hollywood films is mainly restricted to big multiplexes cinemas in the urban centers.
Rashid Nazir Ali