Zee Zindagi is an Indian channel part of the a big Indian media network Zee India. Zee India was launched two years ago and mostly air foreign (non-indian) content mostly from Pakistan and Turkey.
The channel is the first initiative of its kind in India which airs many Pakistani drama serials and soaps.
Last year Zee Zindagi announced an initiative of Zeal for Unity, producing around 12 films for its short films festival where 6 to be directed/produced in Pakistan by Pakistani directors and team and six to be produced in India with Indian director and team.
One such film is Jeewan Hathi (The Elephant in the Room) directed by Menu Gaur and Farjad Nabi the same team which directed a Pakistani Urdu film Zinda Bhaag
in 2013.
Jeewan Hathi (The Elephant in the Room) is written by Faseeh Bari Khan a famous writer of Pakistani drama industry. His most famous drama is Qudusi Sahib Ki Bewah. Jeewan Hathi also stars seasoned artists Hina Dilpazeer with Naseerudin Shah.
ZEAL FOR UNITY PRESENTS A MATTEELA FILMS PRODUCTION
"JEEWAN HATHI" (THE ELEPHANT IN THE ROOM)
Starring: Naseerudin Shah, Hina Dilpazeer, Samiya Mumtaz, Adnan Jafar, Saifee Hassan, Nazarul Hassan, Fawad Khan, Kiran Tabeer
Directe by: Meenu & Farjad
Co-Produced by: Vikas Sharma
Produced by: Shailja Kejriwala
Matteela Produced by: Mazhar Zaidi
DOP: Rana Kamran
Music by: Sahir Ali Bagga
Edited by: Armaghan Hasan
Written by: Faseeh Bari Khan
https://www.youtube.com/watch?v=NEV935_Z86Q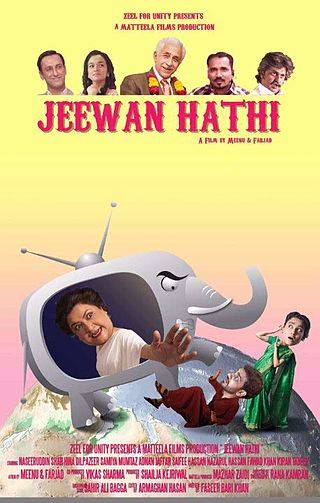 Trailer courtesy of PakistaniCinema Fan page, for updates on PakistaniCinema
https://www.youtube.com/channel/UCAgBFzV3J4hrbRMcBcsehvg
https://www.facebook.com/PakistaniCinema
Rashid Nazir Ali