Jhoot is a story revolving around one character that is Saleha (Bushra Ansari) who belongs to highly qualified background. She is shown as very stubborn lady. She got married to Farooq (Anwar Iqbal) who worked all his life abroad and came back home after retirement. At the time of her marriage, her in laws lied regarding the engineering degree of her husband about which she gets to know after marriage. All her life, she keep nagging and accusing her husband on this lie that he made that he had engineering degree rather, he was only diploma holder in engineering. Long story short, she do not bother existence of her husband and leads the decision of her house and her children.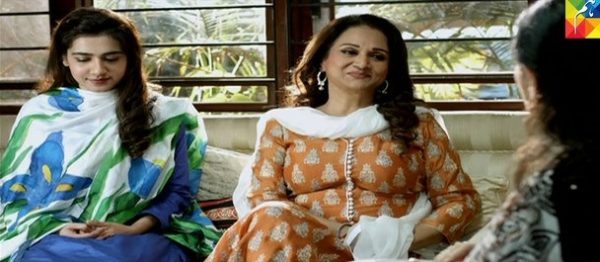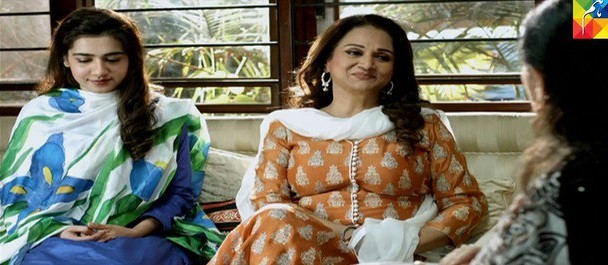 She has two children. Waqar (Kamran Jilani) and Zara (Mansha Pasha) who are all under her control. They obey their mother and do not care about their father because they think their mother is always right and always choose right for them.
Waqar likes one girl Sadaf (Mira Sethi) and both plan to getting married. However, one day Saleha see them together in restaurant and get extremely annoyed that next day she goes to her brother's home and asks for her daughter's hand for Waqar and informs Waqar when she comes back home. Waqar silently accepts her mother decision and break up with Sadaf. Later on, Waqar's fiancée starts calling her because she thinks there is no harm in talking on phone as now they are engaged. However, one day Saleha witness Waqar talking to her fiancee at which she gets upset again and goes to her brother's home and break the engagement telling them that their daughter is not fit for Waqar as she does calls her which is very cheap. Then she tells Waqar that she broke his engagement. Waqar tells her mother about Sadaf then and she agrees to take her to Sadaf's home to see her. Waqar tells Sadaf that her mother has agreed for their marriage.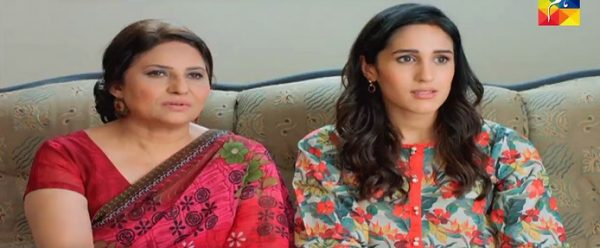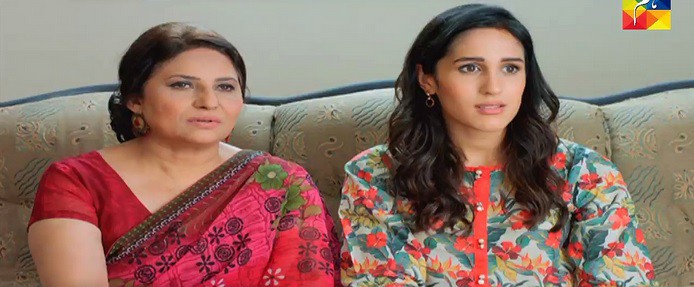 On the other hand, she is keep searching proposals for her beautiful daughter Zara but finds no good fit for her. She is annoyed with Zara's only friend and keep telling Zara not to hang out or meet with her much as she is jealous of Zara's beauty and family. Zara's friend always tell Zara that her mother do not want Zara to get married since she don't like any proposal. During son in law hunting, at one place Saleha likes the potential in laws of her daughter, she asks to see the NED degree of the potential husband at which they get annoyed and rejects Zara's proposal. Long story short, Saleha doesn't realize that she is ever at fault, her daughter is getting old and she keep telescoping every other proposal and rejects them over minor things.
When she goes to Sadaf 's place, she likes her brother Zaheer (Awais Waseer) for Zara and tells Sadaf's mother that she has no objection over Sadaf and Waqar's marriage unless Zaheer and Zara also gets married, at which Zaheer rejects the cross marriage proposal.
Sadaf gets married to her going to be Bhabi's cousin who is mentally sick and beats her and after she get miscarriage, she takes divorce from him and comes back to her mother Shaista. Her brother and his wife are trying to sell their house and Sadaf tries to find one apartment for herself and her mother. Her mother insists her to get remarried but she always refuses given the worst marriage experience she has already experienced. Her brother is angry at her not getting married. He blames her that she got divorce because of Waqar.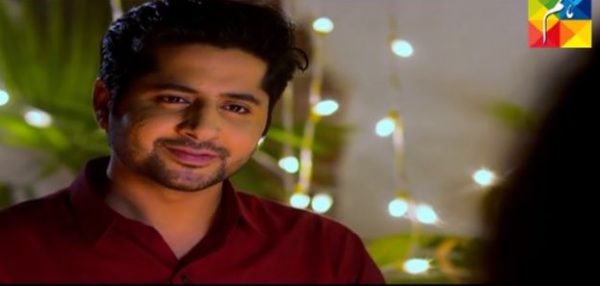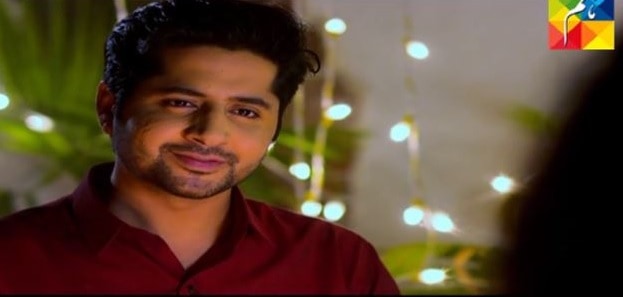 On the other hand there is another family. Jamal (Imran Ashraf) and his family are originally poor and upon insistence of his mother Ghazala (Nargis Rasheed), he rents one banglow for 1 year in posh area for the purpose of getting good proposals of her sister Iqra and himself. They rent car to go everywhere and show as if they have 2 cars and tells everyone that they are rich now. Jamal is honest and do not like hypocrisy of her mother however, he obeys her like obedient son.
Many years pass, Zara gets 30 years old in all these years, Saleha is still on son in law hunting when she finds Jamal's family. Jamal is shown as very young handsome Chartered Accountant about whom Saleha thinks perfect match for her daughter Zara. She tries all she could to get her daughter engage to Jamal and eventually they get engaged. She is worried of Zara's age since she is older than Jamal. She lies to Zara's in laws regarding her age and tells them 8 years less of her actual age. Jamal's mother Ghazala is suspicious of Zara's age but she is heavily impressed with Saleha's rich background and finally agrees to this proposal. However, she tells Saleha that they will be doing wedding ceremony after 2 years since Jamal has to wed her sister Iqra. However, Saleha is at trouble because of her lie regarding Zara age as she don't want to loose this proposal. She asks Waqar to talk with Jamal to agree his mother to get married along with her sister Iqra and do not worry about finances. Jamal convinces her family to do so to reduce expenses.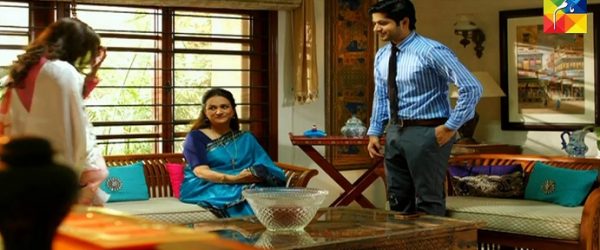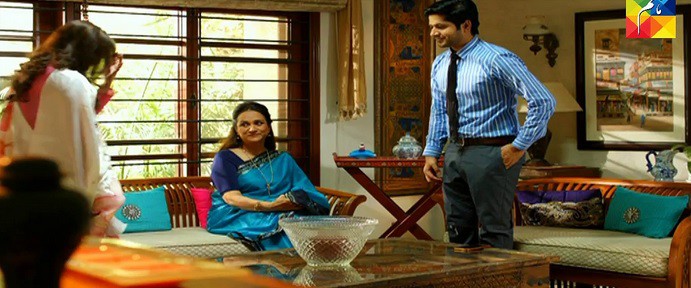 Saleha wants Zara's wedding as soon as possible. She always think her husband's relatives are jealous of her and they might tell Zara's age to their inlaws. Her husband asks her not to lie to Zara's inlaws as it can make problems for their daughter in future but she does not listen to him. During all this time, Ghazala keep asking Zara's CNIC about which Saleha says that thief came and steal all important documents including Zara's degree and CNIC. However, Ghazala and Iqra are still at doubt and suspicious about her real age. Iqra tries to convince Jamal what will he do if he gets to know that Zara lied regarding her real age at which Jamal denies and says he can not imagine Zara, the beautiful innocent girl, can lie big to her going to be husband.
On the other hand, Sadaf is searching for apartment. One agent takes her to see one apartment which she likes, however, when she finds out that the landlord of the apartment she is looking is Waqar as he comes in front of her, she immediately leaves the apartment. Waqar tries to contact Sadaf but she rejects her calls. And one day, out of frustration she attend his call and lashes out at him that he is the reason of her divorce. He is shocked to learn that she is divorced. Later, he accidentally meets Sadaf in a mall and request her to listen to him one but she tells him he is coward and criticize him if he asked her mother's permission to talk with her and then leaves. Her ex-husband sees her standing with Waqar and clicks pictures of her and send it to her Bhabi who tells Zaheer that she still meets Waqar. Zaheer lashes out at her mother that why Sadaf meets Waqar and her mother scolds Sadaf at which she is shocked and tells her mother that it was just a mere coincidence.
Waqar tells Saleha that Sadaf is divorced and he wants to marry her at which Saleha scolds him and tells him that Sadaf can never make her home as she is independent and doing job. Sadaf's ex-husband calls Waqar and blackmails him at which Jamal is surprised and asks him to come face to face.
Saleha ask for simple nikkah ceremony at which Ghazala perplexes as she was hoping for grand function to make her old relatives jealous but agrees to it. Saleha tells Ghazala that haq meher should be at minimum 20 tola gold at which Ghazala baffles, and later on demands for car to Jamal as a Salami hoping that Saleha will re-think about haq meher, however, Saleha thinks and agrees for the car but instead of buying it, she asks Waqar to put car's money in Zara's bank account.
At the time of Nikkah, Ghazala tells Molvi sb how nikkah can be done since Zara's CNIC is lost, at which Molvi sb says Nikkah does not need CNIC copy, and the Nikkah is done.
Saleha is angry at the barr'i which was of very low quality and un-branded. She is embarrassed in front of her relatives. On the other hand, Ghazala is perplexed at the car money being put in to Zara's bank account. She asks her son Jamal to control Zara on very first day at which Jamal says that she is now his wife and he does not think this way.
Ghazala's relatives stares at Zara at wedding and keep gossiping regarding her age, and that she seems older than Jamal.
It seems that one lie that Saleha made regarding Zara's age will ruin her life. Saleha keeps fighting with her husband that he lied to him regarding his degree but she does not realize that one lie can make her daughter's life hell. Zara may also be subject to this torture which she gave all her life to her husband. He thinks she is above all but never realizes the deceiving things she did to her children. Bushra Ansari's acting was flawless. She portrayed motherhood flawlessly, like how some mother's are concerned about their children. She portrayed those mothers who like to control every single step of their children not realizing that it may ruin their life. The children obeys their mother because it is an order for them to obey their parents without running after their own wishes.
Sadaf's acting was flawless, she is confident lady and hates hypocrite and coward men. All she wanted Waqar to show some courage and take stand for her regarding their marriage, which he did not.
Syed Ahmed Kamran, the director, who also directed Digest Writer and Muhabbad Aag Si, once again nailed it along with writer Reema Ali Syed and via Hum TV they are highlighting many shots in this drama. Firstly, mothers who love to control their children do not realize they are actually destroying their children's life. In our society, there exists such mothers who only want their say is to be heard. Such mothers usually have low confident coward children, improperly groomed, unable to handle their life and make decisions alone. Secondly, this also shows lie is not the answer to our problems. Every relation has to based on truth either its sweet or bitter to make up life easier. Lastly, one has to be down to earth rather than stubborn to make up relationships and live happily. No one is perfect except Allah. One has to realize nothing in this world will last forever. Every rise has its fall.
Eventually , both parties have lied to each other … Lets see how things turn up in upcoming episodes..
Hani Malik