Junaid Akram is a Pakistani Dubai-based comedian and social commentator who has a huge online following. He often posts videos about his political and social arguments and observations.
He has often expressed in many of his videos how Pakistanis lack the habit of reading hence it seems, Junaid has done something to change that.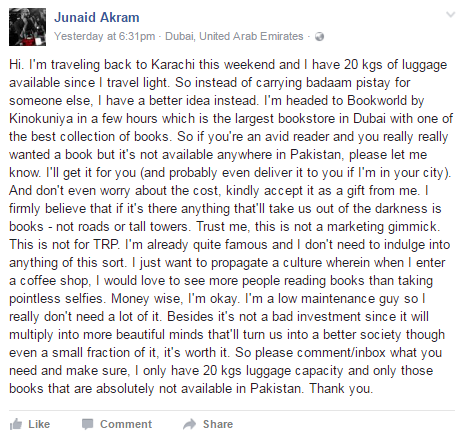 He announced on his official facebook page that his followers can ask him to bring them books from Dubai which are not available in Pakistan to promote reading culture. He also said that he doesn't want people paying him for them but he would like to give them as a gift.
We believe that this gesture by Junaid is not just heartwarming but can also be a move towards building a more intellectual society.
We hope that he gets positive responses and becomes a role model for others to follow.