Kaise Hoye Benaam, from next week on Geo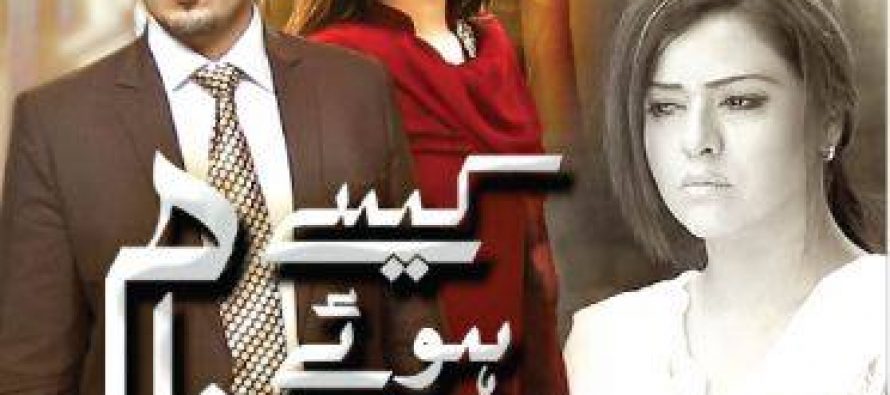 گھر عورت سے ہی بنتا ہے۔ لیکن عورت کا اپنا گھر کیوں نہیں ہوتا۔۔۔؟ 
What's worse – a home without a woman or a woman without a home?
A million dollar question, which is very popular among our drama makers. Several production houses have attempted to answer this question by producing various dramas on the same question. In another attempt to "find the answer" Geo and Real Productions are presenting Kaise Hoye Benaam (کیسے ہوۓ بے نام). So Don't forget to watch every Thursday at 8 PM. from 12th March. Sirf Geo Per, because Har Pal Haseen Hai Har Pal Geo
Cast:Noman Ejaz, Maria Wasti, Ahsan Khan, Neelum Munir, Azra Aftab, Noor Hassan and others
Writer: Seema Munaaf
Director: Asim Ali
Produced by: Ahsan Khan, Real Productions
https://vimeo.com/121559751
The official facebook page describes the play as
Kaise Hoye Benaam' is a concept that revolves around the tragic truth of the society that is woman makes the house a home but she doesn't have a home of her own… the story begins on a happy note where Shehrina (Maria Wasti) is married to an affluent man and has a lavish live style. They have a lovely daughter Rania (Neelum Munir) but unfortunately due to an accident Sheheryaar passes away. Shehrina's (Maria Wasti) life takes a 360 degree turn when her mother-in-law orders her to leave the house because she consider her ill-fated. In a miserable state, Shehrina with her daughter Rania comes back to her mom's house where her brother and shrewd sister-in-law is not willing to bear their liability so makes a wicked plan to get Shehrina (Maria) married to Faris (Noman Ejaz) . Faris (Noman Ejaz) is a discourteous, greedy and avaricious person. Once again Shehrina's (Maria Wasti) life is in a state of distraught. Faris a greedy character comes to know of Rania's wealth (that her father left for the daughter) and plans to take hold of his step daughter's wealth for his personal advantage. Shehrina and Faris had a daughter of their own but Shehrina is not allowed to make it obvious that Rania is her own daughter. This state of agony and pain continues for both mother and daughter. This story holds a lot of bitter realities for its viewers and unfolds the adversity and mishap that a woman has to face but every cloud has a silver lining.. So wait and watch this captivating serial from 12th March..
As per the propaganda wing of Geo Tv, also known as showbiz pages of Urdu Daily Jang, widely famous for its signature reputation of exaggerating beyond any limit. (رائی کا پہاڑ بنانا)
"Television viewers are anxiously waiting for 12th March so they can see the first episode of this drama. Moreover the play is already creating a buzz on social media and is discussed everywhere"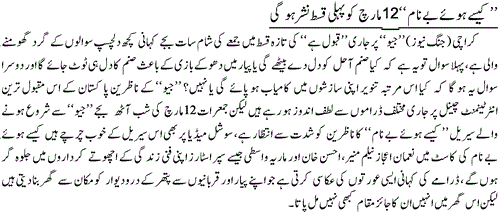 However the buzz on the social media (as claimed in excerpt above) has yet to reach the official page of this drama, which so far has received 685 likes.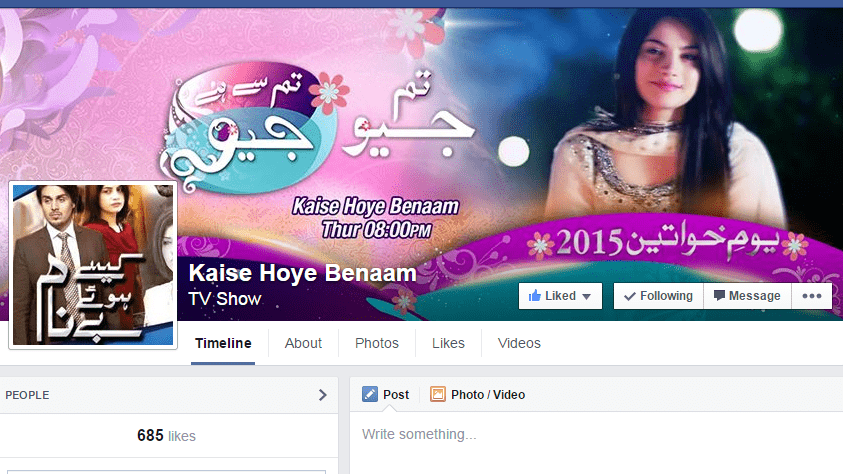 https://www.facebook.com/Kaisehoyebenaam
Rashid Nazir Ali
---