Kalmoohi is a recently concluded drama of Geo Entertainment starring Maria Waasti in lead role, written by Ibne Aas. It was a typical formula story of an orphan ('mazloom') girl living with step/half siblings and step mother, facing all sorts of hardships one can imagine. Such stories are generally well received and as per Geo Tv, this play also received high TRP thus it counts as a successful drama. Kalmoohi has concluded but citing its potential, a publishing house from Lahore has decided to issue same story as a novel. The writer Ibne Aas has also agreed and completed nearly 200 pages of this upcoming novel. However it may take a bit longer to complete the novel as Ibne Aas is quite busy in writing dramas after the success of Kalmoohi.
As per writer Ibne Aas, "By providing chances to upcoming writers the production houses can overcome the lack of quality drama writers. But the production houses hesitate to try any upcoming writer resulting in a monopoly of few drama writers. Due to repeated stories in dramas viewers have shifted to foreign dramas."
Ibne Aas is grateful to our Creator that all of his dramas are appreciated by viewers. He considers himself lucky to be able to showcase his creativity to the viewers.
News excerpt from Urdu Daily Jehan Pakistan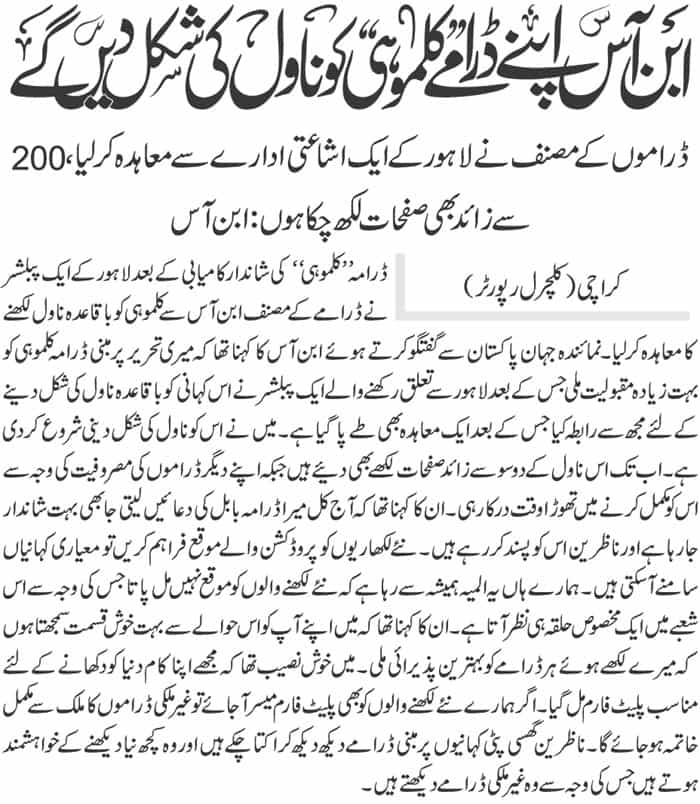 Rashid Nazir Ali