I remember when Pyaray Afzal went on-air, it was my first experience of listening to those dialogues which remain with you for a long period of time. The depth they had was something I wasn't used to. The dramas I grew up watching had prime focus on their storylines and writers hardly used to bother about conveying thought provoking dialogues and most importantly philosophies. Then I came to know about the writer's name and he built a great credibility in my mind. I used to wait for his dramas and they were always a must-watch for me! He is unique in his own way. We immediately guess the writer's name by just listening to one or two dialogues. Whenever someone says words like 'Kambakht', 'Kameena', 'Chalo Chalo' or someone quotes another by saying 'Wo keh raha/rahi hai' instead of taking his or her name, you won't even find the need to know who the writer is. I would like to discuss a few aspects of his writing some of which are my favorite and some are not.
Dialogues:
I without even any reasoning consider him the best when it comes to deep conversations. He no doubt knows how to stir depth in normal everyday conversations. From 'Pyaray Afzal' days I have been a fan of his dialogues in particular.
'Pyaray Afzal' having all the ingredients of philosophy in right proportion grabbed not only my attention but of a massive audience as well. I would like to share some gems as well,
'Jaan se pyara tha wo, lekin jaan pyari nahin thi use'
'Paida karne wali bnane wale se baat kar rahi hai, use pata hoga kay kese baat karni hai'
 'Bachpan se ek khuwab dekha tha, khuwab poora nahin hua to sharam kay mare ye bhi nai btaya kay dekha kya tha'
'To Beta qismat aazmao, humen na azmao'
 'Sadqay Tumhare' also had a lot of memorable dialogues, if my memory isn't deceiving me Khalil once said to his Doctor friend,
'Main use hath kese laga sakta tha? Main us waqt wuzu main nahin tha'
A very famous one of Shano:
'Mohabbat main Ilhaam naa ho to fitay moo mohabbat ka'
Though I didn't follow 'Zara Yaad Kar' regularly, I came across one such dialogue from Saba Faisal,
'Tumhare Abba kaha karte the, Mohabbat ki ek se zyada daleel nahin hoti aur Bewafaai kay so se kam bahany nahin hoty, pehly lgta tha smjha rahe hyn, ab pata chala kay bata rahy the kay samjha dena'
It will be complete injustice not to admire his grip over conveying thoughts in such a beautiful manner. This is the thing that still makes me look forward to his new projects despite the slow pace his dramas usually have.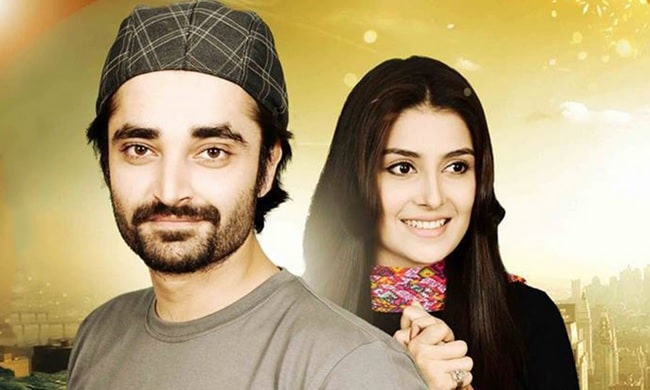 The Main Leads:
However, when it comes to the main leads, I am left scratching my head always. There's a special kind of issue with most of KRQ's heroines. I don't understand whether they suffer from some sought of psychological disorder or Alzheimer's disease. They have serious memory issues, like you'll see them offering 'nawafil' for the hero one second and the next second they'll be shown as someone who won't even care if he dies. They will be shown completely engrossed in the thoughts of male leads. Their world revolves around them. Their every conversation starts with them and ends on them. I remember I never watched Farah doing anything else except discussing how worried Afzal's parents must be and what would he be doing in Karachi? Her one after another visit to his home wo bhi bahane bahane se. She would get jealous whenever someone showed interest in Afzal be it Lubna or Yasmin. Cutting it short, she would be showing all signs of love but will never admit it and when she does, it's of no use because he is no more. I can't understand the logic behind showing her arrogant to the core like she can't simply admit the fact that she fell in love with someone less than her in status or maybe in education.
I just want the characters to have normal thinking process. They should be clear in their thoughts. How much time it takes to listen to your heart? Contrary to this, 'Yeh Raha Dil' has Hayaat who knows 'What she wants and what she doesn't'. What a person she is! I think my words won't do justice to the role she is assigned and how brilliantly the character is written. If one asks me if not Farah how should a heroine be like? My answer will be none other than 'Hayaat'. I won't prefer someone who takes 30+ episodes to realize what she wants from her life. Who can't even figure out how the love of her should be. In a country like ours where one takes a second to fall in love with someone, we have Farah who'll die discussing Afzal with everyone around her but won't discuss the fact that why is she discussing him in the first place if she is that much uninterested in him?
'Maheen Aurangzeb' in MTSNH is the uglier version of 'Farah Ibrahim', showing extreme hate for hero without any reason, I know he once slapped her but was that such a big deal that an entire drama will be dedicated to the hate based on that slap? You simply ignore the person you don't like but here the case is opposite. It looks like she is trying to draw everyone's attention towards them or she wants everyone to discuss all the time that 'O look how much Maheen hates Waqar?' You should be able to convey your hate in a dignified manner.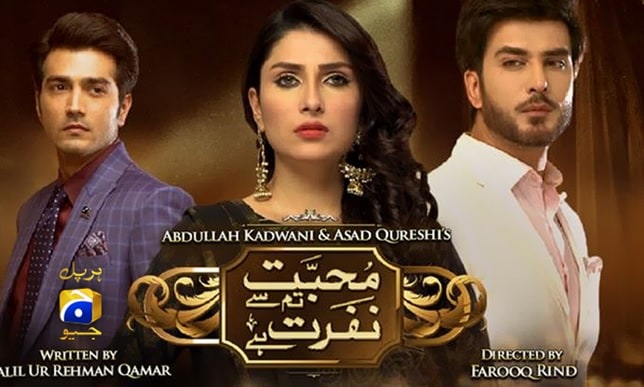 Now coming to Haadi of 'Zara Yaad Kar', he was his own example and Mahnoor was busy giving a tough competition to him in all departments of insanity. One who knew nothing except how to exploit and the other knew nothing except how to get exploited. They both were the mirror images of each other and I just couldn't relate to them. Everyone was a philosopher in that drama. Limit was the word unknown to them. Why his characters take so long to realize a basic thing, which could be sensed even by a child? Farah couldn't realize the love, Haadi couldn't realize how he was exploited at Mahnoor's hands and Mahnoor couldn't realize how mean she was! These all things can be realized within a second by a normal sane person, don't know how slow their realization hormones work. They take a whole drama to hit the right place in the brain. Uff!
The contradiction in their words is very much there too. In 'Sadqay Tumare' Khalil said to Shano's father that he can do anything but run away with Shano. Later he did the same which he refused to do at first. I think one should remain steady no matter how the situation unfolds.
The Side Characters:
Second thing that bothers me the most, the world of the female lead revolves around the hero though she won't admit it because shokha bhi to hona hai, and the world of the entire cast revolves around their love-story. It feels like everyone is trying too hard to push her towards the hero as if deep down they all know how she is dying inside for him. The world knows about their love for each other except the people who are supposed to be in love. Matlab what? All of their efforts are for the love birds and they least bother about their own life. It looks forced like everybody is paid to promote them and talk about them. The way they say 'Wo kehti hai' 'Uska kehna hai' is irritating to the core. I know it's his writing style and it's completely fine to come up with a unique one but I don't know why it annoys me. I think he should show a choti moti love story of the side characters as well just to keep them busy somewhere. Otherwise they look like paid actors who are hired to give a fake protocol to the leads just to keep the interest of viewers alive in them. Mohabbat Tum Se Nafrat Hai is the latest example of how 'farigh' the supporting cast is. They have nothing to do except gossiping about the leads. I started watching MTSNH and it couldn't keep my interest alive. In Pyaray Afzal every supporting actor was busy discussing the interest level of Farah and all their efforts were dedicated to them. I just have one advice for all of them 'Find a job please!'.
Pace of The Story:
Now coming to the pace of the stories, everybody knows that his stories most of the times move at a snail's pace but I don't mind it either. I am a patient viewer as long as it has something thought provoking and enjoyable to offer. I enjoy his deep dialogues as well like I mentioned above but the viewers who are unlike me find it hard to be patient throughout the drama. It's not irritating for me at least because I enjoyed 'Pyaray Afzal' because of the dialogues and acting. No doubt it had a slow pace and had few developments per episode but that still held my attention. Not sure about the remaining audience. But speaking in general, as the story progresses, audience wants serious developments in the story department and in the characters as well. Farah's realization about her love for Afzal took 30+ episodes and at the end all of a sudden, she got realized 'Oh I used to love him from the very beginning'. That's what bothers me. It would be great if she was shown liking him gradually as she discovered some of his hidden and likable personality traits. Throughout the drama we saw her cursing him for no good reason. Just because he sent his parents to her home to ask for her hand, she considered it her duty to curse him whenever she got a chance while we could see deep down he was the center of her universe. The irony!
Forced Situations:
I sometimes find the situations a bit forced. Sadqay Tumhare had a very promising beginning but the sudden love interest of Humaira in Khalil looked so forced. This scenario could be easily skipped. The unnecessary dragging at the end of every drama is annoying and leaves a bad impression after the drama ends. Pyaray Afzal was also the victim of same thing. The last few episodes were fillers and I found myself losing interest in it. Zara Yaad Kar too had forced scenarios and they were great in number. When we are already waiting for the drama to be summed-up, the writer comes up with another forced situation and that's not pleasing. The drama that takes a great start should be ended with dignity.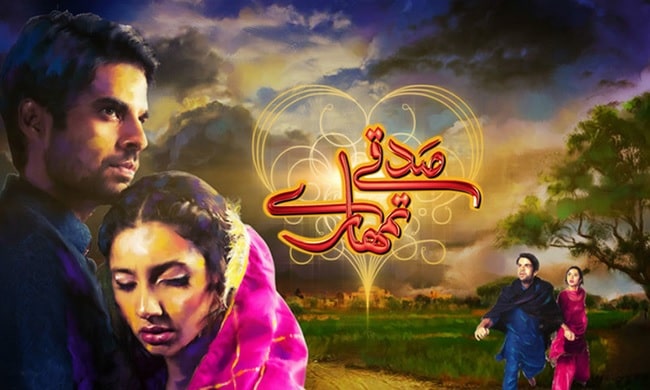 So, these were the few likable and few not-so-likable aspects of KRQ's writings for me. Do share your thoughts please!
Amna Malik