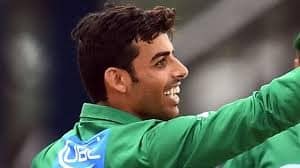 Shahdab Khan, the man who has a greater role in the victory of Pakistan cricket team in the ICC champions trophy, talked about his confident move , which could have turned out to be devastating, had he not taken it carefully.
https://youtu.be/RPBCL2YJP5w
Upon asked how could an 18 year old take such an important decision with such confidence , given the fact that the team only had one review to take, he answered that he somehow knew that it was an out and the captain trusted him with his decision.
Shahdab has indeed proven that nothing can put a stop to your success if you give your best in order to survive the hardest of circumstances.Not even your age!