Laadon Mein Pali, new drama of Geo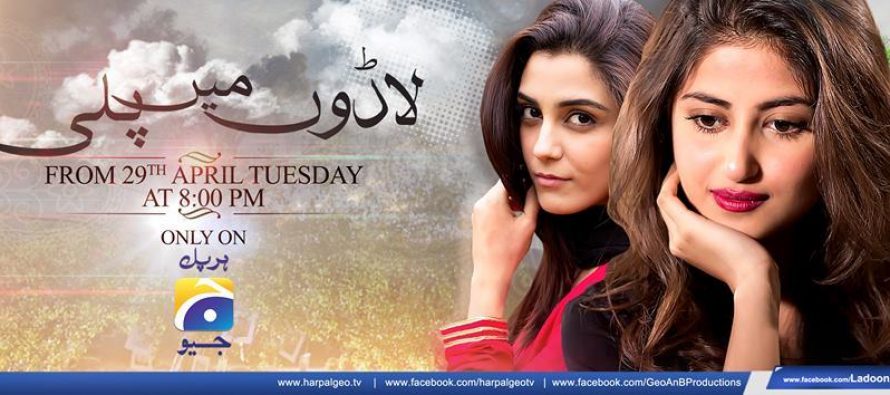 Laadon Mein Pali is a new drama replacing Ranjish Hi Sahi on Tuesday at 8 PM on Geo TV. The drama is starting form 29 April 2014.
It is directed by Waseem Abbas and its cast includes Sajal Ali, Maya Ali, Waseem Abbas, Ali Abbas, Hareeb Farooq, Asma Abbas, Tahira Imam, Usman Peerzada, Nasreen Quireshi, Abdul Qayum, Imran Ahmed, Sohail, Kinza Malik, Tasneem, Affan Waheed, Sumbul Apa and others. Male model Hareb Farooq is making debut in acting from this drama.
As per its official facebook page, the drama is about
"How many of you think extra pampered kids are usually spoilt? isn't it more better strategy to develop our offspring nature according to society requirements. Well no doubt the parents love their kids unconditionally. Lucky are those people who raised with lots of affection from attached ones."
OR
"Naaz or nakhron main palli betiyan maa baap ki izzat hoti hain laykin jab yehi betiyan ban jati hain ksi or k ghar ki izzat tou kabhi kabhi raaston main bi"
Here are trailers and few clicks of this drama
https://vimeo.com/92990406
https://vimeo.com/92958019
https://vimeo.com/92958020
https://vimeo.com/92958021
https://vimeo.com/92958025
https://vimeo.com/92990671
Rashid Nazir Ali
---