These days when the young Pakistani celebrities are trying really hard to improve the overall image of the people associated to the showbiz industry, there can still be seen the reflection of the old reputation of Pakistani actors and actresses who failed completely in their reign to enjoy a respect and dignity out of their career.  Lollywood actress Laila has always maintained her pace to be in the news, at times for her affairs, and if not that then for violating the laws and visiting the jail even. The lady is now said to be associating herself with the young singer and winner of Sur Kshetra, Nabeel Shaukat.
Recently, a reputed printed media released the news stating about story that actress Laila is finding Nabeel Shaukat interesting enough to be linked with. The two met in a morning show three days before Eid and since then the actress is trying to contact the singer and sending him 'adoring' messages. Managing the awkward situation, his spokesman revealed that Nabeel switched off his cell and would soon be leaving for Holland because he is really not ready to be a part of any scandal which would obviously affect his newly-started career.
Here is the piece of news, have a look!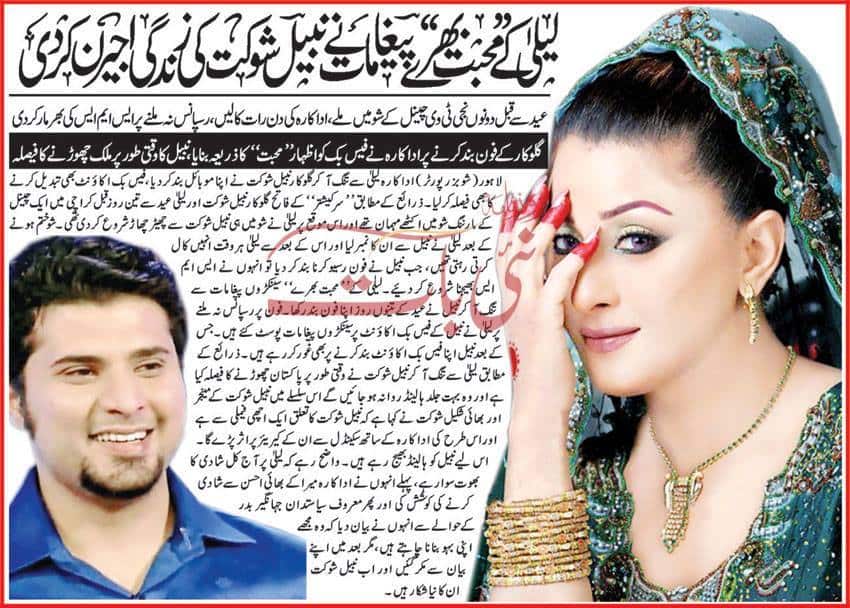 Please share your views,
Regards,
Nida Zaidi