His refreshing humor and charming personality paired with his superb sense of style, the host of Jeeto Pakistan has made the Pakistani audience fall in love with him. But there is more to him than just style and looks; Fahad has a beautiful relationship with his lovely daughter.
Once again, the father-daughter bond was brought to our TV screens in Jeeto Pakistan, Fahad's very own show. One can easily argue that it was the cutest thing on television today.
Fahad's daughter was present in the segment where he asks his audience members to choose a box from a number of boxes to receive what's inside as their gift. He likes to prolong the segment as well as make it interesting by saying "Sooch lo" to dabbas that usually don't contain anything worthwhile.
Nothing of this sort happened today as the cute girl didn't give her daddy a chance to even say that. As soon a box was called out by the dad, the kid opened it without any preamble. This had the audience members amused and Fahad playfully frustrated.
The little angle kept roaming around the set; living in her own happy world, playing with what the set of Jeeto Pakistan offered her. Fahad 'scolded' his daughter in such a manner that every member of the audience couldn't help but smile at the words that made out of his mouth. Fatima paid no heed to whatever he was saying, and kept doing as she pleased!
The smile on the host's face as he watched his daughter standing next to him, helping him entertain the audience, was one of utter adoration and love.  Look at the picture he shared on his twitter from today's show :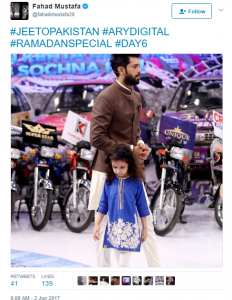 A father's influence in his daughter's life shapes her self-esteem, self-image, confidence and opinions of men. Fahad seems to be doing a pretty good job at it. Have a look at the times he brought Fatima on set in the past: