I appreciate the fact that Samina Ejaz is an expert at penning down scripts which may not be grand but they are almost always enticing because her dramas are usually logical and they have plenty of twists and turns to keep the viewers looking forward to more. However, after so many weeks of waiting to see Naila pay for her mistakes, it is extremely disappointing how all these shocking and tragic developments are not leading to a change in Naila's personality or a conclusive step forward which would give the viewers hope that she will suffer the consequences of her actions. Amna and Marium's disappearance, like many other recent developments, did not serve the purpose which most of the viewers were hoping it will serve. This was such a tragic and upsetting turn in the story but it did not have as big an impact as it could have had. Amna could have easily shared the reason for the change in her behavior even if the two sisters did not run away and ultimately were kidnapped. This development was mainly used to add to the shock value of these two episodes which is somewhat sad because right now is not the time when such extreme steps or desperate measures should be taken by the writer in order to allure the viewers.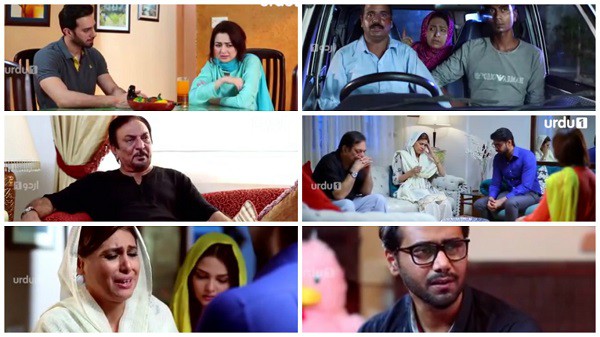 Amna and Marium's decision to run away and the repercussions got plenty of screen time  but as a whole it turned out to be a pointless development. Naila's attitude did not change at all and Ahmed's response to what Amna told him wasn't exactly satisfying! Even when he heard his wife talking on the phone and making those plans, he was enraged but he did not check her phone, which was really strange because that is something someone in that situation would do instinctively! I was expecting him to redial the last number on Naila's phone but when he didn't do that, it was quite apparent that the writer was doing whatever she could to stretch this track. Leaving the house and giving Naila an opportunity to do whatever she wanted to was strange. He could have asked Amir to pick the kids.
In my opinion now is not the time for showing twists and turns which have shock value but don't contribute much to the story. I hope that we can watch two more decent episodes of this drama and a gratifying ending.  I have to say that Hania Aamir and Ali Abbas have made the most of their roles and they are the main reason why this drama has been so enticing. I enjoyed watching Titlee overall but right now I am losing my patience with it because waiting all week to see how a certain development will impact the main track in the story and ending up watching another episode which isn't a big step forward towards the conclusion of the play, is turning out to be a major test of patience.
Rehan promised Naila that he will support her if Ahmed decides to leave her, which was somewhat unexpected as well because I was expecting Rehan to back out of this relationship once Ahmed found out. Right now, it is impossible to predict how this drama will end but I hope we get to see an ending which is worth the wait!!
How many of you watched this episode? Don't forget to share your thoughts about it.