Like every other year, this year again awards ceremonies are set to honor personalities from the field of entertainment across movies, music, television and fashion. Lux Style Awards nominations came out recently and they were suppose to be completely unbiased!
So, did the awards acknowledge every deserving person? No, we do not think so. Gone are the days, when awards were reliable because most of them now promote those close to them and forget everyone else.
The nominations for Lux Style Awards, one of the most celebrated and most prestigious awards in Pakistan, are no more reliable. Not just us, but the celebrities too feel the same way, recently, Mahira Khan took to twitter to express her feelings and now it's Imran Abbas who is totally against the nominations. In fact, he wasn't nominated for a single award despite of giving some good performances!
Imran Abbas expressed his thoughts, through a comment, his way of commenting might not be the best to say. However, he still has a relevant point because the biased nominations have disturbed the whole entertainment fraternity since many deserving were not even acknowledged. Lux itself has given people the chance to make fun of their credibility!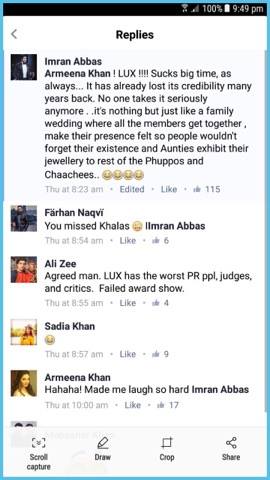 The biggest problem with the nominations is the fact that they snubbed major deserving names and didn't even give them a mention.