Mahira Khan is the biggest star in Pakistan. She started her career as a VJ and later turned into an actress. Mahira has taken over everything around her. Be it the award shows, advertisement world, dramas, films or across the border audience, Mahira Khan has conquered all. Mahira is also hands down the most beautiful actresses of Pakistan. She can rock any look and style and is mostly seen in casuals without any makeup. She is not afraid to show her true skin and look to her fans and is always seen with clear skin and beauty.
Though with this amount of fam also comes a lot of work and Mahira is a dedicated star who always abide by her work commitments and enjoy them. But she can also be a fun person and her captions are always hilarious. While posting a no-makeup selfie, the queen called her self the BAAP of procrastination. Here is her hilarious jibe at herself: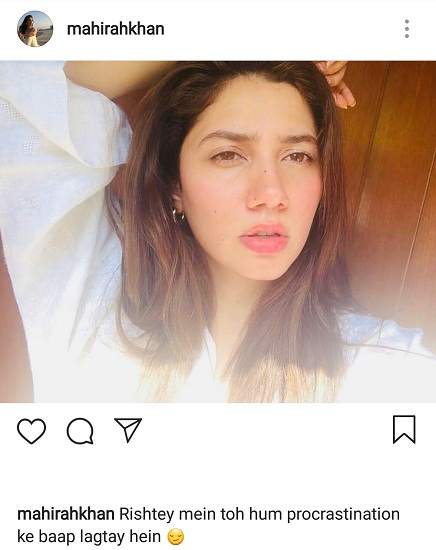 We definitely think you are not a procrastinator Mahira. But she is definitely beautiful!