Malala Yousafzai has gained enormous support all over the world for her incentive about female education and enlightenment. An Oxford University student now, Malala has come a long way from that fateful day when she was shot enroute to school in a small village in Swat. In all the following years, she has been promoted and encouraged by a number of famous personality, the latest being the American film and stage actress Emily Blunt.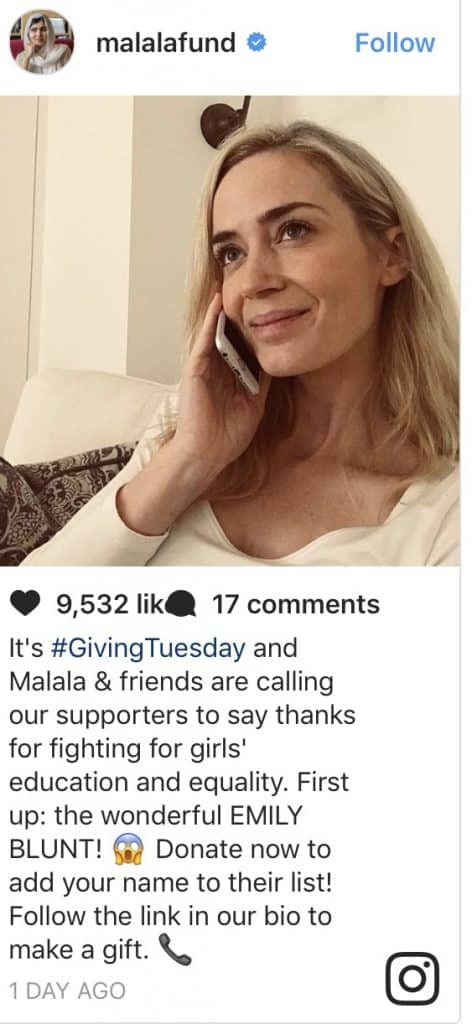 Emily also wrote a blog post about the her special interest in Malala's cause, since she is a mother herself to two little girls. She wrote,
"When I heard about Malala's plan to call donors on #GivingTuesday to thank them for their commitment to girls' education, I knew I had to pick up the phone too."
Adding further, "I am the mother of two young daughters and I know their inquisitive nature is shared by girls everywhere. Yet more than 130 million girls are out of school and not given the chance to foster that curiosity or chase their dreams."
Giving her reason for become involved in Malala's incentive, Emily said, "I want to live in a world where every girl has the same opportunity as my daughters. That's why I give support to The Malala Fund. Malala, my daughters and millions of other young women around the world are our hope for a better future."
That was so thoughtful of the beautiful actress and surely her thoughts are echoed by women especially mothers of daughters all around the world.