Every episode of Baaghi has some development which contradicts something else we have seen in an earlier episode and this one too had at least two such developments to its credit! This episode of Baaghi showed Shehryar's growing attachment with Kanwal and it also covered Kanwal's not so happy reunion with her family. Kanwal's "khara/sachapan" was reinforced in tonight's episode as well and for the first time it looked like the writer was showing that Kanwal decided to cross the "boundaries" she had set for herself not because of her majburis but because she believed this was the only way she was going to earn money and perhaps fame. The preview of the next episode however showed that she had not crossed any boundaries just yet and will only do so when her family is in dire need of money!!!! So basically someone gave her all that money only to give him company in Dubai!? That does not make any sense at all. In an attempt to show Kanwal as a woman of principle, the writer has shown scenarios which are just plain illogical.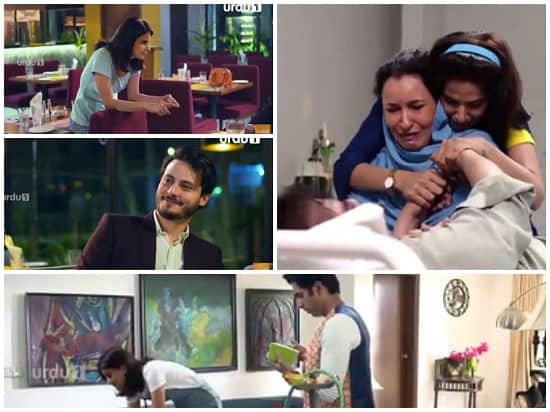 There are so many plot holes in the story that it is impossible for me to connect to or feel for the characters. These glaring flaws tend to get noticed even when you're not giving this drama your undivided attention. While Kanwal showered everyone with gifts and proudly announced that she had spent all the money she had earned from her trip, I wondered why she wasn't saving to get her child back through court? I clearly remember that the only reason why Kanwal set out to earn money by any means possible and begged to get a job she had vowed never to accept was because she wanted to earn enough money to fight a legal battle to win the custody of her son. That is how the writer justified Kanwal's actions although her actions so far don't even need any justification because she hasn't done anything outrageous but even then the writer is constantly and desperately pleading her case! This is the most off-putting part of this drama – the lack of honest storytelling. Kanwal's character, her actions and the justifications contradict each other over and over again and I still cannot understand her line of work! If she isn't doing something which is either immoral or illegal how is she earning so much money? Are there really people out there who will pay a huge amount of money to girls for giving them company?
I have always maintained that Kanwal's character and story could have been far more logical and appealing if she was shown as someone who wanted to get famous and rich because that is what would have made her happy! But because that is not a nice thing to want therefore the writer has done everything in her power to blame Fauzia's circumstances for her current situation and whatever she is going to do in the future. This story does not even show that a talented person cannot make it big in showbiz without using shortcuts because Kanwal was never shown as a talented individual. Shehryar's character hasn't contributed much to the story and it is sad watching Osman Khalid Butt playing such roles over and over again. I hope we can one day see him playing a role which has more substance to it, he is constantly taking up roles in which his over-dependence on the women in his life make him a bechara. He is hardly seen on television anymore but even then lately he has made some awful choices.
How many of you watched this episode? Do share your thoughts about it.