Sajal Ali is one of the most successful actresses of the Pakistani drama industry. From a young age, she was liked by the viewers for playing challenging roles. Even though Sajal Ali joined the entertainment industry at a young age but she never focused on glamorous roles. She has worked with some of the biggest names of the industry. Now, she herself is the kind of star the name of whom literally sell dramas. She does not only get appreciation from the masses but has also won critical acclaim repeatedly.
Many people might not know that Sajal Ali started working to support her family financially. Her first job wasn't an acting venture but she took up the job of working as a brand promotion girl at a mall. At first, when she auditioned she was not accepted in the field of acting because of her voice which was too shrill according to the people who rejected her. Something that started
Sajal Ali considers herself really lucky because she got a chance to work with some of the biggest names in the industry. There was a time when her mother used to decide which drama she would act in. After her mother's sad demise, Sajal Ali took this task upon herself. Her sister, Saboor Ali, also helps her make her decisions for her. Sajal Ali is also one of those few Pakistani actresses who have also worked across the border. She played a leading role in the film Mom.
Her popularity has soared with time. The reason for that is her commitment, hard work, and talent. There is tough competition in the acting industry yet Sajal Ali has made a name for herself even though she was the first person from her family to start acting. It was never easy for Sajal to make a name for herself. In one of her first projects, a senior actress had an issue with her and as a result of that, her face was nowhere in the promotional material. This was a difficult time for Sajal and she cried a lot.
Sajal Ali has since then come really far. She is a multi-talented individual who is not afraid to experiment. Sajal showed her amazing dance moves in her drama serial O Rungreza and even lend her voice for the OST. She surprised everyone and people wanted to hear her sing more songs. Sajal is definitely a jack of all, someone who has done so much and still has so much to give to the entertainment industry.
Now, the best actresses in the industry accept Sajal Ali as the most talented actress in the business. She has however taken the advice of her mentors and her mother that is why she makes sure she does not have those starry tantrums.
[lwptoc]
Sajal Ali Age
Sajal was born on 17th January 1994. She is 26 years old. She was born in Punjab but later her family shifted to Karachi and it was there she got her early education. Sajal has two siblings a brother and a sister. Her sister Saboor Ali is also an actress.
Sajal Ali Height
Sajal Ali height is five feet five inches.
Sajal Ali Education
Since Sajal Ali started working in order to assist her family financially therefore she did not get to complete her education. She has done matriculation.
Sajal Ali Pic
Here is a beautiful picture of the talented Sajal Ali. She has the most expressive and beautiful eyes. Her charming smile is loved by many. She is known for her casual and natural style, someone who is a star but still likes to keep things real.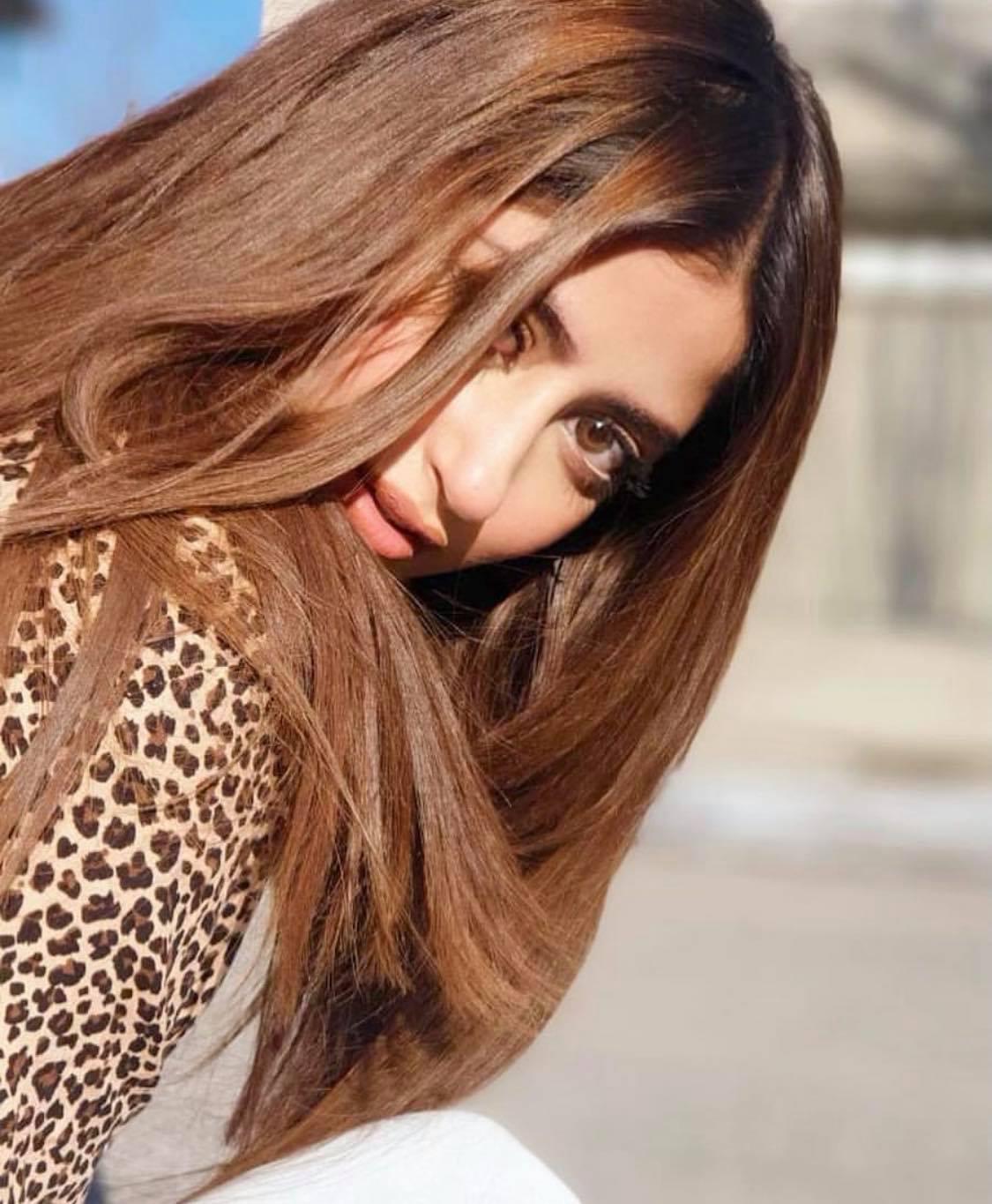 Sajal Ali Family
Sajal Ali has two siblings, a brother and a sister, both of them are younger than her. Sajal's sister is also an actress, her name is Saboor Ali. Sajal brother's name is Muhammad Ali. After getting married, Sajal has a new extended family that is really close to her. Sajal's husband Ahad Raza Mir is also a popular actor. Sajal's father-in-law Asif Raza Mir is a well-known legendary actor and a producer. Sajal shares a close and special bond with her mother-in-law and even her brother-in-law.
Sajal Ali was really close to her mother. She was the one who used to guide her through everything. She lost her life to cancer and since then there is a big void in Sajal's life. She keeps on sharing pictures with her mother. On her barat day, Sajal paid tribute to her mother by sporting a look that was similar to the one her mother had on her barat day.
Even though Sajal is such a big star, she does not talk a lot about her personal life in interviews. It is only recently that she has given a few interviews in which she talked about her relationship with her family members. She has never once talked about her relationship with her husband Ahad Raza Mir. Even though both of them are celebrities, Sajal has managed to dodge such questions for the longest time.
Sajal's father was there at her wedding and this was an emotional moment for both of them. Sajal's relationship with her father has been rocky since he got married to another woman and left her mother. Sajal takes her bond with her family really seriously. Clearly, for her family comes first and she wants to make sure that her family life is not affected in any way by her celebrity status.
Sajal Ali Mother
Sajal Ali mother played a vital role in her career. Initially, Sajal started working to support her mother and family financially after their father left them. She shared in an interview that even when she got really famous, her mother made sure that she stayed grounded. Her mother also used to make the script choices for her. She was her guide and her friend.
When Sajal was busy wrapping up the shooting for her Bollywood debut, her mother got really sick unexpectedly. Sajal along with her family went for Umrah, this was a special trip that Sajal had planned for her family. When they came back from Umrah, all of them had a slight fever. While everyone else recovered after a few days, her mother continued to be unwell.
Sajal shared in an interview, "Hospital tests confirmed her cancer and the end just happened so suddenly. I had a shoot scheduled for a song in Bangkok and when I came back, I barely got to spend seven days with her." Sajal's mother lost her battle to cancer on March 17, 2017. Her demise was more shocking and tragic because she died within a few days and Sajal couldn't even be there with her. That is why she still has a difficult time talking about her mother's passing away.
Sharing her feelings in an interview, she said, "One day she was with us, the next day she was gone. Whatever happened next is still a blur. The day my mother died, this very lounge was filled with people. I have no clue how I found the strength to get through it all, but I did."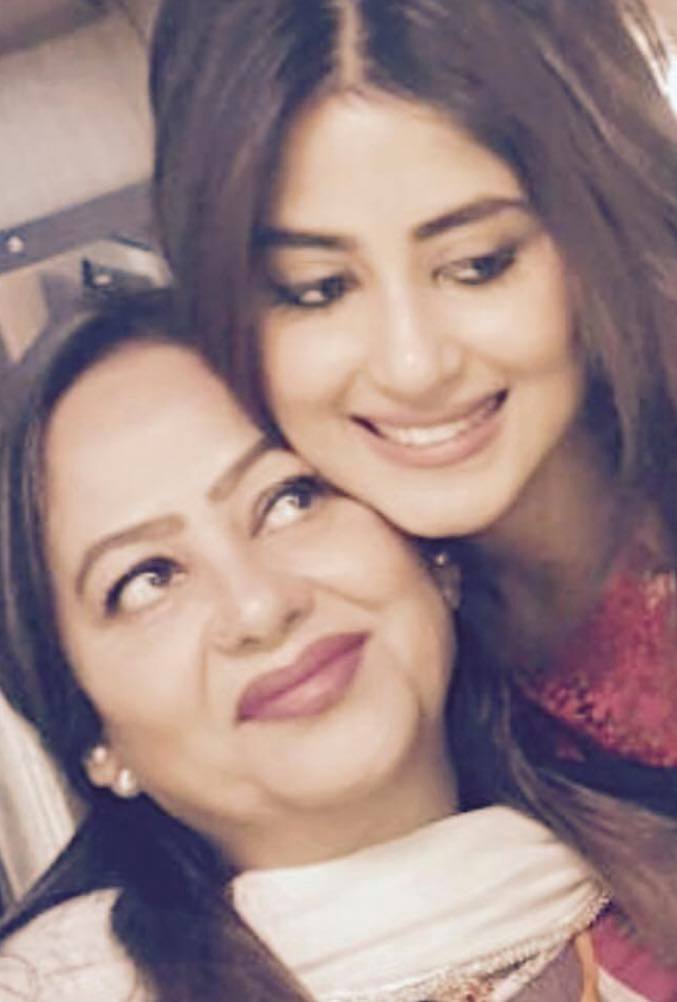 Sajal Ali Father
Sajal Ali's relationship with her father has not been pleasant throughout. Her father left the family when he got married for the second time. Apart from the heartbreak, there were many financial difficulties too which faced the family. If her father wouldn't have left them, Sajal perhaps wouldn't have ventured into acting. It took Sajal a long time to forgive her father.
She shared in an interview, "My mother had a difficult time when my father left. I worked hard and became financially stable and told him we didn't need his money. I was angry 'kaisay doosri shaadi kar li!' After my mother's death, I eventually learned to let go. My father speaks regularly with us now and is very proud of me."
When Sajal Ali and her family went from Umrah, her father was by their side, and later on at her wedding too, her father was there with her.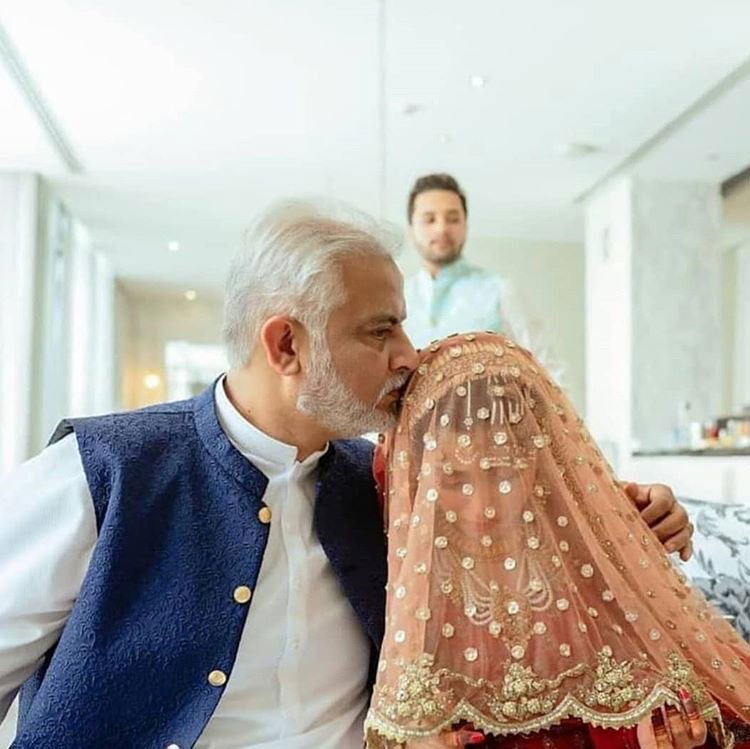 Sajal Ali Brother
Sajal Ali brother is the only one among the siblings who is not in the field of acting. He has gone abroad to pursue his studies. He is the youngest in the family therefore both his sisters look out for him. Sajal Ali's brother was there when Sajal got married and he also got emotional during the wedding ceremony.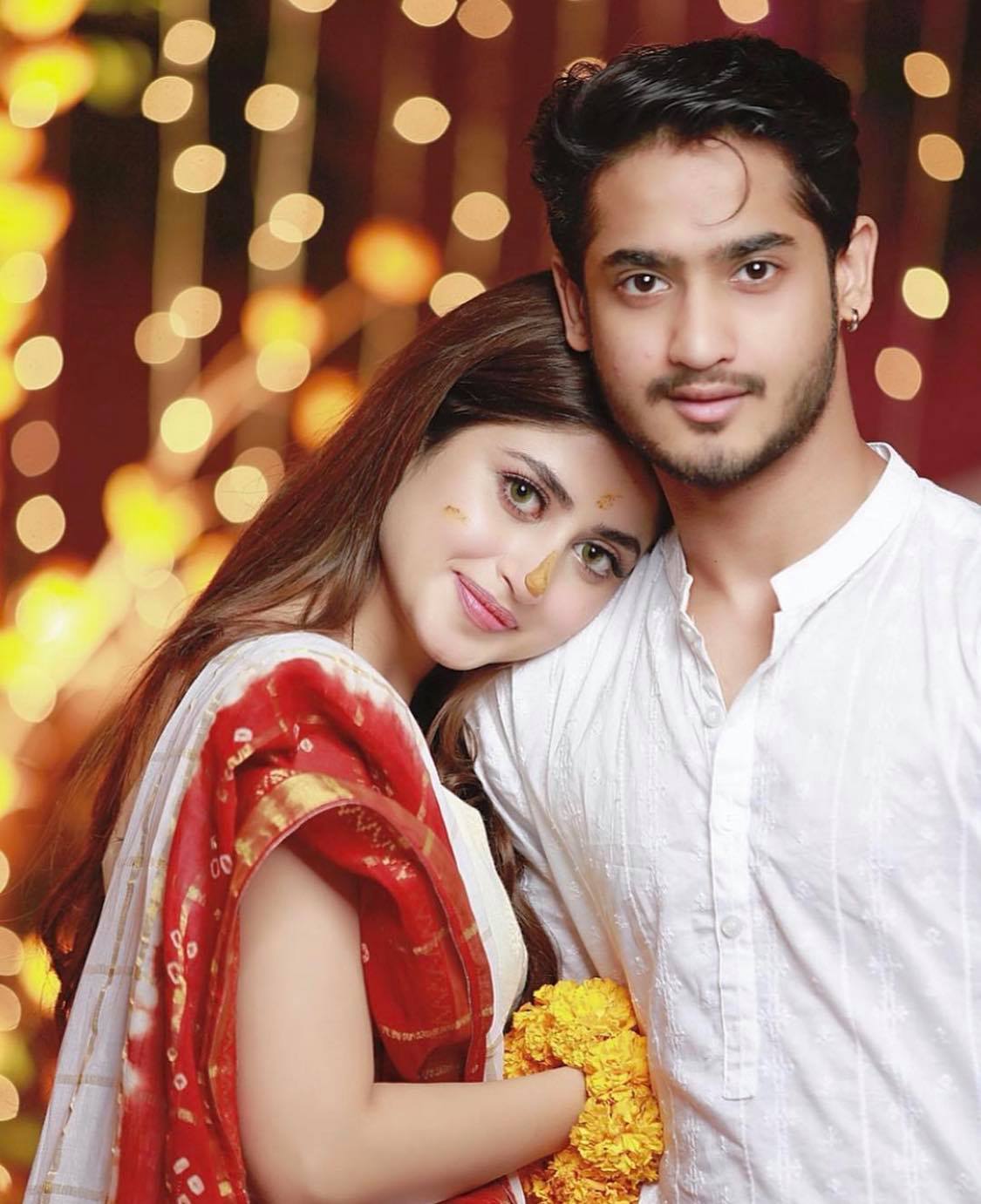 Sajal Ali Sister
Sajal Ali sister Saboor Ali is also an actress. Although Sajal is the older sister but Saboor is the one who usually takes up the older sister role. Saboor shared in an interview that Sajal has a difficult time making decisions therefore she always helps her out with that. Sajal also shared that whenever she is unwell or she needs any kind of support, she knows that she can turn to her sister. If she is unwell, Saboor would cook for her and take care of her.
Sajal is more popular than her sister Saboor but that has never affected their relationship in any way. There is no competition between them. Sajal and Saboor do not show support for each other as openly as some of the other celebrity sisters.
Sajal Ali And Feroze Khan
Sajal Ali and Feroze Khan have shared screen space more than once. They played the lead in drama serial Gul-e-Rana, they were also shown as a married couple in drama serial Chup Raho and they also played the lead in the film Zindagi Kitni Haseen Hai. Feroze Khan played the role of Sajal Ali's husband in both the drama serials and also the film.
Apart from being a popular on-screen couple, Sajal and Feroze were also rumored to be in a relationship. This was the first time that there was such a rumor about Sajal in the industry. Sajal also attended Feroze Khan's sister Dua Malick's wedding. She even danced on the occasion and was really close to the entire family. This was also the first time that Sajal was seen so close to anyone in showbiz.
Feroze Khan got married out of the blue, this was purely an arranged marriage. Many people are of the opinion that Feroze's sisters did not want him to marry Sajal that is why they did not end up together.
Sajal Ali Engagement
Even though Sajal Ali and Ahad Raza Mir were at the peak of their popularity when they got married but they did not have a big engagement ceremony. The engagement announcement was actually quite simple. Sajal posted a picture of herself and Ahad on her Instagram page on June 10, 2019, with the caption, "Here's to new beginnings. Today we are happy to announce that with the blessings of our families we are officially engaged. Our special day will be even more special with the love and prayers of our family, friends, and fans. — Ahad & Sajal."
This was great news for their fans, who had been waiting to see them formally in a relationship. Saboor Ali, Sajal's sister also shared a heart-warming message on the occasion. She wrote, "I couldn't have been happier when Ahad Raza Mir came in her life. It certainly was a match made in heaven. From day one till date, I have enjoyed their faith in me, their care & their love. Now I want to wish them my utmost blessings,,, And most importantly "Ahad BHAI, welcome to the family."
This proved one thing that Sajal and Ahad would continue to keep their relationship as private as they possibly could. Unlike some other celebrity couples who had grand ceremonies and shared all the pictures and videos on social media, these two had completely different plans right from the beginning.
Sajal Ali and Ahad Raza Mir
Sajal Ali and Ahad Raza Mir together have to be the most powerful and dynamic on-screen couple of the Pakistani drama industry. The fact that these two also share a beautiful relationship off-screen as well definitely makes their fan following grow. Sajal and Ahad's first project together was Yakeen Ka Safar. At that time Sajal Ali was already a well-established actress who had worked in films and multiple dramas. Ahad Raza Mir although had made a name for himself in Canadian theatre but he was only establishing himself in the Pakistani drama industry. He had already starred in one big drama but Yakeen Ka Safar was definitely the drama which made him much more popular.
Sajal and Ahad's first project together was such a hit that they were seen again really soon in two other mega projects, Aangan and Yeh Dil Mera. off-screen Sajal and Ahad's relationship blossomed with time. Sajal spent time with Ahad's family on holidays and even stayed with them. Soon the couple announced their engagement and was married in no time too. This was the perfect love story.
Sajal and Ahad get more love from the fans because they have never tried to cash in on their popularity unnecessarily. The producers cast them together because they guarantee ratings but off-screen they have never used their relationship to get attention from the public or on social media. They definitely rely on their talent more than anything else to get the attention they deserve. That is why most people respect them a lot even as a couple. Their on-screen chemistry also sets them apart.
Sajal Ali Wedding
Sajal Ali and Ahad Raza Mir got married on March 14, 2020, in Abu Dhabi with close family and friends by their side. Their wedding was a private affair but Sajal and Ahad were generous enough to share some pictures with their fans. These pictures showed Sajal and Ahad looking happy and radiant. Ahad and his mother shared their excitement on social media. The couple did not even announce the date of the wedding and the fans only found out that the wedding was taking place by following their Instagram stories and pictures.
Sajal and Ahad did not give any interviews after their wedding proving yet again that they have no intention of sharing anything about their personal life in public. Generally, Sajal avoids giving interviews of a personal nature. Ahad also made it quite clear in interviews that he does not appreciate the fact that people think it is okay to question Sajal about their relationship.
Sajal Ali Dramas
Nadaaniyan – 2009
Mehmoodabad Ki Malkain – 2009
Mastana Mahi – 2009
Meray Qatil Mere Dildar – 2011
Meri Ladli – 2011
Ahmed Habib Ki Betiyan- 2011
Chandni – 2011
Mohabbat Jaye Bhar Mein – 2012
Sitamgar – 2012
Sasural Ke Rang Anokhay – 2012
Do Dant Ki Mohabbat – 2012
Mere Khuwabon Ka Diya – 2012
Quddusi Sahab Ki Bewa – 2013
Nanhi – 2013
Kahani Aik Raat Ki – 2013
Kitni Girhain Baaki Hein – 2013
Gohar-e-Nayab – 2013
Asmanon Pe Likha – 2013
Sannata – 2013
Qudrat – 2014
Kahani Raima Aur Manahil Ki – 2014
Laadon Mei Pali – 2014
Chup Raho – 2014
Mera Raqeeb – 2014
Chupkay Se Bahar aa Jaye – 2014
Khuda Dekh Raha Hai – 2015
Kis Se Kahoon – 2015
Tum Mere Kya Ho – 2015
Mera Yaar Mila De – 2016
Yakeen Ka Safar – 2017
O Rungreza – 2018
Aangan – 2019
Yeh Dil Mera – 2020
Sajal Ali Telefilms
O Meri Billi – 2012
Sitara Ki Mohabbat – 2012
Kya Pyar Ho Gaya – 2012
Doosra Naam – 2012
Behadd – 2012
Yaqeen – 2013
Band Baj Gaya – 2013
Bakht Bari – 2013
Well In Time – 2013
Yaqeen – 2014
Gidh – 2014
Yoon Hum Miley – 2014
Ishq For Sale – 2015
Sajal Ali Films
Zindagi Kitni Haseen Hai
Mom
Sajal Ali Dresses
It is safe to say that Sajal Ali is not one of those actresses who rely too much on their outer appearance or charm in general. That is why Sajal is rarely ever seen endorsing brands. She usually dresses up casual unless she is attending a function or is doing a photoshoot. Other than that while she dresses up according to the requirement of the characters she plays, she never focuses too much on what she would be wearing in a certain drama. There are plenty of actresses who spend a lot of time and energy on their wardrobes, Sajal is definitely not one of them.
Here are some stunning pictures of Sajal Ali in some formal and semi-formal dresses.
Sajal Ali Images
Sajal Ali isn't just naturally endowed with good looks but she is also photogenic. She knows how to give the right expressions and her eyes are the most prominent feature on her face. These beautiful pictures of Sajal Ali prove that she could very easily excel in modeling as well but she chose to concentrate more on acting.
These gorgeous images of Sajal Ali are some of the best on her Instagram page.
Sajal Ali Instagram
Sajal Ali has more than 5 million fans on Instagram. She believes in being her own hero and she has proved that she is completely capable of being that. Sajal Ali has recently started posting rave reviews of her dramas and performances in her Instagram story. Before this rarely ever did Sajal Ali did that. Other than that Sajal often posts candid pictures of herself or her family on Instagram.
Unlike other celebrities, Sajal does not interact with fans a lot on social media. Although her fans would love more interactions with her but this is also Sajal's way of keeping her private and public life separate. Her fans respect her choices and love her for her work. This attitude of Sajal has definitely helped her being recognized as a serious actor.