Different things have gone viral on the Internet recently and some of them were the statements from our female celebrities. Sadaf Kanwal came on HSY's show with Amna Ilyas. She made some insensitive comments on the movement there as she said that "Jabb Me Too Hua Tabb Bol Do", people were not happy with it since it takes a lot for a lady to disclose something like that especially in a society that is not very accepting. Hira Mani came on Samina Peerzada's show where she told people how she got together with her husband Mani. She said that she cheated on her then-fiance to be with Mani. And lastly, with the ongoing Ko Ko Korina fiasco, singer Momina Mustehsan decided to reply to HR Minister Shireen Mazari over her expression of dislike for the song. She quoted Uncle Ben from Spider-Man to make her argument strong in front of a federal minister.
Actress Mansha Pasha was not happy with any of this and decided to tweet about it. She quoted all these incidents and asked that women in the industry should learn to speak better. This is her tweet: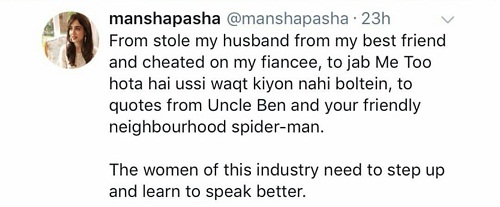 Sadaf Kanwal who was indirectly quoted in the tweet was not happy with this and took a jibe at Mansha Pasha as she posted this on her Insta-story: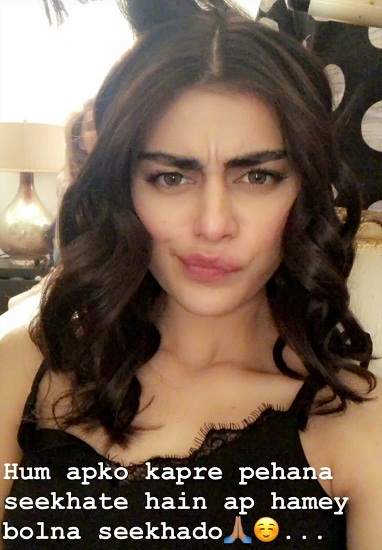 Do you agree with Mansha Pasha or not?