Manto (منٹو) is an upcoming film releasing on 11th September 2015. It covers the life of Saadat Hussain Manto, the years he spent in Pakistan after partition in 1947 till his death in 1955. The trailer of the film is now released
After its release, it will also be telecasted as a drama on Geo Tv.
Here is the trailer which is quite intense. Any avid reader of Saadat Hussain Manto can easily guess the characters of few of his famous short stories in this trailer like Khol Do, Thanda Gosht, Phaha
Cast:
Sarmad Sultan Khoosat as Saadat Hasan Manto
Sania Saeed as Safia (Manto's wife)
Qaiser Naqvi as Mamaji
Danyal Adam Khan as Hamid (Hamid Jalal, a famous journalist and relative of manto)
Maham Aamir as Niggi (Manto's daughter Nighat)
Neha Aamir as Nussi (Manto's daughter Nusrat)
Abeeha Aamir as Nuchchi (Manto's daughter Nuzhat)
Nimra Bucha as Manto's alter ego
Saba Qamar as Noorjehan (The legendary singer of Sub continent)
Syed Yorguc as Shaukat Hussain Rizvi (First husband of Madam Noor Jehan)
Akbar Subhani as Chaudhry Mohammad Hussain
Arjumand Raheem as Nazneen
Shama Askari as madam
Ali Shaikh as Khudabakhsh
Rehan Shaikh as Mian Bashir
Hina Khwaja Bayat as Begum Bashir
Adnan Jaffer Qudratullah Shahab
Ahtsham ul Haq as Anwar Sajjad
Talha Iqbal Mufti as Nawaz
Khwaja Saleem as Basheer Hussain
Sohaib Khalid as Dina
Savera Nadeem as Neti
Faysal Qureshi as a Radio broadcaster
Shamoon Abbasi as Eeshar Singh (a character of Thanda Gosht)
Yasira Rizvi as Kalwant Kaur (a character of Thanda Gosht)
Irfan Khoosat (a character of Khol Do)
Aiman Khan (a character of Khol Do)
Mahira Khan
Humayun Saeed 
Producer: Baber Javed
Executive Producer: Asif Reza Mir
Director : Sarmad Sultan Khoosat
Screenplay & Dialogues: Shahid Nadeem
Sound, Score and Music: Jamal Rahman, True Brew Records
Lyrics: Mohammad Hanif, Majeed Amjad, Mirza Ghalib and Shiv Kumar Batalvi
Singers: Meesha Shafi, Zebunnisa Bangash, Ali Sethi and Javed Bashir
Here are the songs from this film,
Ali Sethi sings "Aah Ko Chahiye" famous ghazal of Mirza Ghaalib

Ali Sethi & Zeb Bangash provided the vocals for the song "Kya Hoga" written by Muhammad Hanif
Meesha Shafi gave her voice for the song "Mehram Dilaan De Mahi"  the famous kalam of Punjabi poet Shiv Kumar Batalvi
About Manto
Saadat Hassan Manto is considered as the leading short story (afsana) writer of Urdu literature. He also wrote the stories and dialogues of many films in Bombay, British India before 1947. After the partition in 1947, Manto migrated to Pakistan with his wife Safiya, the couple has three daughters.
In Pakistan Manto continued writing Short Stories and also wrote an Urdu film Beli in 1950. He also wrote the sketches of famous persons whom he had met. In Pakistan, he faced many financial hardships and being addicted to alcohol he passed away in 1955 at a young age of 42. During his life he also faced the court charges of writing obscene content and portrayed as a controversial figure. His widow Safiya passed away in 1970's. His three daughters Nusrat Jalal, Nuzhat Arshaf and Nighat Patel are alive and live in Lahore.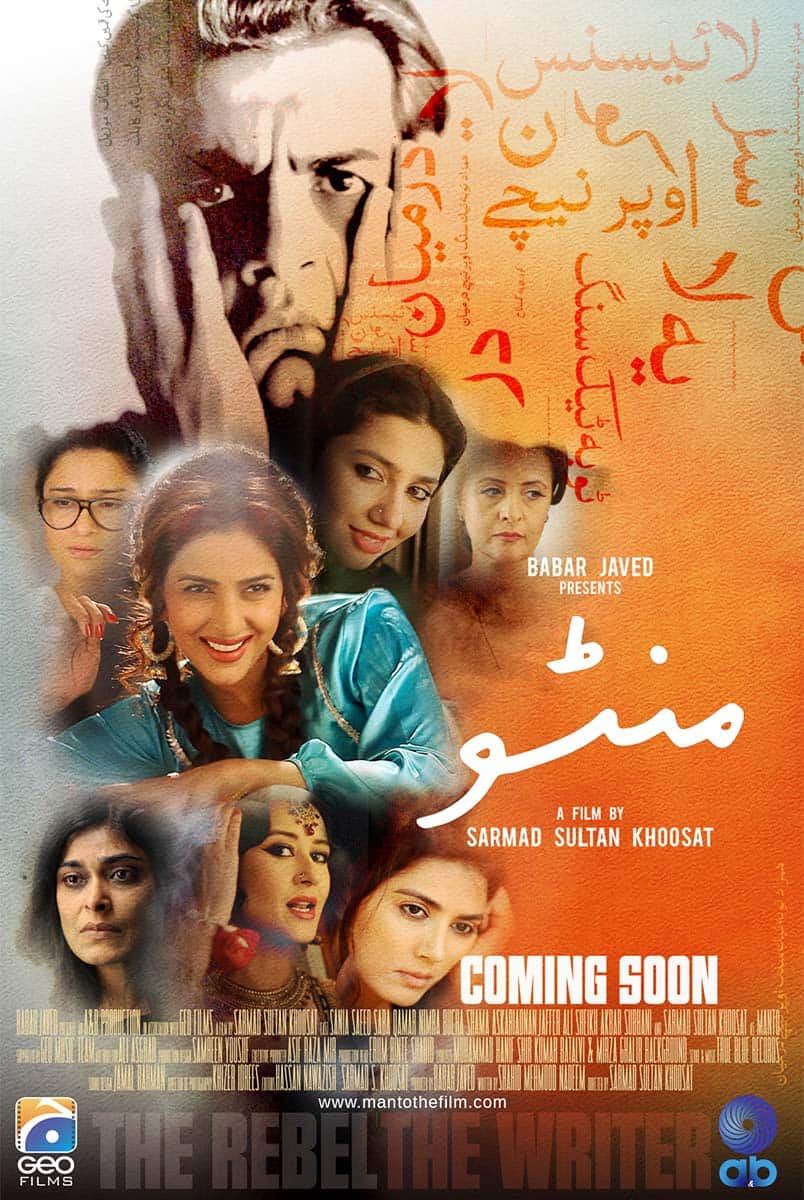 Rashid Nazir Ali