There is nothing more special for a parent to develop a connection with their child and make memories with them. This is the reason, the most popular way of making the pictures and special occasion even more memorable and celebrated is to opt for color-coordinated outfits. This is always very exciting for parents to find and wear matching or color-coordinated outfits with their children because it immediately shows them as a single-family unit with a lot of thought and effort that has gone into making their moments special.
This rings true for Pakistani celebrities where they love to wear color-coordinated and matching outfits with their children. Such pictures are mostly seen at auspicious occasions such as Eids but there are also those celebrities who do that for their beautiful family photoshoots or any special day that they want to add more meaning to. This is the reason, these pictures are well received by their fans and also serve as an inspiration to the new parents who are looking for ideas to make their pictures special.
Let's take a look at the beautiful pictures of when Pakistani celebrities matched their outfits to their children:
Aiman Khan and Amal Muneeb
Aiman Khan celebrated the very first Eid with her daughter this year. Due to it being the very first Eid of Amal, Aiman made sure to make it super special and what better way than to wear a mommy and mini-me matching outfit. Aiman did not just opt for color coordination, in fact, she decided to make Amal wear the exact same outfit as hers, but in a mini version, which was super cute.
Aiman Khan wore a beautiful pastel-toned dress, perfect for summers, and added a multi-colored pastel-toned dupatta. Amal wasn't too behind in styling because she also carried the dupatta on her tiny shoulders and wore matching bangles as well. These pictures of Mommy Aiman and Baby Amal were very cute.
Ayeza Khan and Hoorain Taimoor
After her marriage and motherhood, Ayeza Khan has shown that she puts in a lot of thought into planning her family photoshoots which document the special occasions they share, such as Eids, Birthdays, and Anniversaries. This has given Ayeza Khan a lot of occasions where she has worn color coordinated and matching outfits with her daughter Hoorain.
In recent photoshoots that were clicked on Mother's Day, Ayeza Khan and Hoorain wore beautiful matching outfits in green. The photoshoot had a theme where both mommy and baby were having a conversation over a cup of tea. She also wore pink floral loungewear for the sake of photoshoot and it looked beautiful. For her birthday when she had a party at home, she and Hoorain wore similar nightsuits in pink as well. This gives a lot of ideas to mothers of daughters who want to make their pictures special and meaningful.
Danish Taimoor, Hoorain and Rayyan Taimoor
Danish Taimoor too enjoys wearing matching outfits with his son. He is always seen either color coordinating or wearing the same outfits on every special occasion he gets to celebrate with his family. On Eid this year, although their family kept it simple and Danish Taimoor shared a heartfelt message, he as a father still put in some effort to make this Eid special and memorable for his kids. The entire family wore shades of pink whereas Danish and Rayan wore similar kurtas with white trousers.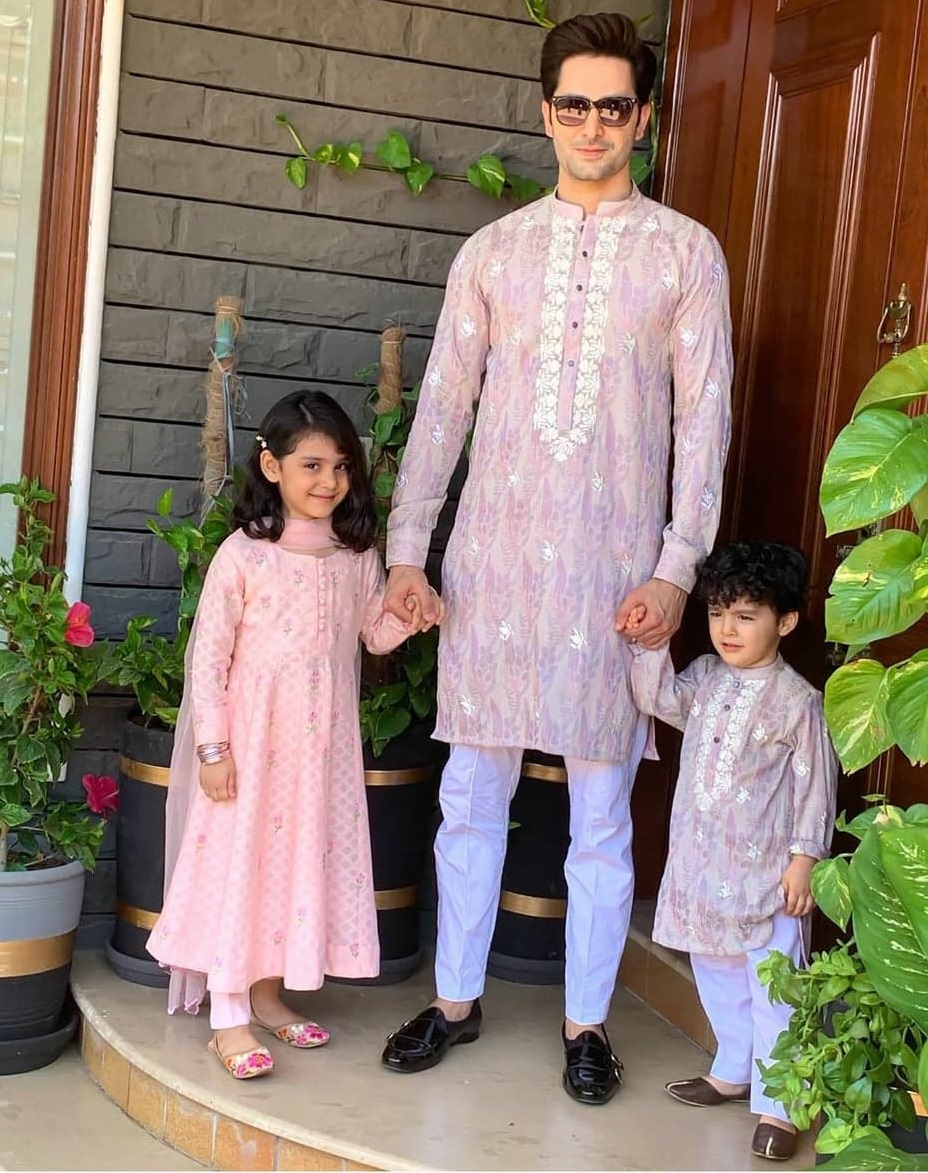 Fahad Mustafa and Moosa Fahad
Fahad Mustafa's love for specs has been picked up by his son Moosa Fahad as well. This is why Fahad Mustafa himself has shared quite a few pictures of his son wearing specs, following the style of his father. Fahad Mustafa and his son also wore matching outfits; a green shalwar kameez with silver button detailing to it and threadwork around the collar. To complete the look, they opted for a similar accessory; a pair of black sunnies and they looked perfect.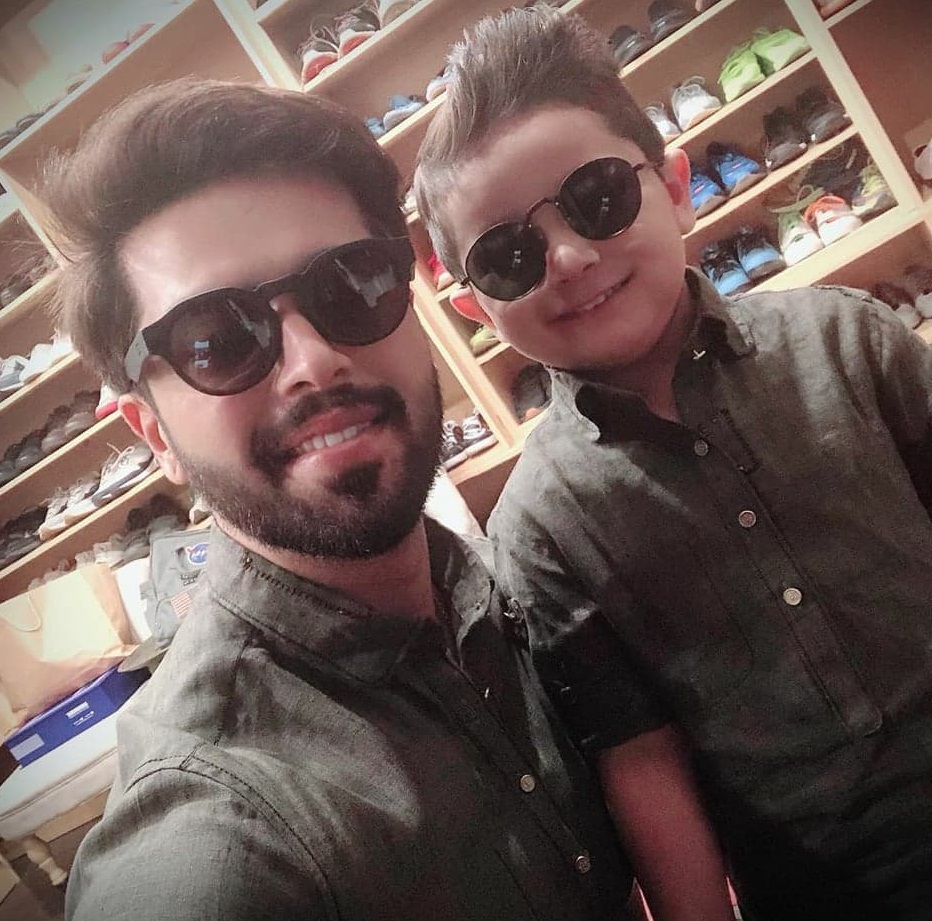 Faysal Qureshi and Farmaan Qureshi
Faysal Qureshi had a son this year and he got to celebrate his first Eid too. This is why, in order to make it more special and memorable, the father-son duo wore exactly the same outfits. Faysal Qureshi and Farmaan wore elegant black shalwar kameez with gold accents to it, golden embroidery on the pocket with golden zip around the collar. We love a cute zip on Farmaan's outfit too.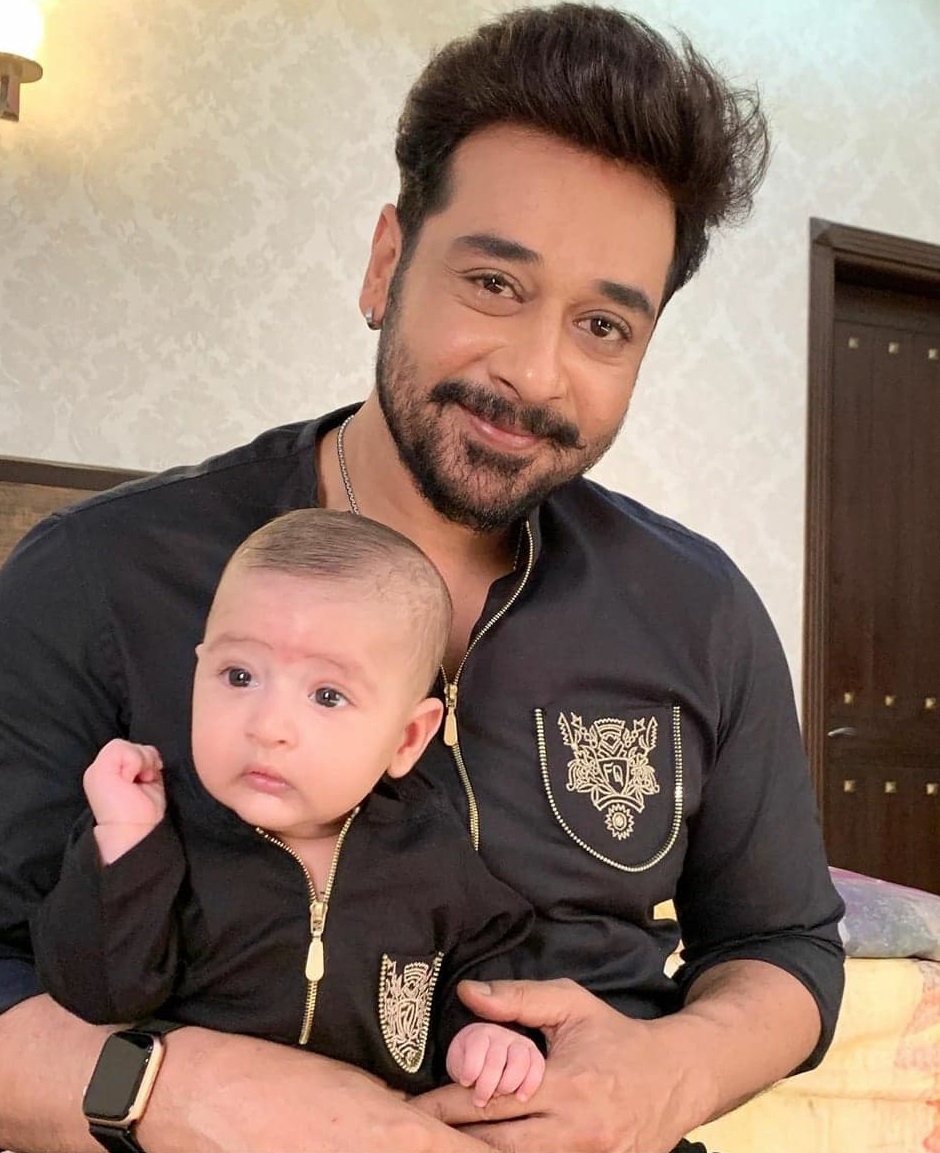 Feroze Khan and Sultan Khan
Feroze Khan picked up similar outfits for himself and his son when he celebrated his very first Eid. He picked up a patterned taupe kurta and paired it with white shalwar. Sultan was just an infant on his first Eid but he looked super cute wearing a matching outfit to his father.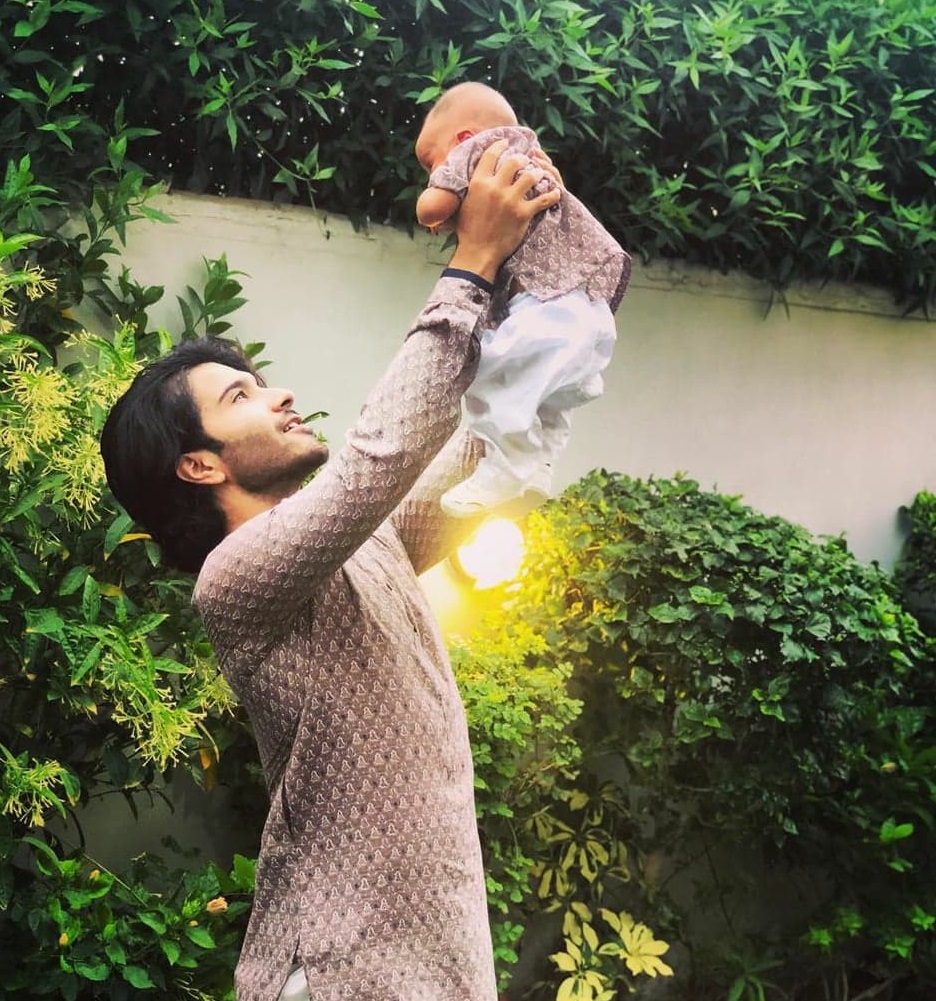 Fiza Ali and Faraal
Fiza Ali is one such celebrity who shows that she doesn't need to wait for special occasions to make her daughter dress up like her. Be it Eids or Birthdays, she puts in extra effort for sure but every now and then, she continues to share such pictures from her regular life where she and Faraal wear the same outfits and accessories. All these pictures are fun and show that Fiza Ali definitely loves making her daughter wear the same outfits. Be it formal dresses or casual ones, western wear, or even a simple white shalwar kurta, Faraal has to dress up like mommy Fiza and they both look super cute.
Imran Ashraf and Roham Imran
Imran Ashraf too likes dressing Roham up like him. This is why when Roham was a newborn, he celebrated his first Eid with his parents and his father Imran Ashraf decided to make him wear the same outfit as him; a plain off-white shalwar kameez with a golden beige waistcoat. This was such a cute picture. Imran Ashraf and Roham have again been seen in matching plain shalwar kameez.
Javeria Saud and Jannat Saud
Javeria Saud and Jannat Saud also wear color-coordinated outfits. The outfits that Javeria picks up for her daughter are not exactly the smaller version of the ones she wears, but the fabric and color are very much the same. She also adds similar embellishments but makes them age-appropriate for Jannat. This is another brilliant way of looking at the family pictures beautiful while still maintaining the mommy-daughter style separately.
Sanam Jung and Alaya
Sanam Jung also loves wearing mommy and mini-me outfits. In the month of Ramadan, Sanam took it to her Instagram and shared that when she wore a white and gold gharara, her daughter Alaya asked her that she also wanted the same dress as her mother. On Eid, Sanam Jung made sure that she does what her daughter asked for by picking matching outfits for the two of them. 
Shehzad Sheikh and Shahmir Sheikh
Shehzad Sheikh also enjoys wearing similar and color-coordinated outfits. As seen in the picture below, he wore a similar white shalwar kameez on Eid, making it a memorable one for their family album.