Out of many controversial celebrities of Pakistan, it would not be wrong to consider Mathira to be the newest and the quickest in the list. The midnight live show host started her showbiz career with a local channel and soon, for her boldness and divisiveness, Mathira earned a huge prominence among the viewers. It really doesn't matter whether you hate her or not because the channels are actually aware how to cash her skills. Since the day she has made her debut, she is found in a new scandal before coming out from the previous one completely. Whether it be her dress malfunctioning or her intimate pictures been leaked on internet, whether it be her singing skills or her item number in Main hoon Shahid Afridi, Mathira is the only one to give her a competition.
It has been heard that Mathira responded to Shahid Afridi's statement regarding the movie MHSA by calling him a mentally gone case, but it comes more as a surprise that the actress has denied the news bluntly.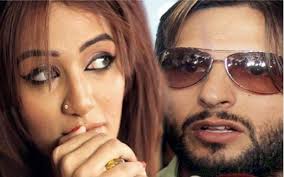 While giving an interview to a news channel, she clarified that all she actually said about him was that Shahid Afridi has his own thinking but for a film, some spice and at least an item number is necessary. She also praised Shahid Afridi and said that he is one of the heroes of Pakistan and no one can pass a comment such that for him.
Watch Video here:
All for now,
Wishes,
Nida Zaidi