Ma ya Ali has now reached the status of one of the most successful Pakistani actresses. Be it television or films, she is the first choice of many directors and production houses thanks to her talent and style transformation. Maya recently came on Samina Peerzada's show and expressed the love she has for her father. Her father is no more and she still feels the same sadness on losing him that she felt the day she lost him.
It is the most difficult thing for a child to lose their parents. Maya and her father had a rift about her working in the showbiz industry. He did not like it but did not stop her either. Later when he saw that she understands the rules and is working really hard to make a place for herself, he was warming up towards the idea. But before they could have openly talked about it, he left this mortal world. It was his second death anniversary and Maya shared a post remembering him. This is the emotional post from Maya Ali: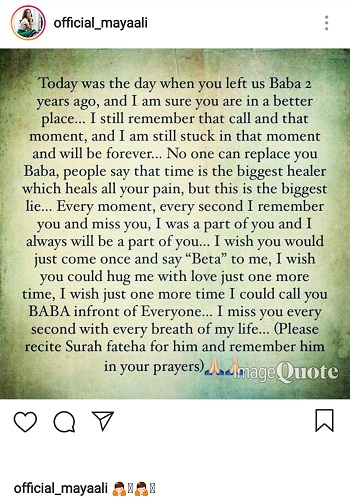 May Allah grant Maya's father highest rank in Jannah and provide the family peace on such a big loss. It doesn't matter how many years have passed, this is a pain that never gets old!