Maya Ali is a very talented actress who started her career with modeling but now she is known for her dramas more than any of her other work. Maya Ali is being loved by the viewers in her latest drama Diyar-e-Dil which is airing on HUM TV.
The actress posted a special status update in which she thanked her fans for liking her work. Maya Ali explained that she was busy so she could not take out time to thank everyone involved in the project and also those who are liking the project but she was overwhelmed by the response Diyar-e-Dil got from the viewers.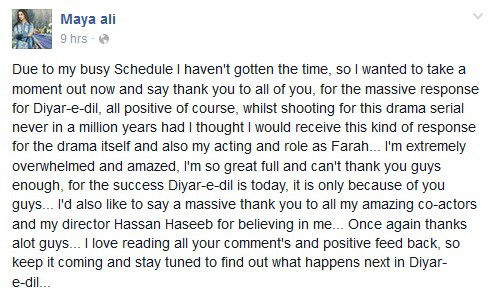 Diyar-e-Dil is a drama based on Farhat Ishtiaq's novel. It is getting a very good response from the viewers.