After staying away from showbiz for sometime except for some controversies Meera is back in action. Few weeks back Meera told her viewers that she was going to do a few stage dramas and Meera is also seen hosting the show Hum Sub Umeed Se Hein. The latest news is even more shocking, Meera has joined BOL and that too in a very senior capacity.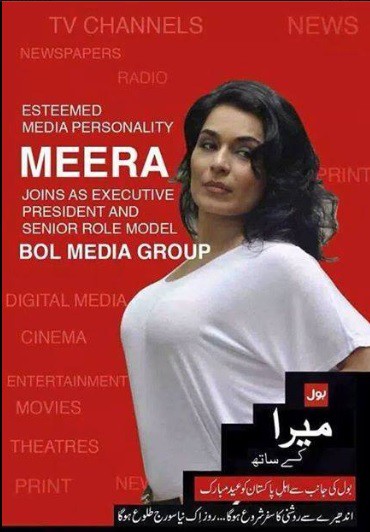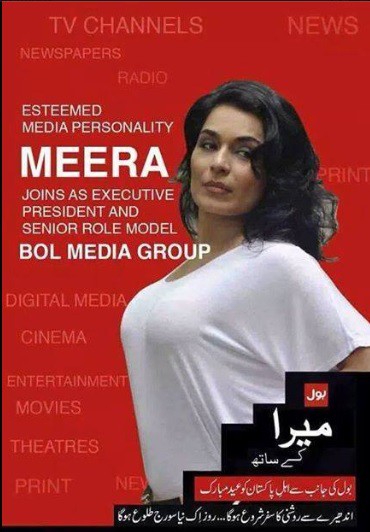 BOL promises to have it all from entertainment, news, movies and even sports. According to the BOL website:
"BOL is a complete media enterprise consisting of platforms that are important and relevant to our audience, including Television (News, Entertainment and Sports), Digital Media (Web, Social Media & Media Apps), Print Media (Newspaper and Magazines), Cinemas & Movies, Theatre and Radio. With a massive launch and a clear social development objective, BOL is all set to bring a revolution in Pakistan's media industry.
after significantly contributing in the socio-economic realm of Pakistan is now applying its strength to pioneer a media revolution that will further amplify its efforts to create a better Pakistan!
the world's leading IT company, is in the business of IT related products & services since 1997. It has grown by leaps and bounds to reach a position where it enjoys a global presence across 6 continents, 120 countries and 1300 cities with more than 25000 Employees and Associates worldwide. Axact's 10 diverse Business Units offer more than 23 world class products to some of the most prestigious clients worldwide. Axact not only ranks as the "top choice employer" in Pakistan but also has more than 2 billion users worldwide and a strong customer base of 40 million across the world. At present, Axact remains the largest exporter of IT products & services in Pakistan".