From award-winning director Mira Nair and based on the acclaimed novel by Mohsin Hamid, comes the explosive new film, 'The Reluctant Fundamentalist', which will be hitting Pakistani cinemas on May 17, 2013.
In 2010, as student demonstrations rage in Lahore, a young Pakistani professor Changez Khan (Riz Ahmed) is interviewed by American journalist Bobby Lincoln (Liev Schreiber). Princeton-educated Changez tells Lincoln of his past as a brilliant business analyst on Wall Street. He talks of the glittering future that lies before him, his mentor, Jim Cross (Kiefer Sutherland) and the beautiful and sophisticated Erica (Kate Hudson), with whom he was set to share that future.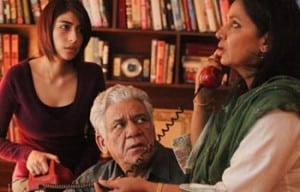 In the aftermath of 9/11, the alienation and suspicion he is suddenly met with leads him back to his homeland and the family to whom he is very close. Leading us through the culturally rich and beguiling worlds of New York, Lahore and Istanbul, 'The Reluctant Fundamentalist' is an exploration of bias and the phenomenon of globalisation that is both brilliant and unsettling. HKC Entertainment is releasing the film in Pakistan and Encyclomedia PR will handle the PR.
Source-Pakium
Wishes,
Nida  Zaidi