Mehwish Hayat is an established artist of television dramas. Mehwish is in newssince she performed in an item song in film Namaloom Afraad starring Fahad Mustafa in lead role. Urdu Weekly Akhbar-e-Jehan also published some interesting bits on this from the pen of Aneela Raheem which is also shared below.
Mehwish is a well known performer which needs no cheap tactics to be famous. She is already famous from her dramas, but for some unknown reasons she is appearing in drance performances in award ceremonies from past few years. Recently her filmi
item song was widely discussed in media. Mehwish's fan are skeptic about her decision, that why she opted the way of Meera, Veena and Mathira to earn fame. Highlights of this item song where Mehwish is in glamorous dress of choli and ghaghra tells something similar to Munni Badnaam Hui and Chikni Chameli.
Mehwish is very excited about her this performance. As per mehwish this song hasprovided the required attention to the film. The song is shot in a 'Maut ka kunwan' . Somer persons may object to my decision, but I was sick and tired of performing the monotonous roles in dramas again and again ranging from naik biwi, ghareeb larki, mazloom behan aur beti. The song has performance margin and this performance was a break from monotony.
She instantly noded yes on recieving this offer. Though her role in this film is small but it will impress the viewers. Without seeing the whole song it shouldn't be labelled as vulgar.
Apart from picturization, the lyrics and music of the song has potential to become popular. Hopefully this song will be preferred over indian songs in the weddings. I never criticize any pakistani artist for working in an Indian film, as an artist has to work as per demand of the film.
Mehwish also told she was offered a role in Bollywood film Dedh Ishqiya which was later performed by Huma Qureshi. Mehwish rejected this offer as she was not willing to do some scenes which she thought were really vulgar. Mehwish is excited that her
debut film will be a Pakistani instead of Indian.
Source: http://akhbar-e-jehan.com/August2014/18-08-2014/jahanefun_8.asp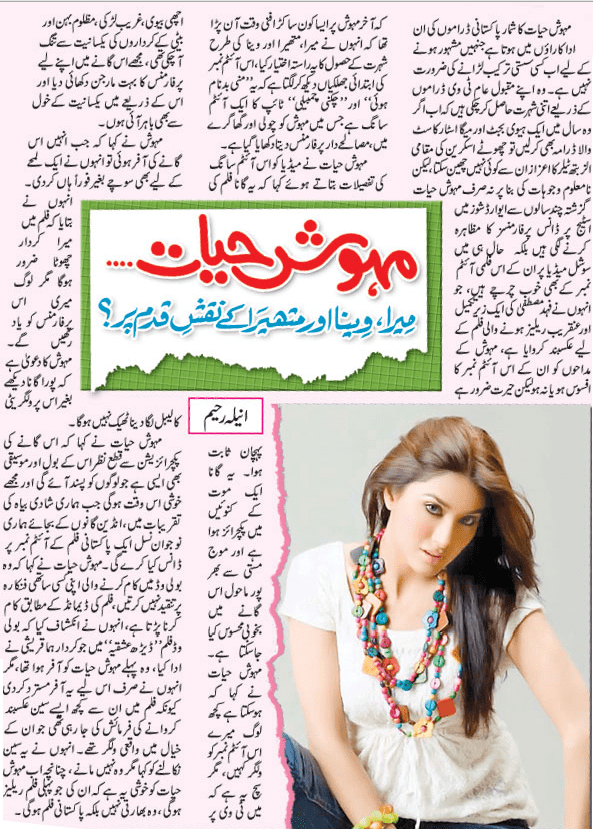 Rashid Nazir Ali