Faysal Qureshi is one of the most dedicated, noteworthy and stupendous Pakistani actors who is reigning on the television screens since 1985 when he was a little child. The performances he has given one after another in these years can never be unappreciated or disregarded.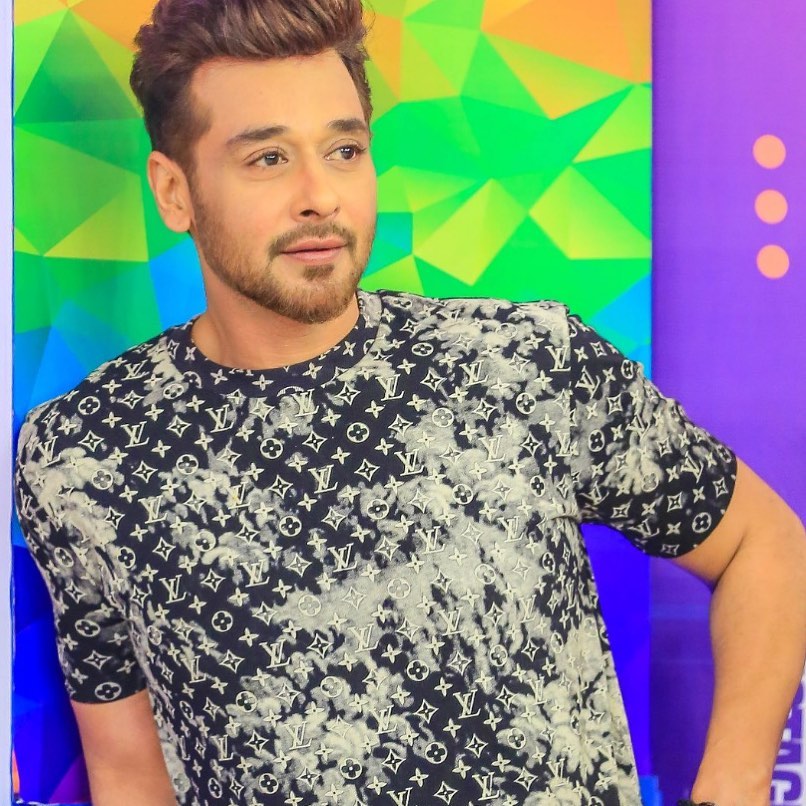 Lately, a video clip of Faysal Qureshi is making rounds on social media. During the live show on BOL Entertainment TV host Faysal Qureshi got angry at TikToker Muskan and called her illiterate. The show was celebrating a TikToker's birthday, when Muskan slapped the birthday boy. Faisal Qureshi got angry when he slapped in the live show and said what happened? The show is going on air. There is no such thing as distinction. Mentioning the staff, he said, "Where do you get illiterate people from?"
Faysal has sent Twitter into a frenzy with his dressing-down to the TikTokers. Many people are amused by the clip, making memes out of it and sharing them widely on social media. Check it out!
Tik toker and bezati has deep relationship with each other
No one can understand it until he/she become a tik toker 😅#FaisalQureshi pic.twitter.com/kyfcPn4tNz

— SYED 🇵🇸🇵🇰🇹🇷 (@syedMHRkhan) July 4, 2021
#FaisalQureshi
Le Pakistani awam after this scene: pic.twitter.com/QrgK6Z79AM

— forever peeved (@Dua_kazmi14) July 4, 2021
#FaisalQureshi
Faisal Qureshi after successfully destroying tiktokers : pic.twitter.com/Pf5DUpZ4w6

— 〽eht@🅱🔱 (@NOBITA_513) July 4, 2021
No Caption needed😂😂 #FaisalQureshi pic.twitter.com/JSosZmT4eF

— ABDULLAH🎧 (@Legend_Pro_max) July 4, 2021
Kaha se Laaye ho Yeh Jahil aur Badtameez Loug
Thank You #FaisalQureshi for speaking up the truth about Tiktokers 😂😂 pic.twitter.com/i7T6ITDynm

— 🇵🇰بختـBakhtawarــاور🇵🇰 (@Ariesjumani) July 4, 2021
Faisal rocked Muskan shocked 😂#FaisalQureshi pic.twitter.com/yOhDLtK1yU

— 𝔸 𝕐 𝔸 ℕ 💫 (@DrCrockx) July 4, 2021
This calendar year is coming soon#FaisalQureshi pic.twitter.com/44StvTHnuP

— Inzamam Ul Haq🇵🇰🇵🇸 (@Inzamam99119401) July 4, 2021
Me Everytime with my Bestie Kia kr rhi hO yar Jahil #FaisalQureshi pic.twitter.com/KoXPjXONxT

— Zee Xhan Ali (@zeexhanali8) July 4, 2021
No words for this editing I'm just
Speechless 😂😂#FaisalQureshi pic.twitter.com/CfR6PBne5D

— aima_fatimaa (@AimaFatima14) July 4, 2021
Inner me to #FaisalQureshi 😂 pic.twitter.com/TpEZ5App1q

— مرزا ریحان ® (@ryhan_x) July 4, 2021
One of the tiktoker needed this reaction to teach others.. if you're a girl doesn't mean you're to free do anything anywhere.
If he slaps you back then?
Boys have the same respect as much as you have.. do have some consideration.#FaisalQureshi pic.twitter.com/ygcBsDe6mb

— Amber (@Amber07312567) July 4, 2021
Me to #FaisalQureshi after the incident pic.twitter.com/7AtVxMlkmf

— Hamza Tweets (@Hamza_tweets69) July 4, 2021
Yeah right 💯
..#FaisalQureshi https://t.co/WGiBFUBuPC

— Summiyya Ahsan (@AhsanSummiyya) July 4, 2021
I was hoping that this would trend and finally it did #FaisalQureshi 👏👏 https://t.co/kfC7h7hpK1

— 🇵🇰🦋اسماء مقصود 🦋🇵🇸 (@WhatsTh08037699) July 4, 2021
I agree with Faisal qureshi abt society's culture
It's never too late , we all must unite to protect our islamic & Pakistani culture.#faisalqureshi pic.twitter.com/jo0AndForR

— ALI HASHMI !! (@alihashmi903) July 4, 2021
Some tiktokers were trying to act cool but Faisal Qureshi made them realize that it's actually jahalat and they were like…#FaisalQureshi pic.twitter.com/najaAItXXA

— Fasih Uddin (@Fasih_Uddin) July 4, 2021
Meanwhile in the paralell universe 😂😂 #FaisalQureshi#ImranKhanStudentsKiSunLo pic.twitter.com/KH7X7vjmn9

— Arslan Rafique (@ArslanR70413271) July 4, 2021
Faisal Qureshi receiving all the praise from Pakistani Parents#FaisalQureshi pic.twitter.com/zW6b7DQGgV

— Pakistani Awaam (@PakistaniAwaamm) July 4, 2021
I used to watch #FaisalQureshi morning show. A few months ago a friend of mine introduced me to this tik tokers show. I didn't believe @faysalquraishi was tolerating all this. Finally he responded the way he should have long time ago. pic.twitter.com/vmDDzyDaKP

— Nida Khan (@Nida_Khan2021) July 4, 2021