This day marks the end of a decade for the Pakistani drama industry. Tomorrow, with a new date, a new decade will begin and Pakistani drama fans can only keep their expectations high, hoping to see some more iconic and substantial dramas in the years to come. This entire decade was nothing short of a treat for Pakistani drama viewers and fans because this is when the drama industry saw a shift in the paradigm. After the influx of content from across the border, the Pakistani drama industry suffered and had to work really hard to bring back the viewership and retain it. This is when everyone joined hands and brought back the glory to the Pakistani dramas that they deserved and since then, the industry has only unlocked one level of success after another.
This decade was when the popularity of Pakistani dramas soared high and with the help of social media, it skyrocketed even more. Viewers and fans got a portal to discuss what they liked in the dramas and with that, more and more people ended up joining the discussions. This entire decade, Pakistani drama fans have seen some brilliant dramas and because those dramas were widely spoken about, there were also some of the dialogues that became unforgettable. These dialogues have stayed with the fans and have probably become a way of recalling the specific dramas.
Here is the list dedicated to the memorable dialogues of the decade from Pakistani dramas:
[lwptoc]
Humsafar
There is no denying the fact drama serial Humsafar is one of the blockbusters that the Pakistani drama industry produced this decade. After a long time, there was one such drama that blew everyone's minds and it was probably the most-watched show of the year with its worldwide popularity. Humsafar became a phenomenon and just as much as people loved the pairing of Mahira Khan and Fawad Khan, as much as people loved the story, the Pakistani audience didn't miss the chance of using one of the dialogues for comedy. The iconic 'mummy ye app kya keh rahi hain' became one of the most memorable dialogues of this drama and it was used in memes. Although it was said in a scene where Khirad was being accused and her world was falling apart, the repeated usage of this dialogue gave the viewers enough reasons to find the humor in it.
Durr-e-Shehwar
Durr-e-Shehwar will always be remembered as one of those few dramas which tackled the issues of an early, arranged married in the aptest manner. Durr-e-Shehwar attempted to highlight the problems faced by a young woman early on in her marriage in an attempt to highlight the importance of helping a girl adjust to her new house and not having too many expectations from her. Umera Ahmed always writes the most soul-stirring dialogues therefore it was no surprise that most of these dialogues truly resonated with everyone who watched the drama. Among other things, Durr-e-Shehwar's conversations and exchange of letters with her aba (father) became a fan favorite. In a letter, she tells her father that she feels like she is zero because she was made to feel that way in her new house. Her father wanted her to settle down in her new house therefore even though his heart ached for her, he gave her a piece of advice that was penned down so beautifully. Her father redefined zero by saying, 'Sifar ki zarurat har addad ko hoti hai. Kuchh bann ne ke liye sifar jis addad ke saath lage uski kadr aur keemat kai guna badha deta hai'. Syed Muhammad Ahmed and Sanam Baloch's impressive performances made their interactions a treat to watch.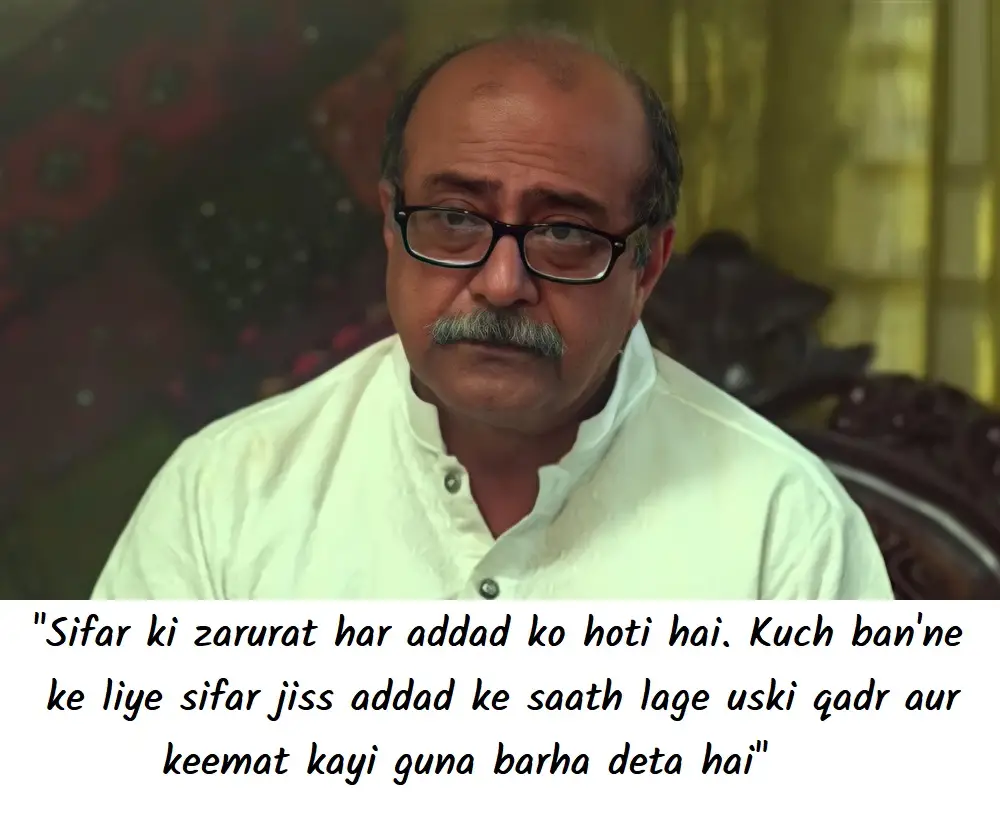 Sadqay Tumhare
Drama serial Sadqay Tumhare was one of the blockbusters of this decade. The drama got a lot of attention because the audience became a lot more interested when they learned that this was the real-life story of the writer Khalil ur Rehman Qamar. The writer explored his love story with his cousin Shano and brilliant writing with intricate details made it a magical experience to watch Sadqay Tumhare. This was another dialogue that became the talk of the town and as much as people despised Rashida, the audience felt frustrated upon hearing Shano's 'mareya na karo ammi jee'. This sparked annoyance and frustrations out of concern for Shano because the audience hated seeing her being ill-treated and emotionally blackmailed by her conniving mother.
Sadqay Tumhare
Khalil-ur-Rehman Qamar is known for penning down some of the most iconic drama serials. It was difficult to shortlist only a few dialogues from his drama serial since there were so many amazing ones to choose from. This list would be incomplete without this dialogue which was also shown in the promos before the drama aired. When Shano is talking to her friend about the love of her life Khalil, she tells her what time he will be there to meet her. That is when her friend questions how she could be so sure about his whereabouts and tell what time he will reach. That is when Shano uttered these iconic dialogues, 'Mohabbat mein ilham na ho tu.. fittay mun mohabbat ka' . This particular dialogue was remembered and mentioned on many different platforms. This is definitely one of those dialogues which even those people can recall who did not watch the drama itself.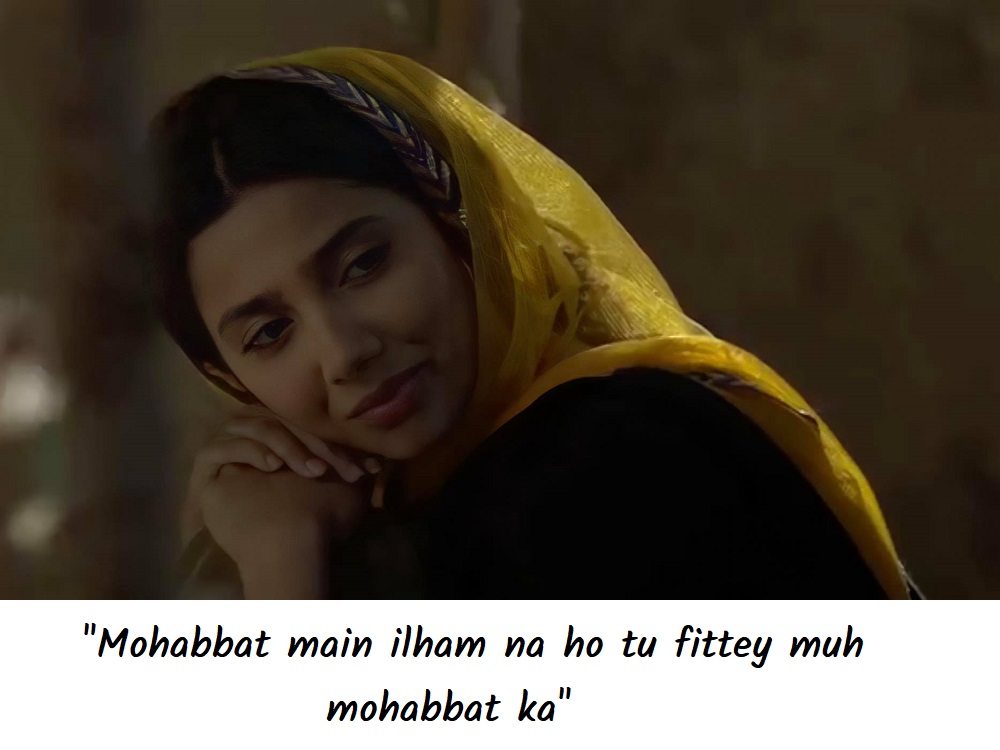 Diyar e Dil
Diyar e Dil was another megahit serial of the decade. It explored the dynamics of a family and showed how every family member is connected by heart and emotions. The scenic locations also added another charm to Diyar e Dil and made it a very pleasant watch. The love story of Wali and Farah, which skyrocketed the popularity of Osman Khalid Butt and Maya Ali's on-screen couple is no secret. Diyar e Dil was an extraordinary drama and one of the most special aspects of the story was the equation shared by Wali and Farah. The way Farah slowly falls in love with Wali and how Wali then gives her a hard time was all very sweet. Wali was always very calm and composed but every now and then, he was pushed to showcase his anger. In one of those moments, Wali who resented Farah's cousin Moeez spoke against him and said 'wo mere haathon zaya ho jayega'. This was definitely one of the amusing and iconic moments of the drama followed by a lot more where Wali saves Farah and then Farah confessed her love to him.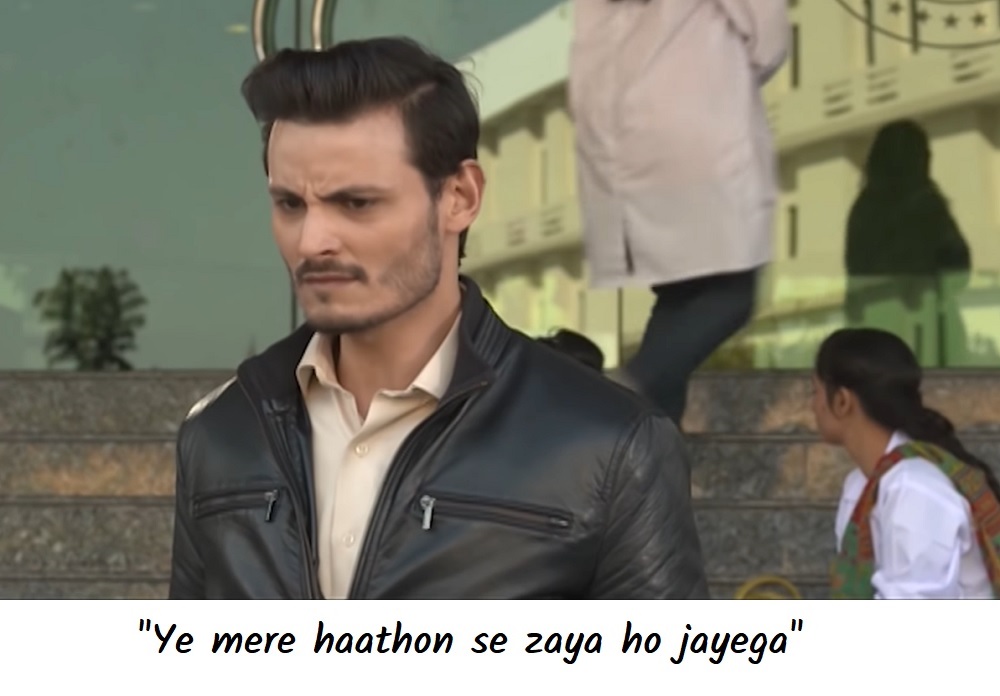 Dil Lagi
There were only a handful of romantic dramas in this decade that had the most impressive dialogues. Dil Lagi was one such drama that was loved by the viewers even more because of the phenomenal performances by the leading actors. Mehwish Hayat and Humayun Saeed's on-screen chemistry and Faiza Iftikhar's beautifully penned down script made this drama one which is still considered the best. Since this was essentially a love story, the most iconic dialogue from the drama is also one which defines the bond between lovers in the most heart-warming manner. This was one of the last scenes of the final episode which showed how Anmol finally declares her love for Mohid after he has been shot and is in the hospital. When Mohid asks her what she would have done had he died, she replies, 'Mohabbat ke asool kuch aur hei, yahan do mei se ek nikalo tu ek bhi nahi bachta'. Faiza Iftikhar redefined many ideas and ideals of love through Dil Lagi and through this dialogue she gave all the hopeless romantics the perfect lines to express undying love.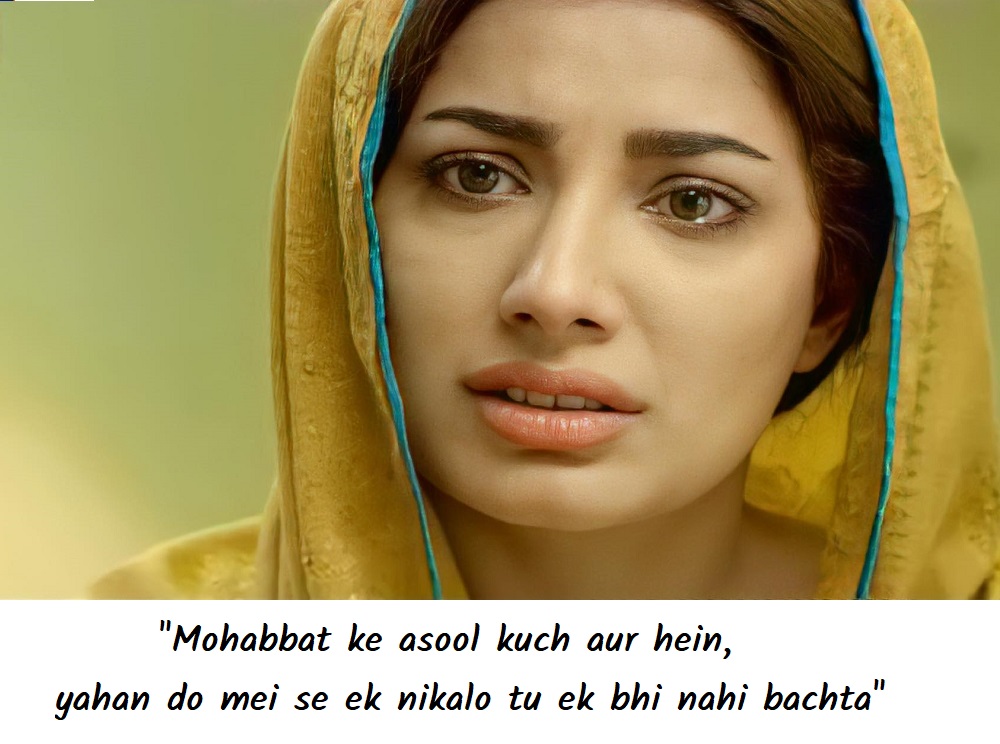 Mann Mayal
Mann Mayal was popular due to its star cast, Hamza Ali Abbasi's fans, in particular, watched the drama right till the end even when it went completely off track. This was also one of those many dramas this year that were stretched to the limit. That is the reason why there was a lot of repetition in it as well. Jeena's character was played by Aisha Khan and every time Jeena had a conversation with anyone at all, she had to repeatedly tell them that her parents had died. The dialogue, 'mere tu maa baap bhi nahi hei' was used excessively by her even in situations where it was not needed! The fact that Jeena had no maa baap became her introduction and was used as a lame excuse for her desperation made this dialogue one of the most amusing and annoying ones since something as serious as being an orphan was turned into a joke due to the way these situations were penned down.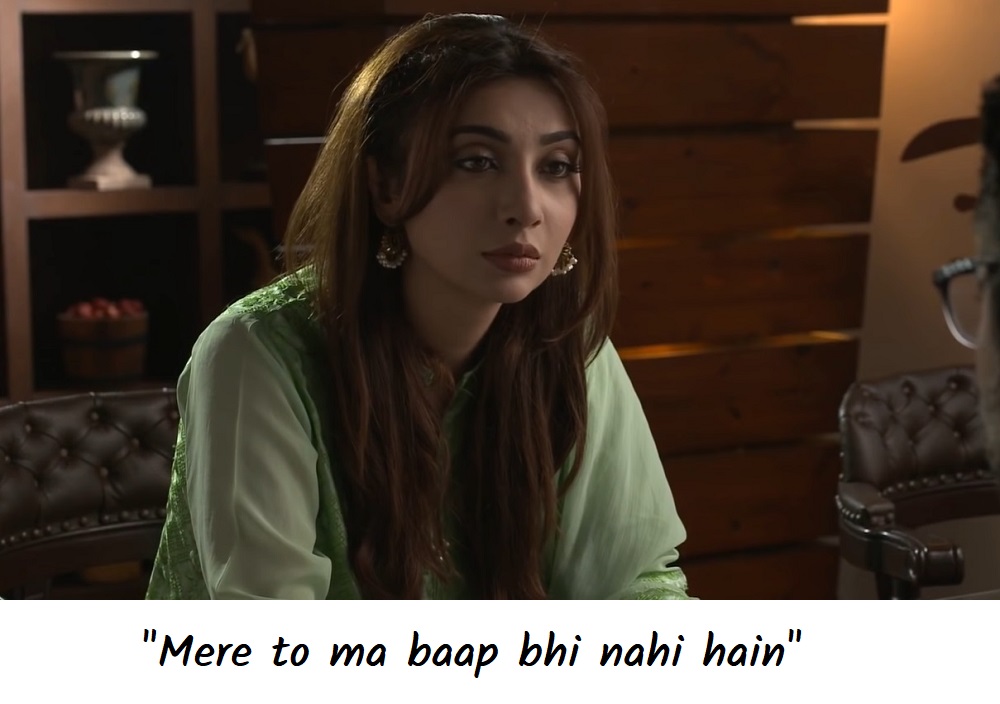 Udaari
Drama serial Udaari was one such drama seen this decade that dealt with the highly sensitive issue in such a profound and intelligent manner. Udaari became a perfect example of infotainment where a lot of awareness was created and the right kind of message was imparted to the viewers who watched it. Udaari was one such iconic serial that started the discussion about child molestation. This was also aired during the time when a lot of stories were revolving around damsels in distress. The dialogue 'mai victim nahi hoon, mai surivor hoon' was music to the audience's ears. This was echoed during the time when the drama makers were kind of following the same pattern and focusing more on showing how helpless and hopeless women are. The way Arsh motivated Zebo and told her to not only face by overcome her fears by saying these words out loud was phenomenal.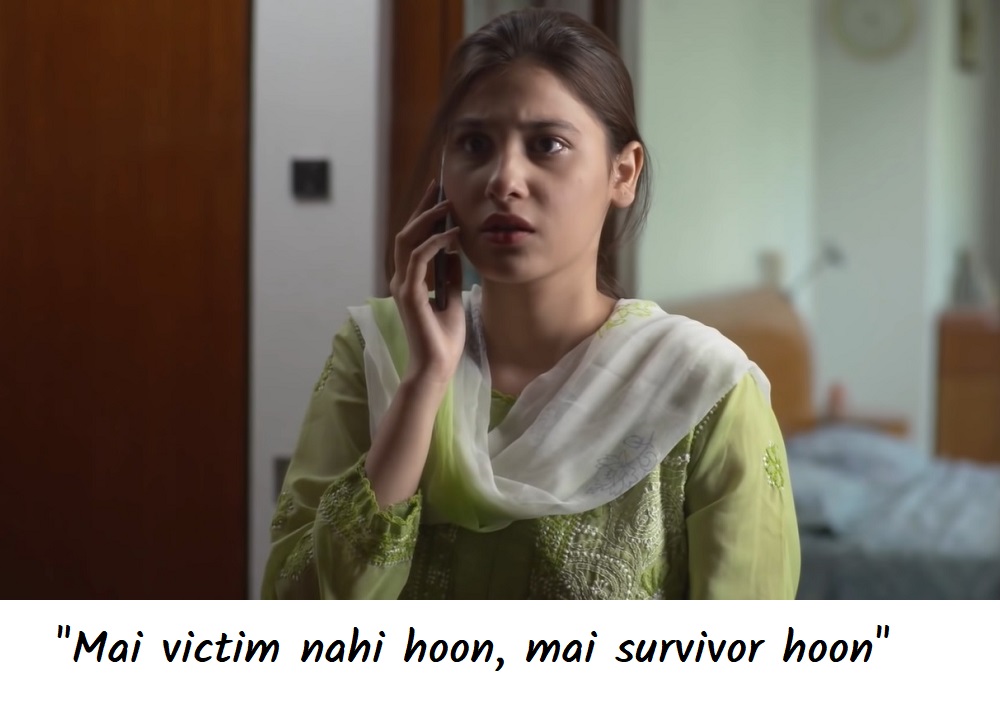 Udaari
There is no denying the fact that in the drama serial Udaari, Ahsan Khan wowed the viewers with her phenomenal portrayal of Imtiyaz. His iconic performance and overall demeanor actually made the viewers resent the pedophiles and showed how sickly unapologetic they are of their behavior. This was one such drama that explored the dark psychology of the pedophiles and made people realize how trusting anyone is a big no especially in matters concerning the children. This definitely is not to take away from the gravity of the subject that Udaari was based upon but it can not be denied that the way Ahsan Khan portrayed this character and the way he delivered some of the dialogues actually made people nod their heads in disbelief. Imtiyaz was known for twisting words to convey what he felt like saying and out of the blue he chose 'easy kara do', which definitely became one of the memorable dialogues of Udaari.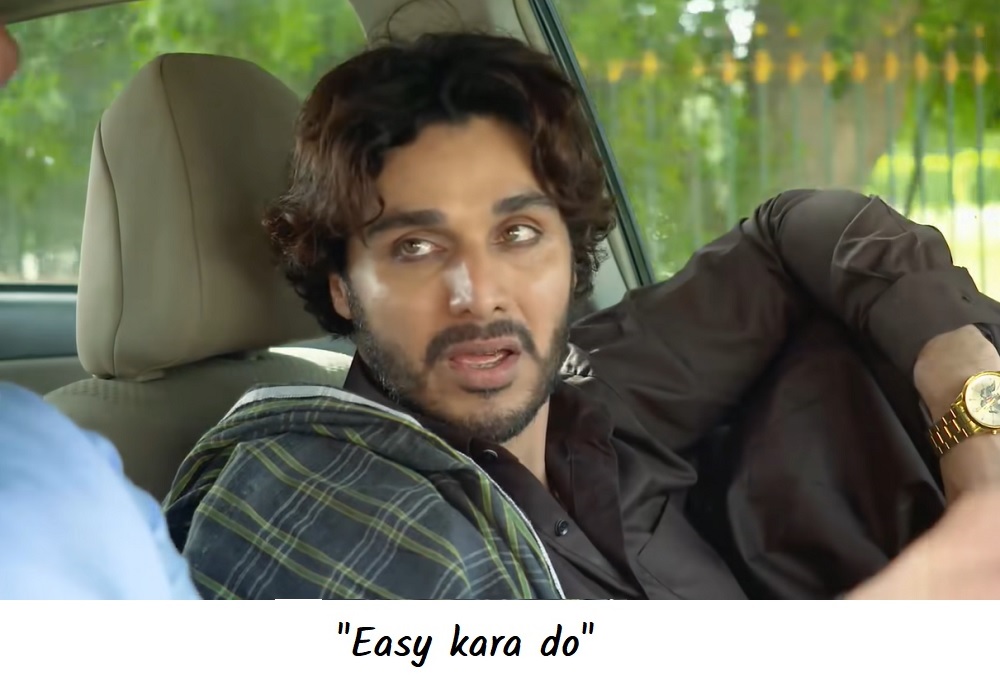 Ranjha Ranjha Kardi
Drama serial Ranjha Ranjha Kardi was yet another blockbuster given by the Pakistani drama industry this decade. It explored the domain that no other writer in recent times had done. Faiza Iftikhar showed the life of an autistic Bhola that everyone fell in love with. Bhola and his antics portrayed by Imran Ashraf became everyone's favorite and because of that, everything that he said became a statement of its own kind. His 'haye haye mazay, haye mazay' was loved by everyone and the viewers couldn't help but share it all over social media, in order to showcase their love for him and all the things that he would say.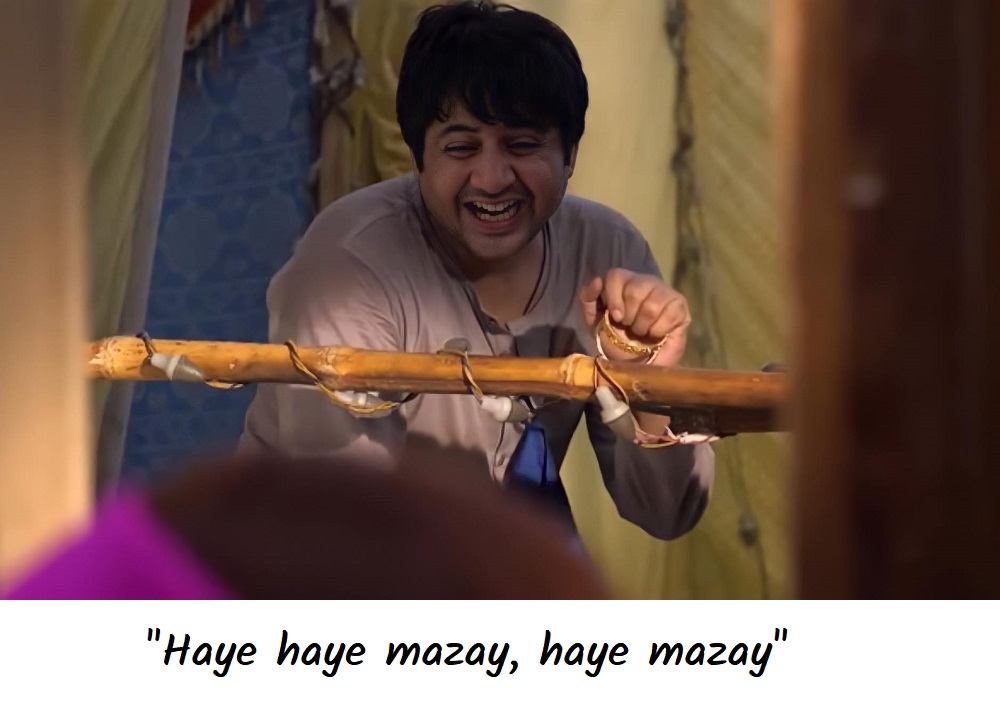 Ranjha Ranjha Kardi
Ranjha Ranjha Kardi was also one of those very few dramas in this decade that made the viewers laugh and cry at the same time. It was a meaningful and entertaining drama serial that left a lasting impression on the viewers. There were so many scenes and dialogues in this drama that are definitely worth mentioning but this one stood out more than all the others. When Noori turns to Ama Janate for help after her parents decided that they are going to marry her off, she gave her a piece of advice that could have so many different meanings. She tells Noori, 'Mitti ho ja, mitti ho gi tere se jarei phootei gi'. Although Noori was born in a family that collected trash for a living, she always hated them for it. She liked everything neat and clean, never accepted her circumstances, and stayed rigid until she got into trouble. Noori was never rigid in a negative manner but she definitely needed this advice in order to accept what the future held for her. Ama Janate asked Noori to be more flexible and compromising, perhaps while doing so, she was talking to everyone who was listening!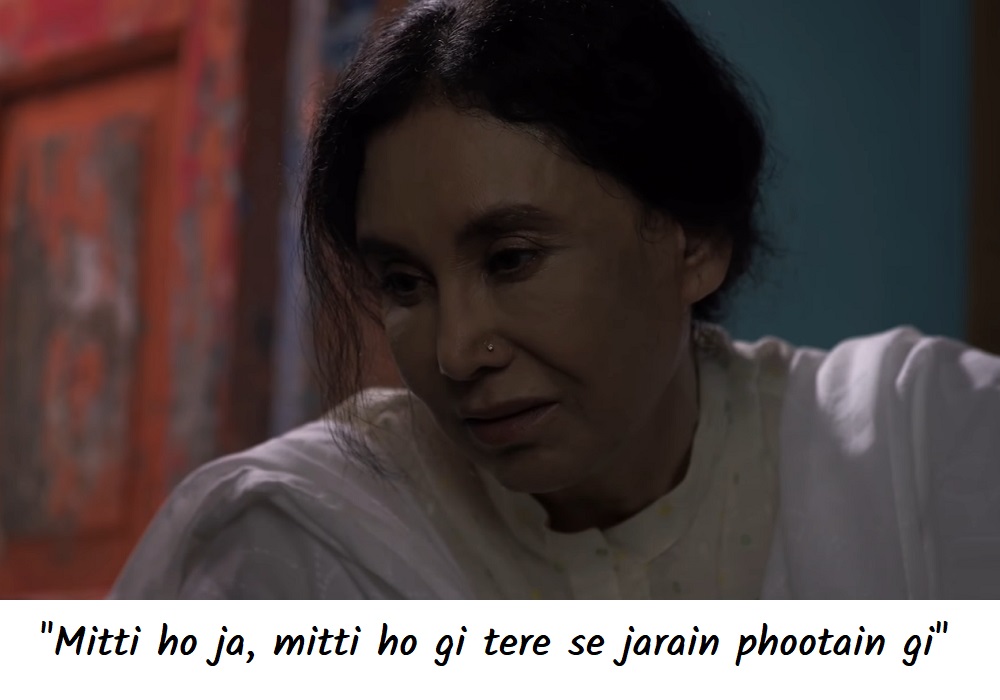 Suno Chanda
Suno Chanda was a Ramazan special serial that had many light-hearted moments and dialogues. Shahana was the most liked character in the drama who was loved due to her witty dialogues. Nadia Afgan's dialogue delivery and performance was also the reason why this character and everything connected to it was loved by the viewers. Shahana entertained the viewers in a way no other character did this decade. She was also one of those few character which had Punjabi dialogues, one of these dialogues became iconic. The Punjabi phrase, 'Nawan katta khul gaya' was given a whole new meaning due to these dialogues. Every time there was a situation Shahana wasn't anticipating or which couldn't be easily resolved, Shahana uttered these dialogues and always amused the viewers.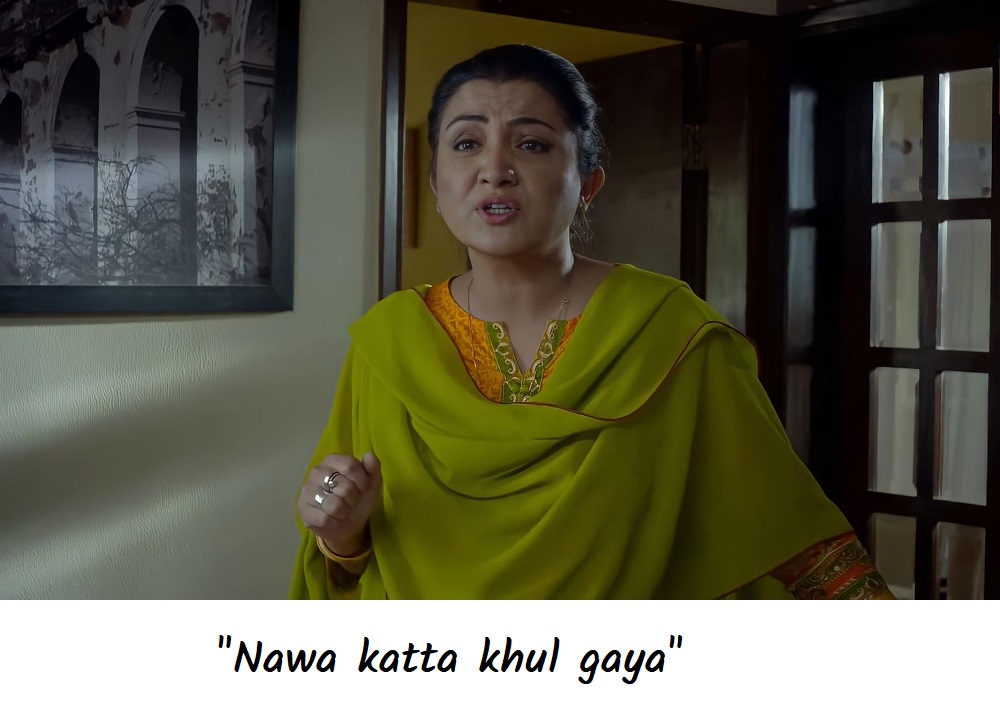 Cheekh
Drama serial Cheekh was one of the most-watched and popular dramas of the decade. The ensemble star cast and phenomenal performances of all the actors especially Saba Qamar, Bilal Abbas Khan, Aijaaz Aslam, and Emaad Irfani gave viewers so many reasons to appreciate Cheekh. Drama serial Cheekh's dialogue uttered by the character of Nayab played by Ushna Shah 'Raja bheria nikla' became the talk of the town because it was being discussed by all the audience who were keenly following the drama and trying to solve the mystery. This dialogue was uttered at the beginning of the drama and had everyone guessing right till the time it was made clear that Wajih was the culprit. This dialogue definitely sparked a lot of debate and discussion which the audience actively took part in.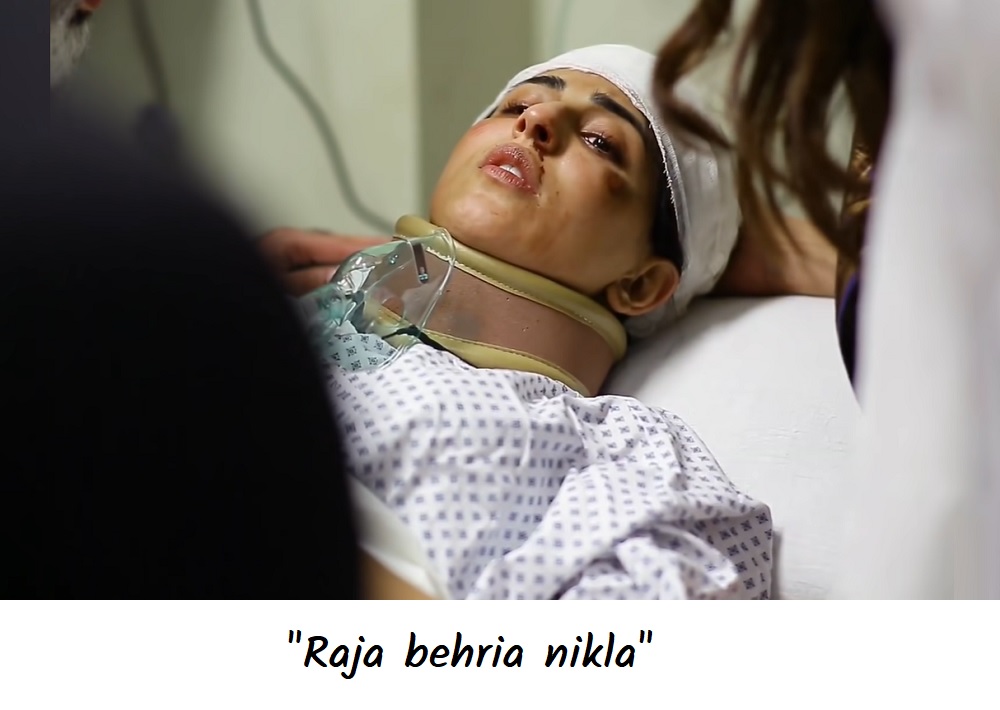 Mere Pass Tum Ho
Mere Pass Tum Ho was yet another hit drama serial that had some of the most noteworthy dialogues. Although there were so many dialogues that expressed Danish's feelings in particular in the most emotional manner, this particular dialogue has to be the most iconic one. Danish willingly divorced his wife so that she could go and have a better life which she always dreamed of with Shehwar. Previously, Shehwar offered him 50 million rupees for leaving Mehwish. He refused to take the money and when Shehwar was taking Mehwish with him, he uttered these iconic dialogues, 'Is du takay ki larki ke liye aap mujhe 50 million de rahe thay.' This dialogue became even more impactful because of the way it was translated on screen. Humayun's Saeed's expressions, the background score, and the camerawork made it even more powerful. Many viewers who were not watching the drama, criticized this dialogue since in their opinion it was really offensive. All those viewers who had been following the drama right from the start agreed that it was a befitting remark!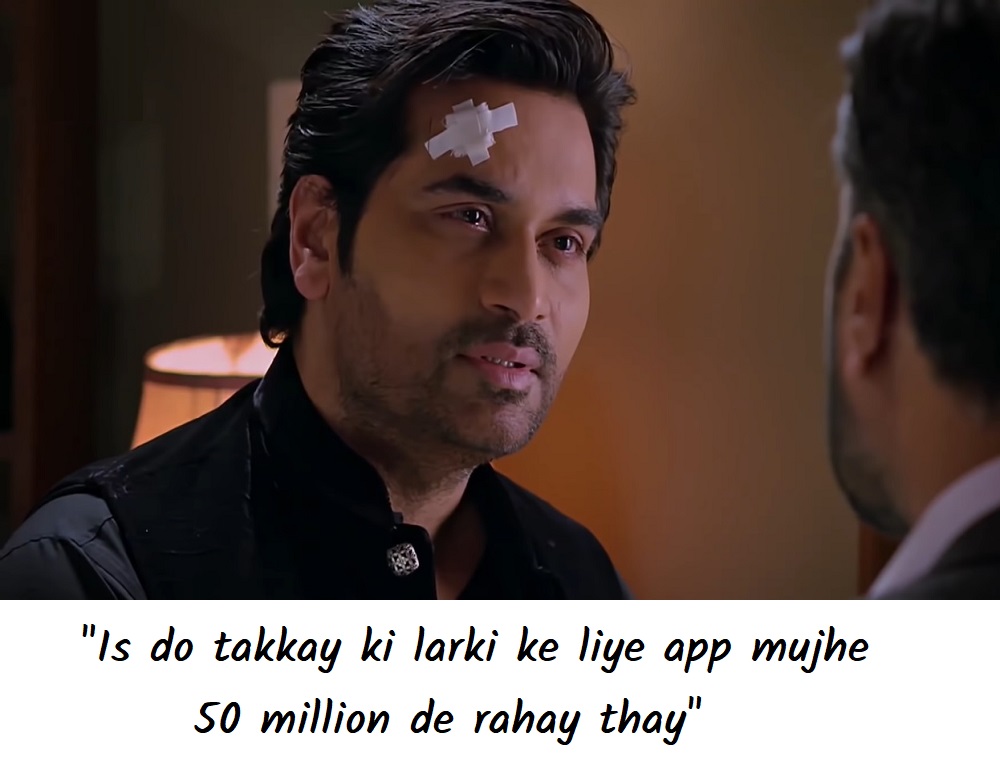 Alif
Drama serial Alif had a lot of beautifully written dialogues by Umera Ahmed. However, this particular dialogue spoken by Master Ibrahim became super popular because it was basically the crux of the story and the journey of Husn e Jahan, a woman who was always judged for all the choices she made, by all the people around her, including her own son Qalb e Momin. In the end, Master Ibrahim vouched for his wife Husna/Husna e Jahan and spoke highly of her character and demeanor. He rightfully pointed out that people always believe in pre-conceived notions and expect that one might never change but seeing Husn e Jahan's emotional and spiritual transition, he realized how pure she was and how harsh the entire world was towards her. This beautiful dialogue was thought-provoking.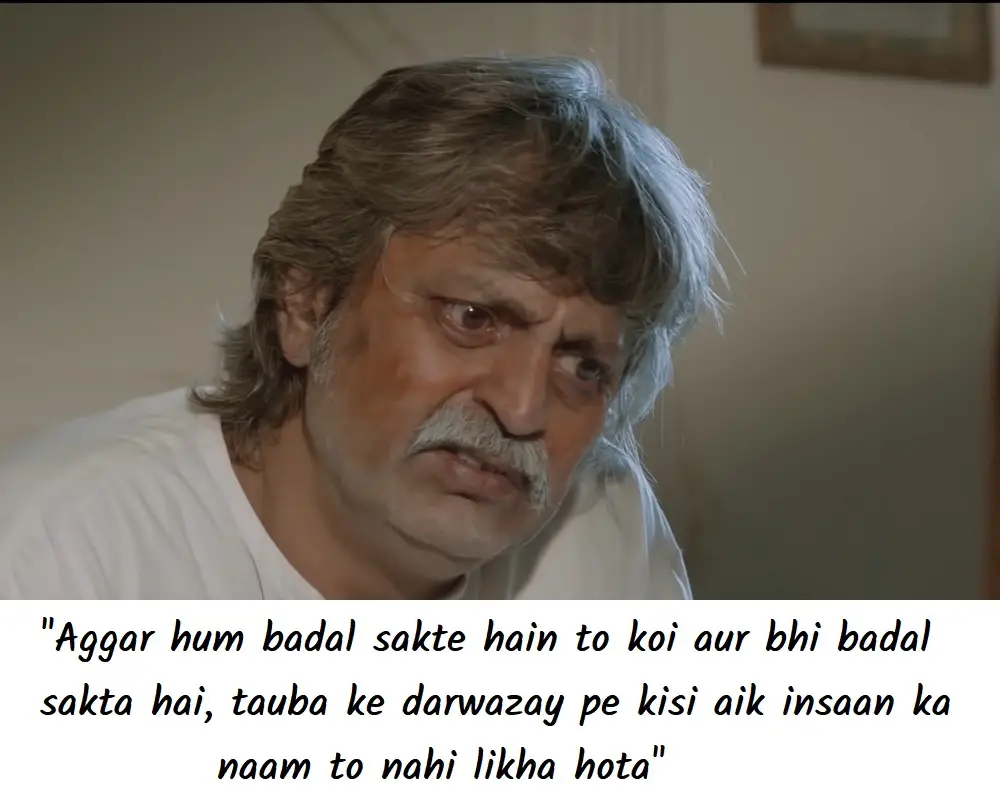 This completes the list of memorable dialogues of the decade from Pakistani dramas. Which of the dialogues from Pakistani dramas were memorable for you? Please feel free to add more names to the discussion.
Mushk
This decade ended with drama serial Mushk winning the viewers over because of its beautiful dialogues among other things. Mushk's script has a spiritual element too which is why there are quite a few dialogues that give the viewers so much to reflect upon. Through so many short and to the point dialogues, Imran Ashraf gave his viewers some much-needed life lessons. This is one of those many dialogues that was quoted by many viewers repeatedly for obvious reasons. Qavi Khan sahib's vitality in this scene makes the message even more effective. Gratitude is all about valuing every little thing and through this scene the viewers learn the importance of gratitude from someone who appears to be a layman but has so much wisdom to impart. Qadar karo is a message that would resonate with all those who are grateful and also those who are not! When this porter asks his fellow worker to get up, he refuses to go after the passengers to get their attention, he utters these iconic dialogues, 'Qadar karo qadar karo, qadar na karo tu rub cheen leta hei chahay ishq ho ya rizq ho'.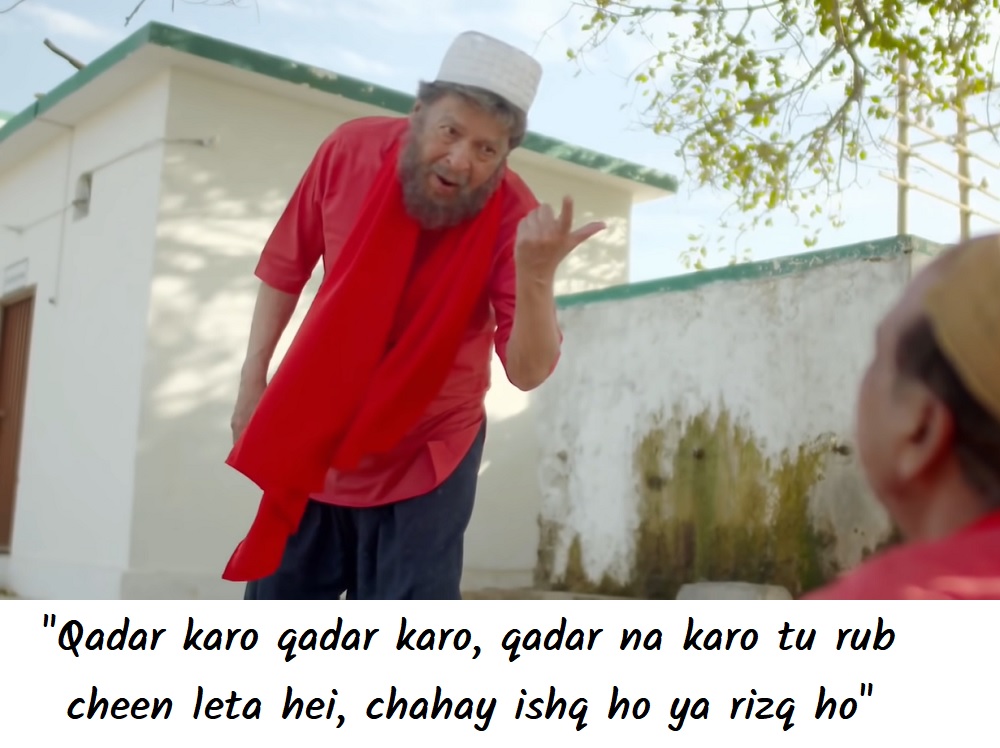 Mushk
There was another dialogue from Mushk which left a lasting impression on the viewers. A lot of screen time was dedicated to this first meeting therefore it had so many moments and dialogues that were simply the best. Through this scene, the writer revealed the different personality traits of both these characters. The dialogues were crisp and meaningful. Imran Ashraf and Urwa Hocane's mind-blowing performances and the artistic backdrop added to the beauty of these scenes. It won't be wrong to say that there wasn't a single dull moment when these two leading characters met, it was worth the wait! When Guddi narrates her story to Adam, he says that he felt for her, it was then that she uttered these dialogues, 'Sun kr wo afsos kahan hota hei jo seh kr hota hei'.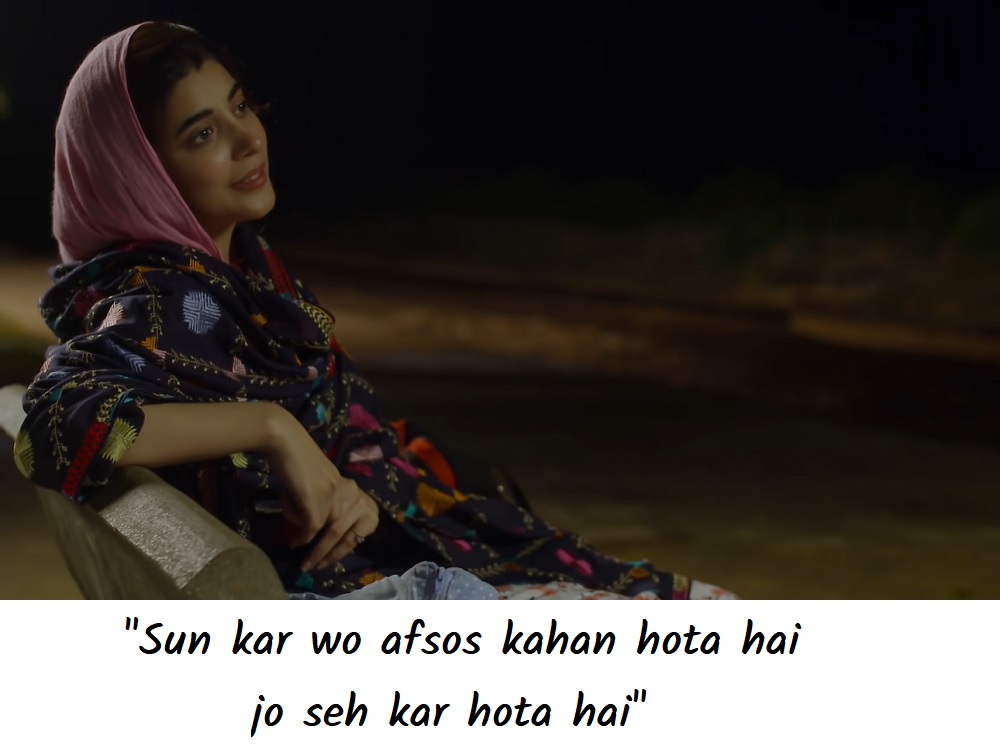 Also, at the end of this year, we would like to extend gratitude to all the lovely readers who have been a part of the Reviewit.pk readership. Your support and encouragement throughout the years have kept us motivated. Thank you so much.