Moammar Rana made his comeback in Pakistani films with Azaadi. The film which released this Eid ul Fitr was based on the war of Independence in Kashmir and had Sonya Hussyn in the lead role. Azaadi performed better than expectations at the box office. Now, Rana is claiming that he has not been fully compensated. This is what he posted: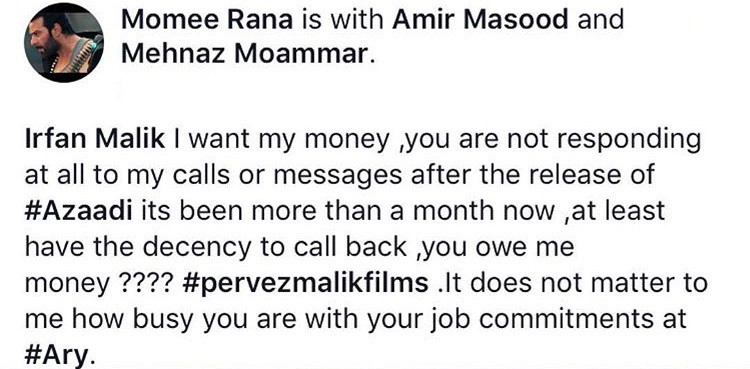 Irfan Malik, however, has denied these claims. He posted a response on Facebook too:
Hello All! Hope u are doing well. Imran Khan said it right! we are a nation of donkeys and start following and commenting on a narrative or issue we know nothing about. Quran says when u hear a news, check the authenticity before u comment or form an opinion. To clarify 1) I produced the Film and not ARY so lets keep ARY out of it as they only distributed the film. 2) Mr. Moammar Rana comes from a good family and should not be stooping this low for Rs. 50,000 or is the balance Rs. 70,000/- or was that also adjusted on account of some tickets?. Ill not stoop to the same level and talk details) I gave him a fee for Azaadi that he never received and never will receive for a film before or after AZAADI so i really dont know what he is talking about. 3) I was under the impression that the status was about thanking me to give him a lead role in a project that brought him respect after such a long time but anyway my best wishes remain with my friend Mr. Moammar Rana. Regds.
Let's hope this feud ends soon!